A Grassroots Movement to Depolarize the U.S.?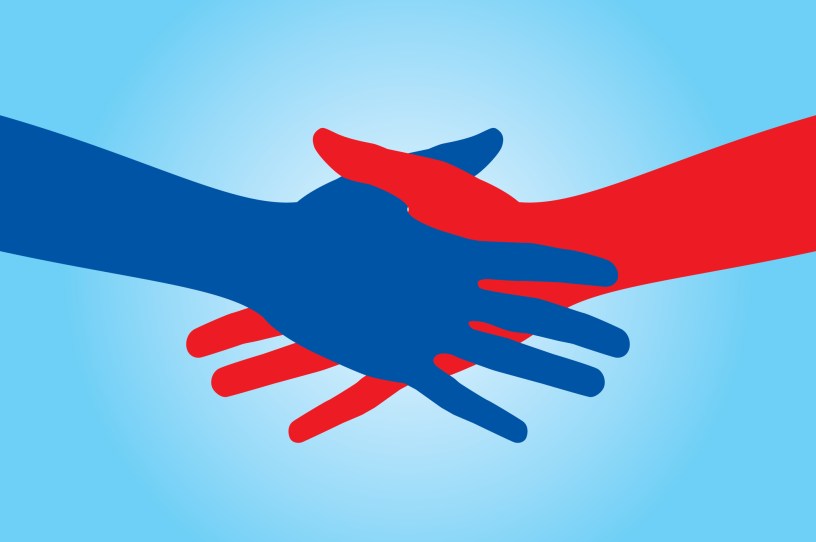 (Stock photo from Getty Images)
GETTYSBURG, Pennsylvania—Countless organizations claim to be bridging America's partisan divide, but how many of them have featured a banjo-toting hip-hop group in their efforts?
That was just one of several unconventional aspects of the recent national convention of Braver Angels, a nonprofit founded after the 2016 election to help Americans better understand one another and find "common ground where it exists."
But before the banjos started up, Bill Doherty sat in a barber chair pretending to get his hair cut by Lance Walker, who had brought the chair from his barbershop in a nearby town. As Doherty expressed skepticism about the possibility of a generating a larger movement toward depolarization, more and more patrons filled the waiting room and joined the banter, with spiels to counter his objections interspersed between off-the-cuff jokes and amateur rap lyrics. By the time Gangstagrass took the stage with their fiddles and banjos, the crowd was fired up.
"If you're part of anything as small as a barber shop to a big national organization, from a Republican Party to a Democratic Party … be part of this movement," Braver Angels co-founder David Lapp urged the crowd. "It's a festival—this is E Pluribus Unum."