Abortion Pills, Explained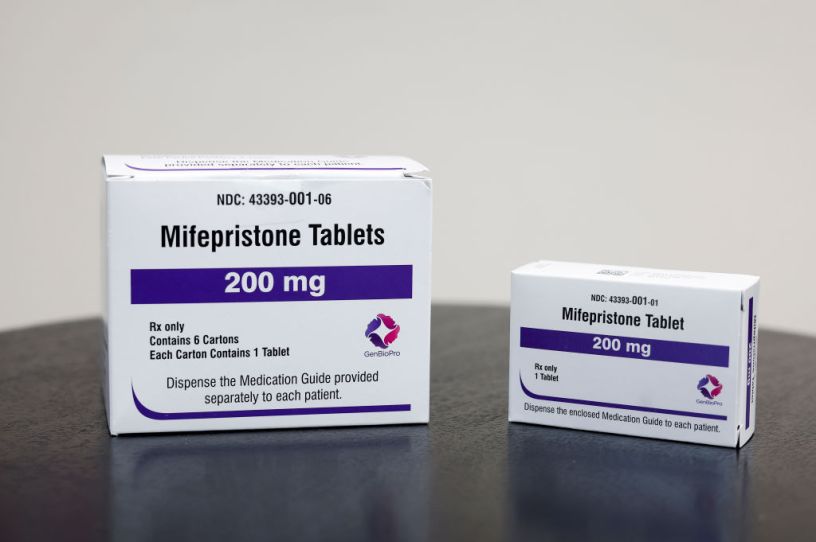 Packages of Mifepristone tablets are displayed on April 13, 2023. (Photo illustration by Anna Moneymaker/Getty Images)
An order Friday night from the Supreme Court has kept the United States' abortion pill status quo in place for now. The two-drug regimen to induce abortion through the first 10 weeks of pregnancy is still approved, and the drugs in question (mifepristone and misoprostol) are accessible for abortions that are still legal under state laws.
What happens when a pregnant woman follows that regimen?
After receiving a prescription from a certified provider, the woman swallows a 200-milligram mifepristone pill. This blocks the hormone progesterone, killing the embryo or fetus (the medical terminology shifts from embryo to fetus after eight weeks gestation) and allowing the second drug, misoprostol, to work more effectively. (Internationally, misoprostol-only abortions are more common, but they are not approved in the U.S. by the FDA.)
Progesterone is a critical hormone for the developing embryo or fetus. "In general, progesterone is pro-gestation," said Jessica Lee, an assistant professor of obstetrics, gynecology, and reproductive services at the University of Maryland School of Medicine. "It is the hormone that supports an early growing pregnancy and makes the uterus a good environment for pregnancy growth."
Get every newsletter and all of The Dispatch. Support quality, fact-based journalism.
Get Started
ALREADY HAVE AN ACCOUNT? SIGN IN