Academic Freedom for Whom?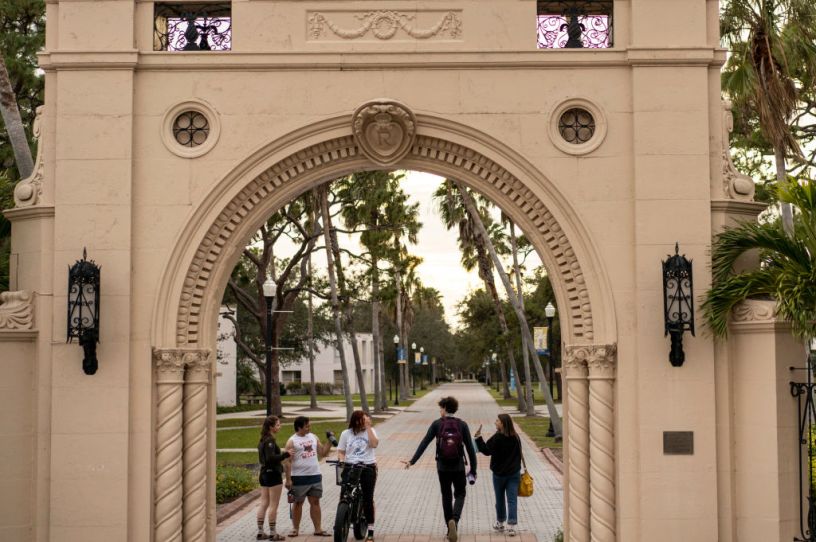 A view of the campus of New College in Sarasota, Florida. Gov. Ron DeSantis announced the appointment of six conservatives to the schools board of trustees on January. 6. (Thomas Simonetti/Washington Post/Getty Images.)
Conservatives have long held conflicting impulses about intellectual freedom at American universities. On the one hand, they have often called for greater protections for free expression and intellectual diversity. Conservative victims of "cancel culture" can become media darlings on the right, and conservatives have been important to winning more robust protections for campus free speech. On the other hand, some conservatives hold reservations about the virtues of academic freedom and have demanded that universities cater to the particular sensitivities of conservative students.
Florida Gov. Ron DeSantis, who has attached himself to the issue of higher education more than any politician in the country, refuses to choose between these two options. Instead he attempts to grasp them both. He has insisted that a university "should be a place where you would be exposed to a lot of different ideas" while his allies characterize the state's universities as "socialism factories." He says that "we want robust First Amendment speech on our college and university campuses," but in response to what he calls "intellectually repressive environments," he has tried to implement policies that have themselves run up against the First Amendment. It is unclear whether this is a viable political strategy in the long run, but in the meantime institutions of higher education in Florida find themselves in a difficult spot.
DeSantis has adopted a machine gun approach to conservative complaints about higher education, spraying bullets everywhere in the hopes that some might hit the target, without worrying too much about collateral damage. Given the rush of activity, mixed motives, and heated rhetoric, it is also not surprising that his critics have not always been too careful about distinguishing between genuine threats to academic freedom and mere policy disagreements. Nonetheless, the risk to free inquiry at Florida state universities under DeSantis is a real one.
The governor maintained a studied silence as the University of Florida stumbled through a high-profile academic freedom controversy in the fall of 2021. The university adopted a new conflict of interest policy for its faculty, then used it to block professors from serving as expert witnesses in lawsuits filed against the state. It was an extraordinary move that ran headlong not only into academic freedom principles but also established First Amendment case law. The university president eventually backtracked on the policy (and the university is now under a preliminary injunction barring enforcement of the policy).