'But Her Emails' Is Not the Defense of Trump His Supporters Would Like It to Be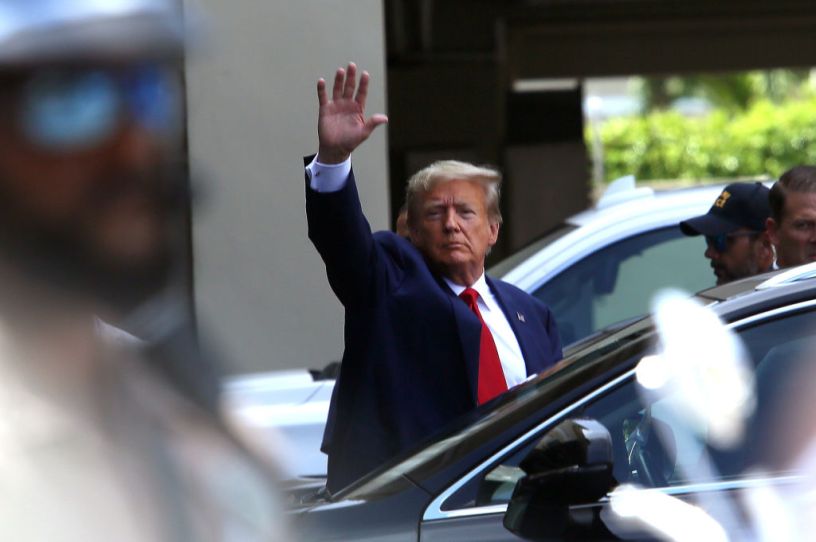 Former President Donald Trump waves after he appeared for his arraignment on June 13, 2023, in Miami, Florida. Trump pleaded not guilty to 37 federal charges including possession of national security documents after leaving office, obstruction, and making false statements. (Photo by Alon Skuy/Getty Images)
In the wake of Donald Trump's latest indictment, two basic defenses have been offered: He did nothing wrong, and it doesn't matter that he did anything wrong.
So far, most of his defenders are more comfortable making the latter argument.
Rep. Jim Jordan (R-Ohio) is one of the few exceptions. On CNN, Jordan argued that Trump did nothing wrong by keeping extremely sensitive classified information next to a toilet, among other places, because the president "can classify and he can control access to national security information however he wants."
It's based on a theory of presidential prerogatives. But it has at least one fatal flaw: Trump isn't the president. Jordan, the House Judiciary Committee chairman, sidesteps this point, saying he takes Trump "at his word" that he "mentally" declassified everything before leaving office, even though there's an actual tape of Trump saying that he didn't.
You're out of free articles
Create an account to unlock 1 more articles