Can Brian Kemp Make It to His Stacey Abrams Rematch?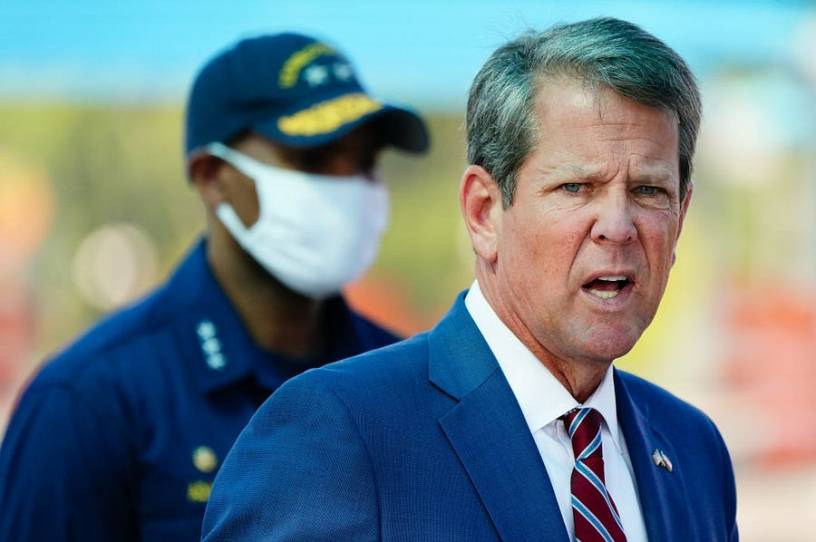 RICHMOND HILL, Ga.—It's a bright misty morning, and the mood is cheerful and low-key in the clubhouse of the golf course in this small town in the southeast corner of the state. The gathered people, 50 or so, chat amiably as they sip coffee and munch biscuit sandwiches. When the man they're there to see, Georgia Gov. Brian Kemp, gets up to speak, he starts by thanking them for the extra effort of getting out of the house early on this, the morning after St. Patrick's Day.
"We are chopping hard every day," he says, "regardless of the circumstances."
It's hard to dispute. The legislative session isn't over yet, but Kemp is already finding time—weekends, mostly—to sneak out onto the campaign trail. Last Friday, he was hours outside Atlanta, accompanied by his wife Marty and two of his three daughters, hitting a series of towns south of Savannah—Richmond Hill first, then a wedding venue in Ludowici, a seafood buffet in Jesup, a café in Waycross, an oyster bar in Darien.
"When you're building a construction project like I used to do, it's not something you do in a week or in a month. You grind away every single day to get that job finished," Kemp says. "And that's what I'm doing as your governor. People are gonna make a lot of promises, a lot of talk, do this, do that, Monday morning quarterback. But what I'm reminding people of every day in places just like this is just to say, remember what I promised I would do when I was here on the bus tour in 2018. Remember what I told you and then look at my record. I have done exactly what I told you I would do."
You're out of free articles
Create an account to unlock 1 more articles