How the Uyghur Forced Labor Prevention Act Became Law, Parts 2 and 3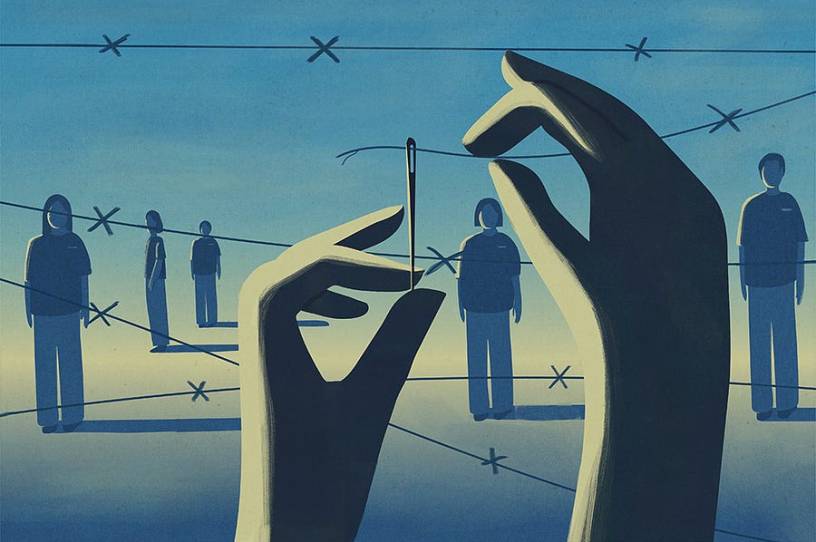 Editor's Note: This is the second of five installments of a story documenting the creation and passage of the Uyghur Forced Labor Prevention Act. The first installment is available here. The third installment is available here, the fourth is here, and the fifth is here. The story is based on more than 21 hours of interviews with more than two dozen people involved, including lawmakers, staff, and human rights advocates. An audio version of the story is available here. Dispatch members can download a PDF of the full report here.
2. Pushback
A week after lawmakers introduced the Uyghur Forced Labor Prevention Act, staff on the CECC had a call with government affairs representatives for Coca-Cola. The conversation was, in the words of one participant, a bloodbath.
Under scrutiny was Coca-Cola's relationship with a Chinese state-run company that sells sugar, COFCO Tunhe. It has a Xinjiang location with alleged ties to forced labor. Coca-Cola's representatives claimed a clean third-party audit proved there was no forced labor involved—yet they couldn't answer the CECC staff's questions about how the audit had been carried out, like if they had spoken with workers without supervision by company managers or Chinese officials.
The Coca-Cola representatives said they might be able to share the audit with the commission after the meeting, but they never did.
Kathleen Black, Coca-Cola's director of federal and diplomatic government relations at the time, was the lead lobbyist on Coke's end of the call. A second participant on the call remembers her observing during the conversation that Rubio doesn't serve on the Senate Finance Committee, and McGovern isn't on the House Ways and Means Committee. The message, as this participant interpreted it, was derisive about the bill's chances.
A third participant describes Black's remarks as trying to understand the process by which the legislation was going to advance in Congress—whether it would go through those committees of jurisdiction. Both of those committees went on to receive much of the corporate lobbying against the forced labor bill in later months.
The sources all agree on this: The conversation was rough.
Coca-Cola did not respond to requests for comment.
The call stands out to participants more than two years later. It was one of the least productive conversations the CECC staff had with businesses throughout 2020, people involved say, and it was only the beginning of the corporate pushback to the forced labor bill. That broader resistance nearly succeeded in killing the legislation.
Early on, aides say the bill wasn't exactly on the corporate community's radar as something that would ultimately pass. Lobbyists who reached out to staff soon after the bill's introduction were primarily focused on public image concerns. The first version contained findings that called out major brands for being implicated in using forced labor. A handful of those companies, including Coca-Cola, made a push to have their names removed from the legislative text. Lobbyists also raised broader concerns about supply chain complexities and the bill's SEC disclosure requirements.
They were usually careful to strike a balance in their remarks to CECC staff instead of outright opposing the bill, even if that was what they intended.
"Their statements were always like, 'Well, we believe in the point of the bill, we just, you know …'" one aide remembers. "It was always a little short of they were opposing it. But they were opposing it."
Some lawmakers in the House sympathized with the corporate concerns—just not strongly enough to vote against a response to what many people at that time were beginning to view as genocide. Evidence that products related to human rights abuses were coming into the United States was unavoidable. In June 2020, Customs and Border Protection officials seized a 13-ton shipment of products utilizing human hair from Xinjiang at a port in New York. Its echoes of the Holocaust didn't go unnoticed on Capitol Hill.
The House considered the forced labor bill a couple of months later. It passed for the first time overwhelmingly in September 2020, with a vote of 406-3. Two of those opposing votes, from former Rep. Justin Amash and Rep. Warren Davidson, were on account of the bill's SEC reporting requirements. The third came from Rep. Thomas Massie, who votes against most sanctions bills.
The vote made clear how many in Congress supported tackling forced labor in Xinjiang.
It was important to have lawmakers on the record, but even that was a fight the bill's supporters had to win. According to Rep. Jim McGovern, some members asked before the vote that the bill be advanced under expedited procedures, without a recorded tally.
"It's not difficult to get people to talk the talk," he says. "But to be truthful, there are some members of Congress who, when it comes to trying to sanction China, they have lots of business interests and others that are in their districts that would prefer not to walk the walk: 'I'm okay with your statements, don't go any further.' Here's where I give Nancy Pelosi a lot of credit, whether it's Tibet or Uyghurs. Even when we brought some of this legislation forward, they would say, 'Can we just do it by voice vote? We don't want a recorded vote.' Absolutely not. We're all going to be on record."
After the House vote and as focus moved to the Senate, companies diverted more time and resources to opposing the legislation, although many still didn't seem to take the need to examine their supply chains seriously. Corporate resistance grew into a larger, secretive push against the bill. Major corporations, including Apple and Nike, got involved.
The Senate was the battleground: Businesses wanted to stop it there, or at least turn it into something unrecognizable.
Sen. Marco Rubio describes fighting against the lobbying campaign as "boxing a ghost."
Other than a U.S. Chamber of Commerce letter opposing the bill when the House considered it the first time, he says, groups that took issue with the legislation mostly kept it private. After all, openly rejecting a response to genocide isn't good optics. Still, lawmakers felt the opposition.
"They clearly were making their argument both to the White House and to others about how this would impact the bottom line and how this would be bad for American businesses," Rubio remembers. "But it wasn't frontal. So it was difficult to take it on. They weren't putting out press releases or giving out handouts … We couldn't see it. You knew it was happening, but you couldn't put your arms around it because it was covert."
Rubio's task in this timeframe was a challenging one. He had to strike a balance that gave enough breathing room to the business community for Republican senators who were skeptical of the legislation to get on board with it, while also retaining the integrity of the bill.
"We know what our intent is," Rubio says. "If there's something in that bill that has an unintended consequence or something that's going to make it difficult to enforce and/or apply, we're always open to suggestions on how to improve it.
"What you always have to be cautious about is that there's a one-word change or a one-line change, or some change to the bill that ends up gutting it," he adds. "Our goal was, look: We're willing, we want to pass a bill. We're willing to make changes that make it work better. We're willing to make changes that help us pass it, but not if those changes would somehow undermine its effectiveness or turn it into something that's symbolic but ineffective."
Those attempts at making the bill symbolic and ineffective were frequent, and varied.
A person familiar with the conversations at the time remembers the American Apparel and Footwear Association, among other retailer groups, making the case that the bill didn't need language blocking goods from Xinjiang. It would be enough, they contended, to merely require executive agencies to make a strategy to address imports tainted by forced labor from the region.
Rubio's office and the other bill sponsors, of course, disagreed.
(When The Dispatch asked the American Apparel and Footwear Association about its position, President and CEO Steve Lamar shared a statement praising the bill's rebuttable presumption of forced labor in Xinjiang paired with "the requirement for the U.S. government to develop and implement a comprehensive enforcement strategy and clear evidentiary standards" but didn't deny earlier pushing for no presumption.)
Lobbyists for many groups also argued that businesses at least needed a lot more time to comply with the legislation. Staff on the CECC steadily pushed back on that line of thinking. Congress had first made it illegal to import items made with forced labor in 1930. In 2016, lawmakers closed a loophole in the ban that had allowed those imports the United States could not meet domestic demand for on its own.
If 90 years wasn't enough time, how much more did they need?
Congressional staff members and outside human rights advocates point to Peter Mattis, who was deputy staff director of the CECC under Rubio when the bill was introduced, as playing a pivotal role in this period. Mattis is a China expert and former Central Intelligence Agency analyst. After the forced labor bill was introduced, aides say, he held call after call with businesses and industry associations, emphasizing the need to examine their supply chains.
Also integral was Rubio's foreign policy adviser at the time, Bethany Poulos.
Mattis and Poulos led talks within the Senate GOP in the autumn and winter of 2020, after the House passed the bill. Those negotiations largely rehashed the concerns businesses had aired. Because Rubio's team had spent months honing clear answers to the corporate arguments against the bill, they were prepared.
The new version of the bill would reflect the corporate community's priorities in some ways, but the core goal—to block imports made with forced labor in Xinjiang—remained mostly unscathed.
Rubio's office and the CECC staff redrafted the legislation as a result of the negotiations and conversations with businesses, and they included changes to the implementation process.
The measure would now provide a comment period for companies and require a public hearing held by the agencies responsible for enforcing the bill. The timeline for imposing the presumption of forced labor in the region would also stretch from the original bill's 120 days after enactment to 300 days after enactment. This would buy businesses more time to comply.
And amid opposition from Republicans on the banking committee, staff stripped from the bill the SEC reporting requirements, which would have given American investors a clearer picture of whether their money was contributing to genocide. This would become one of the most important differences between subsequent versions of the bill. The House version reintroduced in 2021 retained the SEC disclosures where the Senate bill didn't. McGovern's office continued to push for it until the end.
The new Senate bill also had a different threshold of evidence for businesses to prove their supply chains were free of forced labor. It required them to comply with guidelines and answer all questions from Customs and Border Protection instead of including the original bill's language that there must be "clear and convincing evidence" behind a determination that a product is untainted. This was alarming to some advocates, who worried it would give too much room for administration officials to weaken enforcement of the bill.
Other attempts to erode the legislation fell short, though.
One change Senate GOP staff sought early on would have carved out a loophole for essential products that America does not produce enough of, such as personal protective equipment for health care workers. This would have effectively been a step backward from 2016, when Congress closed a similar loophole for America's original ban on products made with forced labor. It would have made it easier for businesses to avoid compliance with the legislation. Rubio's team argued against it, and it was dropped.
One key area of the Senate bill was clearer compared to the House bill, according to China policy experts: It more directly prohibited imports related to forced labor transfer schemes.
The Chinese government transports Uyghurs and other minorities en masse to other parts of China to work. Because the practice is not contained to one region, companies have a hard time identifying where their supply chains are tainted by forced labor. A groundbreaking report in early 2020 by the Australian Strategic Policy Institute found that more than 80,000 Uyghurs were moved out of Xinjiang to work in other parts of China between 2017 and 2019, some of them sent directly from China's concentration camps. The Australian researchers discovered Uyghurs connected to these programs—likely the victims of forced labor—were working in factories that touched the supply chains of at least 82 well-known corporations, including Apple, BMW, Gap, Huawei, Nike, Samsung, Sony, and Volkswagen.
While earlier versions of the forced labor bill aimed to address this, the revised Senate bill required the departments of Homeland Security, Labor, and State, alongside the U.S. trade representative and director of national intelligence, to draft a list of companies and organizations in China working with the Chinese government to move ethnic minorities out of Xinjiang to work. This created a more concrete process, although more bureaucratically burdensome, for blocking imports produced through forced labor transfers. For this and other aspects of the bill to work in practice, it would be essential to have an administration dedicated to fully enforcing the law.
After months of slogging through conversations with corporate lobbyists, tense negotiations with Republican Senate offices, and discussions with administration officials about how to make the bill more implementable, Rubio's team had won broad support within the Senate on its new version of the legislation. Those months were costly when it came to timing, though. The new bill wasn't ready for introduction, let alone passage, before the clock ran out on the 116th Congress.
The bill's sponsors would have to begin the process anew to get it over the finish line in the new year. A new president was set to take the reins, Democrats would soon win control of the Senate, and the legislation's odds were uncertain.
On January 27, 2021, the day Rubio reintroduced the bill, it received an important last-minute tweak.
The Trump State Department had issued its official determination the week before that the Chinese government was committing genocide and crimes against humanity in Xinjiang. Because of that, Rubio's team removed a section of the forced labor measure asking the State Department to issue a report within 90 days on whether China's abuses in Xinjiang amounted to genocide.
President Joe Biden's nominee to be ambassador to the United Nations, Linda Thomas-Greenfield, testified at her confirmation hearing that morning. During the hearing, she suggested the State Department was reviewing the Trump administration's genocide determination.
Lawmakers and aides were shocked: Was the Biden administration going to roll back the Xinjiang genocide designation?
Defying partisan loyalties, it was a Democratic senator's office that privately pushed shortly afterward to reinsert the requirement for a State Department genocide determination in the forced labor bill. As Rubio's staff went back and forth about the implications of Thomas-Greenfield's remarks, they received an email from Matt Squeri, who was Oregon Sen. Jeff Merkley's foreign policy adviser at the time and now serves as staff director on the CECC. Squeri, having seen the hearing, asked whether the genocide determination section should be added back in. So it was.
It was a precursor of what would unfold in the coming months.
Merkley, a progressive who cosponsored the forced labor legislation from the beginning, would soon become a leading Democratic voice in Congress pushing the Biden administration to take a hard line on China's human rights abuses.
In the 10 months after it was first introduced, the Uyghur Forced Labor Prevention Act had won resounding support in the House, survived negotiations with Republican senators mostly intact, and it now had better odds of passing the Senate.
But the lobbying campaign against the forced labor bill had entered a new phase, and businesses would soon grow more familiar with the risks of running afoul of the Chinese government.
---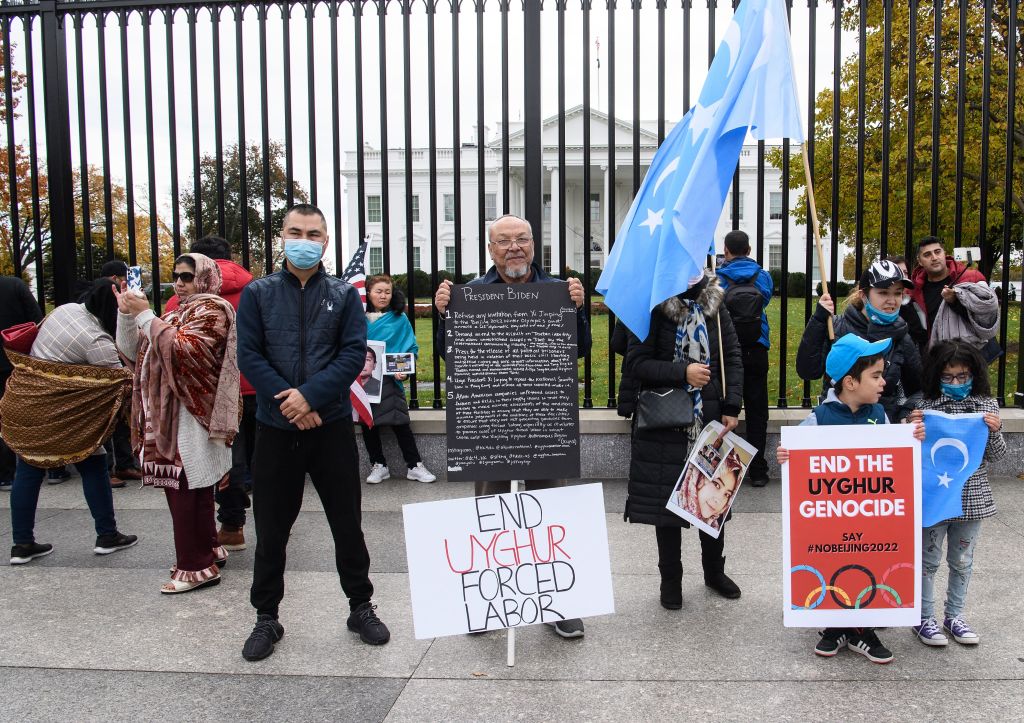 3. Corporate Calculus
The calls had become so predictable, Sophie Richardson jokingly made a telemarketer-style flow chart for answering them.
No, it isn't alright to operate in Xinjiang, she told corporations and investors. Yes, you should leave.
In early 2021, Richardson—the China director at Human Rights Watch—began to receive the first of more than 100 calls from banking institutions, manufacturers, companies, and other corporate entities about forced labor in Xinjiang. She was alarmed by how ignorant they were about the genocide—and by their continued unwillingness to leave the region, even after being told how dire the situation was.
"I found myself thinking, do you not read the New York Times?" she says. "Surely this cannot be new information to you."
While the forced labor bill was working its way through Congress, the White House was increasingly imposing sanctions on Chinese officials. On the way out the door in January 2021, the Trump administration banned all cotton and tomatoes from the region.
The calls with companies and investors were "endless," Richardson remembers. And they betrayed a sense of disbelief within the corporate community that the United States could take serious action against imports from Xinjiang.
America's consumption of products from the region had skyrocketed in recent years. One estimate suggests $64 billion in direct imports from Xinjiang could be affected by the forced labor bill, with far more from across China potentially impacted as well.
U.S.-China relations were turning upside down, and investors and businesses hadn't come to grips with it.
They were a year late to recognize the shift in Congress. Richardson says what stood out to her most when the forced labor bill was first introduced "was this palpable frustration, particularly with companies."
"For so long, tougher human rights policies had foundered in the face of U.S. businesses saying, 'No no no no, we have to be able to trade and engage, and it will all turn out okay in the end, really, we promise,'" Richardson says.
Not only were members of Congress from across the ideological spectrum agreeing that premise was "dead and gone," but they were also taking "active steps that were going to harm U.S. companies, or put U.S. companies on the hook for their complicity—or their inability to show their lack of complicity—with human rights violations."
"This is one of the central ideas that has underpinned U.S.-China relations for the last several decades," she adds. "To put the actors who had made this argument on the hook for proving that they weren't part of the problem is a pretty significant change."
At least half of the calls Richardson had with corporate entities revealed the fear at top of mind for businesses: China retaliates. Standing up against human rights abuses there could be costly.
No company was learning this more painfully than the Swedish clothing retailer H&M.
In September 2020, H&M had said it was "deeply concerned" by reports of forced labor and discrimination against minorities in Xinjiang. The company announced its suppliers would no longer source cotton from Xinjiang because it had become "increasingly difficult to conduct credible due diligence in the region."
The public stand earned the brand praise from American lawmakers. Rubio tweeted that all companies doing business in Xinjiang "should follow H&M's example" and cut ties with their suppliers there.
At first, the move went mostly unnoticed in China. But in March 2021, all hell suddenly broke loose.
A post by a Chinese Communist Party group called the Communist Youth League sparked public outrage.
"Spreading rumors to boycott Xinjiang cotton, while also wanting to make money in China? Wishful thinking!" the group posted on Chinese social media platform Weibo.
State propaganda outlets slammed the company, with Chinese broadcaster CCTV saying H&M will "pay a heavy price for its wrong action."
Chinese celebrities severed ties with the brand amid the nationalistic uproar. H&M also faced very material consequences: It was literally wiped off the map. The brand's locations were stripped from digital maps, as if they didn't exist anymore. Chinese e-commerce sites also removed H&M products from their search results, instantly hurting sales.
Witnessing this, H&M tried to backtrack, issuing a mealy-mouthed statement filled with corporate jargon, trying to appeal to every side.
"We are working together with our colleagues in China to do everything we can to manage the current challenges and find a way forward," the brand wrote. "China is a very important market to us and our long-term commitment to the country remains strong."
"We want to be a responsible buyer, in China and elsewhere, and are now building forward-looking strategies and actively working on next steps with regards to material sourcing," the brand added. "We are dedicated to regaining the trust and confidence of our customers, colleagues, and business partners in China. By working together with stakeholders and partners, we believe we can take steps in our joint efforts to develop the fashion industry, as well as serve our customers and act in a respectful way."
Absent from the statement: any specific mention of Xinjiang or forced labor.
Watching the Chinese government tear H&M apart put the fear of Xi Jinping into corporations, even as they were feeling more pressure from western governments to elevate human rights.
H&M wasn't the only company trying to figure out how to strike a balance. Other firms, also facing pressure, deleted prior statements about forced labor in Xinjiang. Some took another route: They told different audiences what each wanted to hear.
When the House passed the forced labor bill in September 2020, German fashion brand Hugo Boss told NBC News it was asking suppliers to make sure their products didn't come from Xinjiang. Yet amid China's frenzy over western brands leaving the region in March 2021, Hugo Boss said on Chinese social media that "Xinjiang's long-staple cotton is one of the best in the world" and pledged that "we will continue to purchase and support Xinjiang cotton."
A day later, the brand deleted the post and said it hadn't been authorized, sparking yet another backlash in China. (Nearly a year after the United States officially banned imports of Xinjiang cotton in January 2021, Hugo Boss was bringing products likely tainted with it into America, a Buzzfeed News investigation found.)
One thing has become clear in the time since the H&M uproar: Nationalistic backlash in China, and ensuing sales slumps, can be lasting. H&M's sales in China are still lagging. According to Bloomberg, about 60 of H&M's stores in China have closed, amounting to 12 percent of its China locations. In the last quarter of 2021, sales were down 41 percent.
The lesson H&M's review took away from the ordeal, per Bloomberg's reporting? H&M didn't sponsor enough government-backed events to build relations with the Chinese Communist Party.
H&M declined The Dispatch's interview request for this story and declined a request for comment regarding the Bloomberg article.
"China is a very important market to us and our long-term commitment to the country remains strong," H&M Chief Executive Officer Helena Helmersson reportedly said during an earnings call in early 2022. "We are dedicated to regaining the trust and confidence of our customers, colleagues, and business partners in China."
During her conversations with businesses and investors, Richardson says she emphasized that regardless of whether companies choose to speak out in a way that could provoke reprisals in China, they still have an obligation to make sure they aren't complicit in forced labor and genocide.
"On the one hand, one sort of sympathizes with the idea that potential state retaliation simply for complying with those expectations is beyond the company's control," she says. "On the other hand, that's long been a reality of doing business in that country."
The challenge isn't going away. China has implemented a sweeping anti-sanctions law businesses fear could be used to punish brands for complying with Western human rights sanctions.
Even now that the forced labor bill has become law, many corporations still haven't taken firm steps to purge their supply chains of forced labor. The ones that have made public pledges to investigate supply chains are facing difficulties rooting it out. Researchers this May found several brands that still had cotton likely from Xinjiang in their products after they said they would extricate from the region.
Human rights advocates rightly doubt the corporate community's willingness to address their role in the crisis. Apathy from high-profile entrepreneurs and investors hasn't done much to alleviate those concerns.
Elon Musk opened a Tesla showroom in Xinjiang in early 2022, long after information about the genocide was widely available. He also recently praised Chinese factory workers for "burning the 3 a.m. oil." And venture capitalist Chamath Palihapitiya infamously said this year that "nobody cares" about the Uyghurs.
Still, as the genocide continues and as China's disruptive pandemic lockdowns have clarified the risks of doing business in a totalitarian state, some companies are seriously investigating how to go about moving their supply chains. It's a delicate process. Manufacturers have to find reliable and experienced suppliers in other countries. Companies also fear ending up on bad terms with Chinese officials.
Without the Chinese government's help, it can be even more difficult to avoid having intellectual property, product molds, and company tools stolen by suppliers. And with a slumping economy, the Chinese government is increasingly sensitive about companies pulling out of the country, making those conversations even more stressful.
International law firm Harris Bricken has held expert webinars in recent months for companies to learn more about moving supply chains out of China. The conversations are filled with questions about how to navigate tense relations with Chinese officials and reduce the costs of moving. During the calls, experts have also grappled with the fact that no other country is going to present the same landscape China did as it opened up in the 1990s and the years since.
"China was a very unique historic situation, where you had a number of events converging to really drive this global productivity over the past 30 years, plus or minus," Warren Wisnewski, the Eastman Kodak Company's former vice president of operations for the Asian Pacific Region, told participants during a call in late May.
"You had this huge emerging market that attracted investors for the market. You had, for at least for a period of time, a seemingly bottomless pit of very cost-effective labor, and with all that, all the secondary and tertiary supply capabilities developing over time. I don't believe, personally, that that is ever going to happen again. There will not be another new China."
During the same conversation, Dan Harris, an attorney who assists companies dealing with suppliers in China and other markets abroad, said that there has been a "decoupling between China and much of the rest of the world."
"That is going to continue," Harris said. He pointed to a new trove of evidence about the genocide in Xinjiang, released by researcher Adrian Zenz the same morning as the webinar.
Youming Ye, former managing director of the Jordan Company China, was blunt about the situation: "China is fighting with the whole world," he said. "We just witnessed a big country rise and fall, to some degree."
Without a strong international coalition banning Xinjiang imports, though, Uyghur groups don't trust major companies to proactively leave Xinjiang. They worry the American forced labor prevention law will only encourage firms to keep products touched by Xinjiang out of the U.S. market, while they continue working with suppliers in Xinjiang and selling products tainted with forced labor to other countries.
European nations have debated how to block imports made with forced labor, but the European Union hasn't settled on a path forward. Nury Turkel, the Uyghur advocate and member of the U.S. Commission on International Religious Freedom who testified at the CECC's hearing about forced labor in 2019, reiterates the need for other countries to pass similar laws scrutinizing imports from Xinjiang.
"I still do hope that this bill provides and becomes a kind of guiding principle to other countries that also import slave labor products," Turkel says of the American law.
He has received his own calls from corporate lawyers about compromised supply chains. In his recent book about the genocide, No Escape, he writes that some calls stem from a genuine desire to avoid complicity in Uyghur forced labor. Others are rehashing tired excuses.
Turkel writes that he has found his temper growing short. He gives the lawyers increasingly direct advice.
"You guys are fucked," he told two D.C. lawyers representing American businesses in China. "China is kicking your ass on the one side and on the other, U.S. consumers all over the place are waking up to what is happening, and this is the one issue that unites Congress."
"Cut the crap. Either pull the plug, or use your influence to change the Chinese behavior and say, 'No, not in my name.' Tell China, 'You need my business and what you are forcing me to do is illegal, and I am under pressure at home.'"