In All of This Messiness There Is Christ Present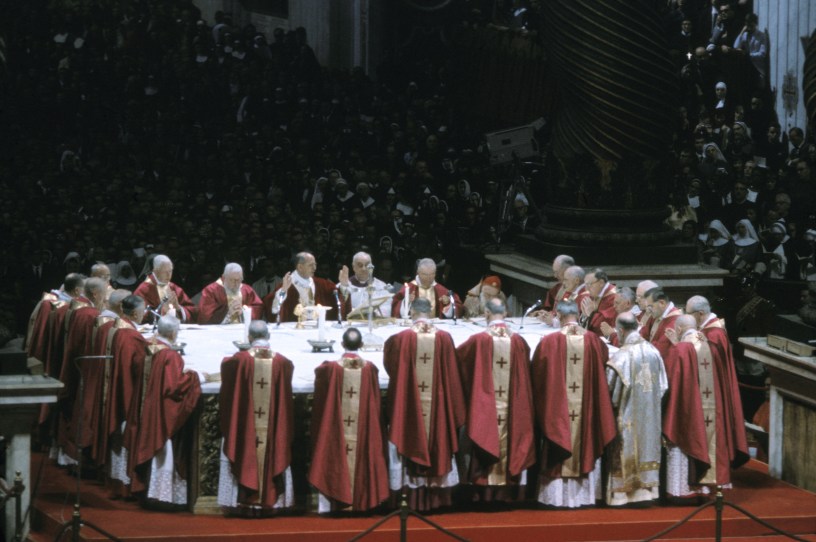 Ceremony at the opening of the first session of the Second Vatican Council, October 11, 1962, in Rome. (Photo by Bernard MOOSBRUGGER/Gamma-Rapho via Getty Images)
October 11, 1962, marked a monumental moment for the Roman Catholic Church. With the Second Vatican Council, the bishops of the world met in order to enable the church to open itself up to the modern world. Documents were promulgated, all full of beautiful and lofty language, addressing the concerns and positions of the church for a modern world. That beautiful and lofty language brought renewal to the church, but the changes it wrought are still being debated these 60 years later. What should be the united body of Christ has instead fallen into division over liturgical preferences.
I grew up in a small parish in the hard coal region of central Pennsylvania. Our parish had three priests and a school staffed by eight Sisters of Mercy. Every Sunday, and in fact every day, the celebration of Mass was predictable: One sung High Mass and two Low Masses. One of the unique characteristics of the parish was that we, the whole congregation, responded to the prayers of the priest. We sang the Chants of the High Mass and the horrible hymns set to baleful Irish ditties at the Low Mass. This was not the case in every parish in town and I always attributed it to the fact that we always had a newly ordained priest who was "up to date" on what the Vatican Council would bring and an old Irish pastor willing to adapt to the needs of the people. All in all, the parish was well-prepared for the changes that were to come, or at least we thought we were.
The Document on the Divine Liturgy had the most significant effect on the daily lives of ordinary Catholics. The major change it introduced was that vernacular language was allowed into the celebration of the Mass. While prior to the Second Vatican Council, most Masses included very little opportunity for lay participation, the Document of the Divine Liturgy encouraged the people of the church to a full and active participation.
That we would be active participants in the work of worship was all very exciting, and, if memory serves, most of the people of the parish were engaged in the changes. There was still a sense of reverence and awe. We knew that what we were about was holy. But as the changes in the liturgy continued to pour forth from Rome somewhere along the way things began to shift. New prayers, "contemporary" hymns—just as bad as the old ones—more English and the priest celebrating Mass facing the people. The Daily Missal was replaced by a paper "Missalette." The number and volume of changes seemed to overwhelm everyone.
You're out of free articles
Create an account to unlock 1 more articles