Iran-Backed Militias in Baghdad Present a Test for Biden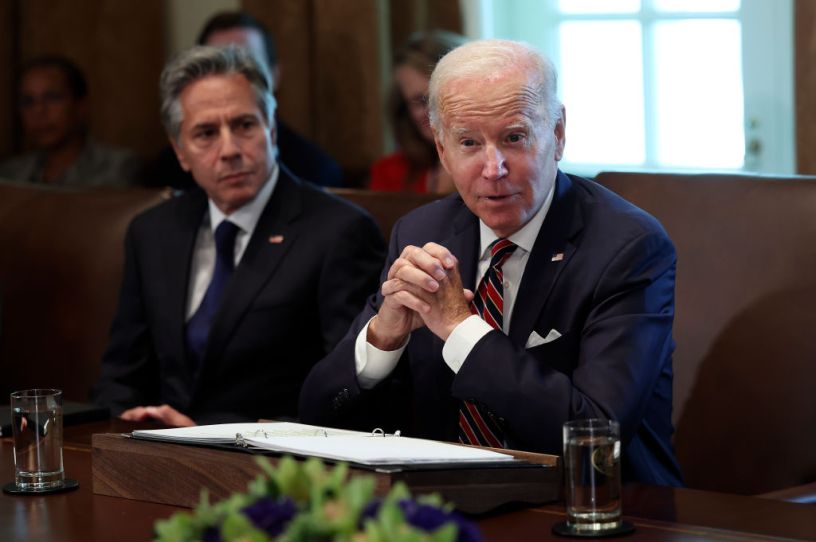 Joe Biden with Secretary of State Antony Blinken. (Photo by Kevin Dietsch/Getty Images.)
Stephen Troell, a U.S aid worker from Tennessee, was shot dead by unknown assailants while he drove through Baghdad last week with his wife and daughter in the car. A little-known militia claimed responsibility for the murder, calling it revenge for the U.S. airstrike that killed Iranian Maj. Gen. Qassem Suleimani more than two years ago. Troell's death is a test of whether President Joe Biden is prepared to hold Iran's clerical dictatorship accountable for the killing or attempted killing of American civilians—a test he has failed before.
In August, the Department of Justice unsealed charges against a member of Iran's Islamic Revolutionary Guards Corps for offering an assassin $300,000 to kill John Bolton, who served as U.S. national security adviser in 2018-2019. The Iranian agent told an informant he wanted Bolton to die before the anniversary of Suleimani's death.
A month earlier, federal prosecutors announced charges against five Iranians for a conspiracy to kidnap Masih Alinejad, a U.S. citizen, journalist, and human rights activist born in Iran. The defendants planned to abduct Alinejad near her home in Brooklyn and take her to Iran.
The response to these attacks should have been a show of force that exacted a heavy price from the Revolutionary Guards and their accomplices. Instead, Biden at the time remained fixated on his pursuit of a nuclear deal with Tehran, continuing to offer hundreds of billions of dollars of sanctions relief if Iran imposes temporary restraints on its nuclear program. The proposed deal does not have effective monitoring and enforcement provisions, so Iran can reap the financial rewards of an agreement without surrendering its nuclear option.