Israel's Looming Constitutional Crisis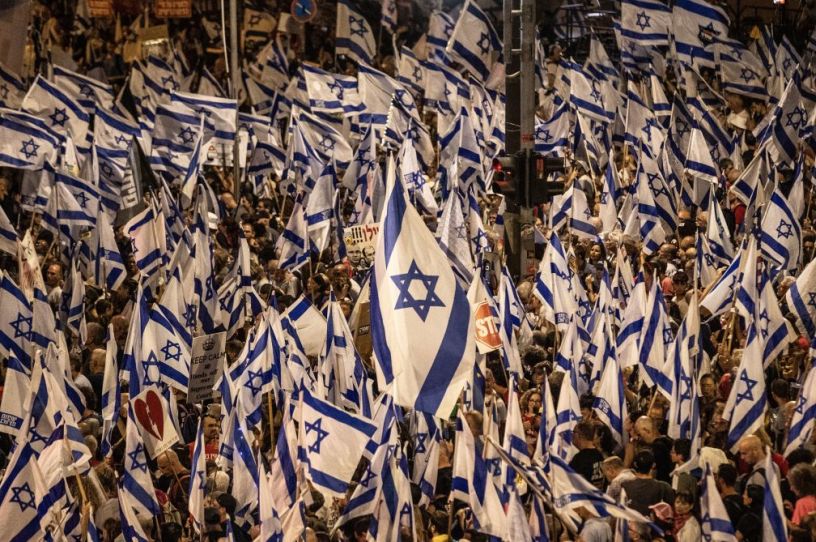 People gather outside Israel's Supreme Court during a demonstration against Prime Minister Benjamin Netanyahu and his government's judicial reform. (Photo by Mostafa Alkharouf/Anadolu Agency via Getty Images)
TEL AVIV, Israel—For months, crowds of Israeli protesters—sometimes numbering in the hundreds of thousands—have hit the streets to oppose a judicial reform package brought forth in January by Prime Minister Benjamin Netanyahu's coalition, which includes religious conservative and ultranationalist blocs.
Critics argue the proposal would gut the Supreme Court's power, effectively creating a majority-rules system in which the sitting government can implement its political will unchecked. Supporters of the reform say the current set-up empowers a small panel of unelected justices, who tend to be left-leaning, at the expense of Israeli voters.
At its core, the controversy raises foundational questions about the course of Israel's future and who gets to determine it. But the debate is increasingly falling along religious lines: Israel's growing ultra-Orthodox population has largely supported its judicial reforms, while opposition has largely been concentrated among Israel's secular-leaning city-dwellers, like here in Tel Aviv.
These questions were front-and-center at a 13-hour high court hearing in Jerusalem last week, as justices mulled the fate of the only measure included in the broader reform package to be passed by Israel's parliament, the Knesset. The law in question stripped the court of its ability to reverse decisions by government officials, such as high-level government appointments, on the basis that they are "unreasonable." It was passed by Netanyahu's coalition in May as an amendment to one of Israel's Basic Laws, the set of guiding laws used by the court to check governmental power in the absence of a written constitution.
You're out of free articles
Create an account to unlock 1 more articles