Let Them Eat Yellowcake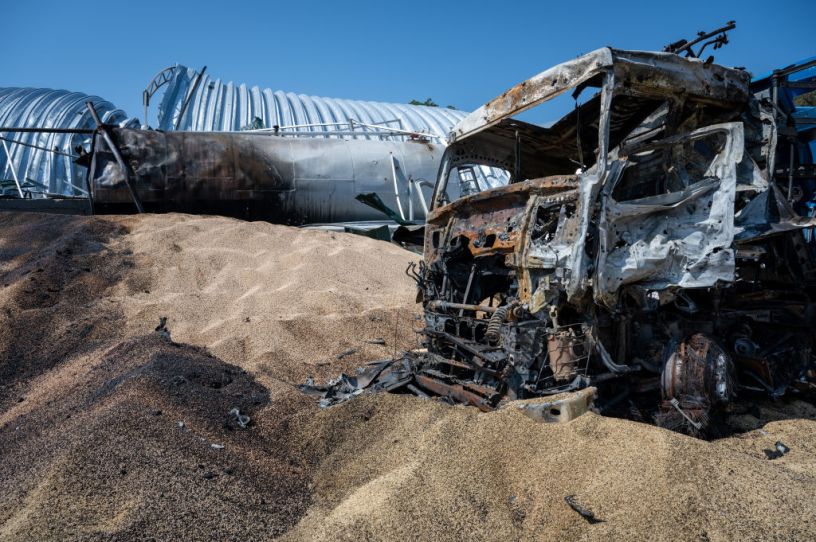 Ukrainians salvage barley and peas three days after at attack on a grain storage facility in the village of Pavlivka, Odesa region, Ukraine, on July 24, 2023. (Photo by Scott Peterson/Getty Images)
The Russian military has some peculiar priorities when it comes to choosing targets in Ukraine: pregnant women and newborns, the hospitals that serve them, churches, and, this week, grain terminals, the last being part of a strategy to use the threat of food shortages to blackmail countries dependent on imported grains into pressuring Ukraine to accept a Moscow-designed settlement while raising the value of Russia's own grain exports.
Which is to say, the Russian commitment to behaving like Roger Moore-era Bond villains—minus the groovy style and badinage—remains undiminished.
Of course, we can count on Vladimir Putin's chirping secretaries on the American right to continue finding excuses to give Moscow whatever Moscow demands—but the world's foodstuffs markets run on supply and demand, not cheap propaganda. 
The Monday attack on the grain facility at Reni, on the Danube River near the Romanian border, was carried out with Iranian drones. That is an interesting wrinkle. Iran is one of the countries in this world that should be least eager to see further disruptions to the grain markets: A combination of drought, sanctions, and perpetual economic mismanagement at the hands of its fanatical ayatollahs have left the so-called Islamic Republic on the verge of a food disaster: Domestic grain production is in decline, inability to make good on payments has interrupted supplies from trading partners including Russia and India, institutions such as hospitals and childcare facilities face food shortages, etc. And now India has prohibited the export of non-basmati rice after a delayed monsoon raised fears of production shortfalls.
You're out of free articles
Create an account to unlock 1 more articles