Nevada Republicans Go Bust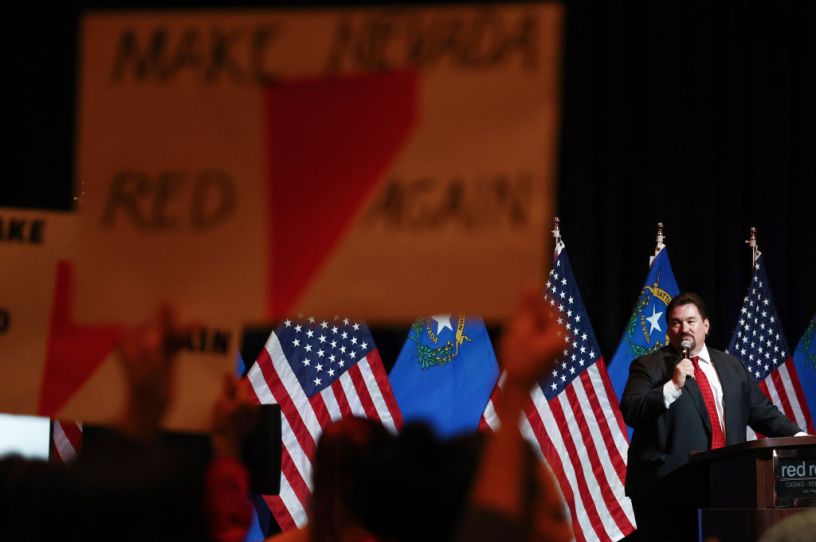 Michael McDonald, chairman of Nevada's Republican Party, speaks at a Republican midterm election night party at Red Rock Casino on November 8, 2022, in Las Vegas, Nevada. (Photo by Mario Tama/Getty Images)
Nevada's Republican Party is a mess. Which is good news for Democrats and a pity for a GOP that seems to be in such near grasp of a Senate seat and six electoral votes next year. But the implications for the rest of the country go well beyond that.
Nevada's Republican chairman is named Michael McDonald, and he led a bogus slate of electors from the state trying to help then-President Donald Trump swindle his way to a second term in 2021. Was it more What a Fool Believes or Takin' it to the Streets? Who knows. What we do know for certain, though, is that he seems determined to make sure Trump is the state party's choice in its February 8 presidential caucus.
Under normal circumstances, that would still only be a big-ish deal. The caucuses are a relatively new institution, with whatever significance they have carried born of Hillary Clinton's efforts in 2008 to leverage her support among the Latina voters in the state's service worker unions into a symbolic win against a surging Barack Obama. It would subsequently become a haven for Bernie Sanders and the democratic socialists.
On the Republican side, the contest has carried even less weight. It doesn't award any actual delegates, but works as a kind of a straw poll to inform the decisions of the attendees at the state convention in awarding delegates. With a public, time-consuming process at a limited number of locations, the Republican caucuses in a good year might draw 75,000 participants in a state with more than half a million registered GOP voters.
You're out of free articles
Create an account to unlock 1 more articles