North Carolina Republicans Fret Over Their Gubernatorial Frontrunner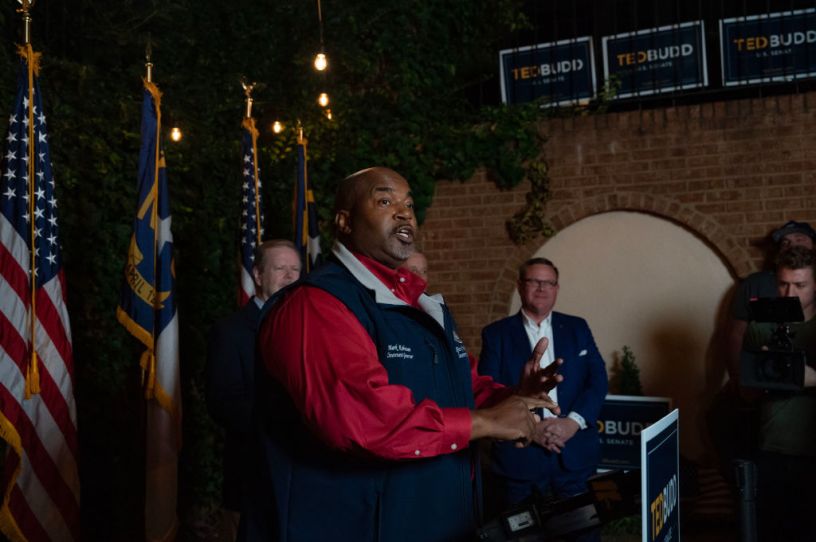 North Carolina Lt. Gov. Mark Robinson speaks in 2022 in Raleigh. (Photo by Allison Joyce/Getty Images)
North Carolina Republicans continue to feel uneasy about their party's current gubernatorial frontrunner, firebrand Lt. Gov. Mark Robinson. But no coherent strategy yet exists to knock him out in a primary.
Those with concerns about Robinson fear his controversial views, as well as his checkered personal and campaign finance history, will alienate suburban and independent voters in 2024 as Republicans try to flip the the gubernatorial seat of term-limited Democratic Gov. Roy Cooper.
And many Republicans know Democrats have amassed an opposition research file that could be leaked at any time. Even Robinson seems worried about more potentially damaging revelations.
"I know there's probably a lot of stuff out there swirling around … People are trying to put doubt in the air about our campaign, about me, but none of that stuff is true, I guarantee you," Robinson said in a voicemail he left for a prospective Republican donor on Thursday, obtained by The Dispatch. "We're ready to take this challenge on. And I believe that we are the candidate."
You're out of free articles
Create an account to unlock 1 more articles