On Its 80th Anniversary, The Philadelphia Story Offers a Timeless Lesson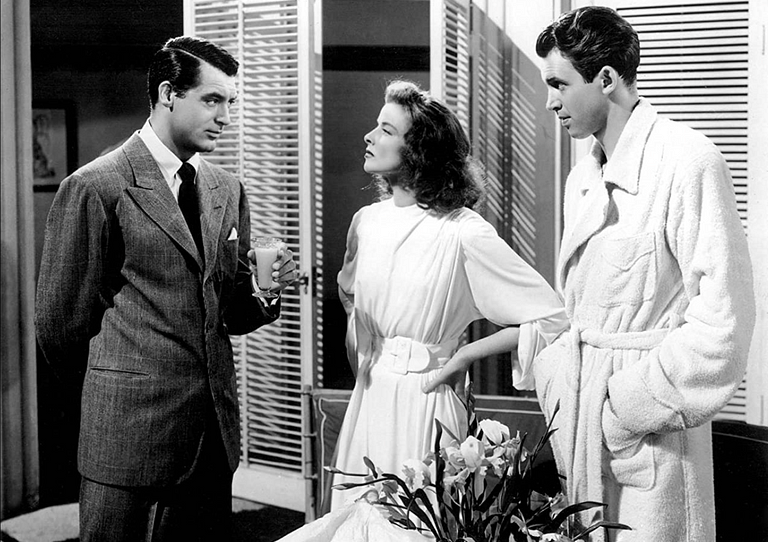 "The prettiest sight in this fine, pretty world is the privileged class enjoying its privileges." So quips Macaulay Connor in The Philadelphia Story, a film that is now 80—80!—years old. First released on December 26, 1940, the George Cukor-directed comedy of remarriage doesn't seem to have aged a whit and still gives both Connor and audiences plenty of pretty sights to see in a movie about glamorous people being glamorous, featuring three of the biggest stars of the era in roles that epitomize the screen personas that made them so beloved. 
At the center: Katharine Hepburn as Tracy Lord, a Philadelphia socialite. Beautiful, haughty, severe. Vying for her affections: Jimmy Stewart as Macaulay "Mike" Connor, a talented but unsuccessful writer. Earnest, self-confident, an everyman. In the other corner: Cary Grant as C.K. Dexter Haven, Tracy's first husband and a fellow member of the Philadelphia Main Line. Suave, witty, charming.
These actors in these roles would make for a fine and frothy rom-com on their own, but Phillip Barry, who wrote the play on which the film is based, and Donald Ogden Stewart, who won an Oscar for adapting it to the silver screen, contrived a plot and dialogue that explores the subject of human fallibility with surprising nuance.
Due to his lack of literary success, Mike works, resentfully, as a reporter for the tabloid Spy magazine, and he is tasked with covering Tracy's wedding to her new beau, the nouveau riche George Kittredge. His publisher, Sidney Kidd, introduces him to Haven, who did some writing for Spy in South America. Haven is able to provide Mike cover by introducing Mike and his photographer Liz Imbrie (Ruth Hussey in a deservedly Oscar-nominated role) as friends of Tracy's brother Junius, a diplomat in Argentina who is unable to attend the wedding. Tracy quickly catches on but is unable to give the reporters the boot after Haven reveals that Kidd has compromising information on her father's alleged affair with a dancer. The Lord family puts on an act for the reporters—tricks are played, lies are told, hijinks ensue.