Pence Tries to Have It Both Ways Regarding January 6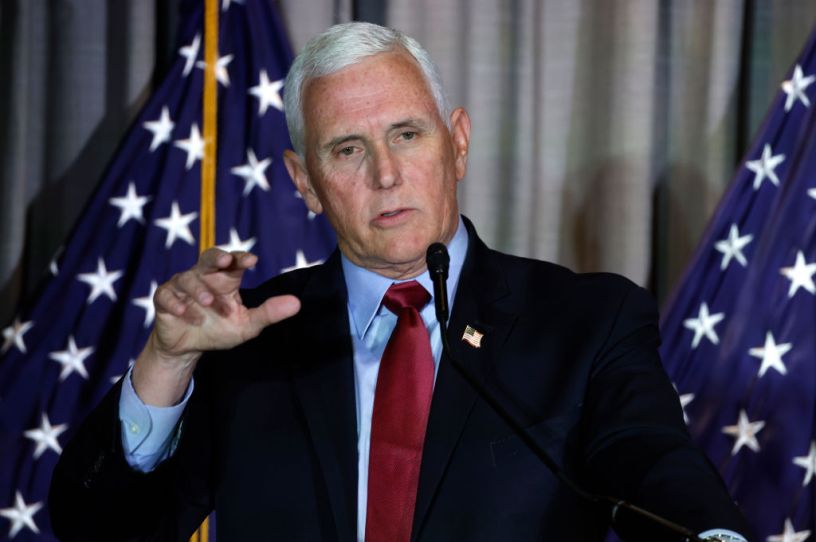 Former Vice President Mike Pence gives remarks at the Calvin Coolidge Foundation's conference at the Library of Congress on February 16, 2023 in Washington, D.C. (Photo by Anna Moneymaker/Getty Images)
On Saturday night, Mike Pence unleashed his anger at Donald Trump.
"History will hold Donald Trump accountable for January 6," Pence declared at the Gridiron Dinner, a normally jovial event for prominent journalists. "Make no mistake about it: What happened that day was a disgrace, and it mocks decency to portray it in any other way. President Trump was wrong. His reckless words endangered my family and everyone at the Capitol that day."
Now, Pence is right to be angry about January 6. Trump put his exceedingly loyal vice president in a horrible position: Be faithful to the president and his base or be loyal to the Constitution and the country.
This was, no doubt, a painful choice for Pence. And Pence did the right thing by refusing to play along with Trump's scheme. But it's worth remembering that Pence's decision on January 6 was shocking to a lot of people because he spent four years being a loyal cheerleader for Trump, through the president's countless scandals.