President Biden Stumps for Terry McAuliffe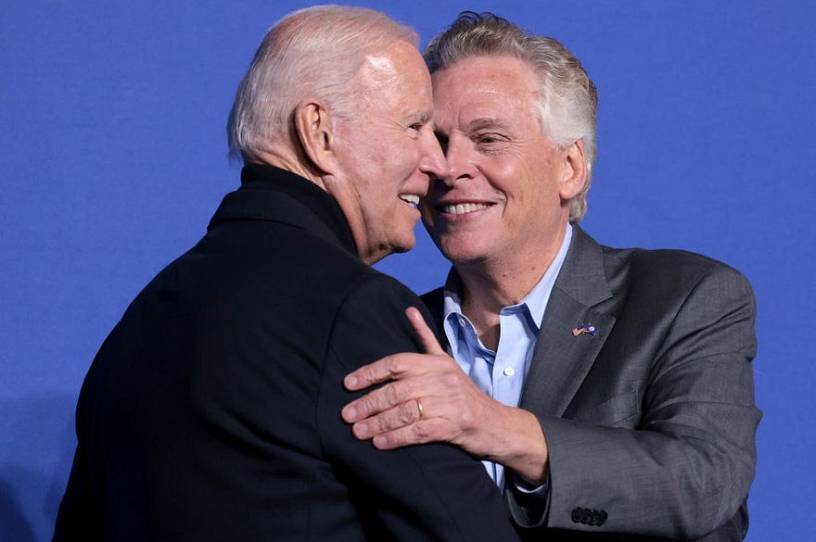 ARLINGTON, Virginia—President Joe Biden joined Virginia gubernatorial nominee Terry McAuliffe on the campaign trail Tuesday evening in a final effort to boost Democratic voter enthusiasm ahead of Election Day. "Terry's opponent has made all these private pledges of loyalty to Donald Trump, but what's really interesting to me — he won't stand next to Donald Trump," Biden said Tuesday of GOP candidate Glenn Youngkin, a former co-CEO of the Carlyle group who has never run for office.
"Is there a problem with Trump being here? Is [Youngkin] embarrassed? Look who's been here for Terry!" the president said before reminding voters that first lady Jill Biden, Vice President Kamala Harris, and former President Barack Obama have all stumped for McAuliffe in recent weeks.
Youngkin, on the other hand, has spent the final stretch of the race traversing the state alone. "He has said from day one that he's not going to have surrogates, which is obviously a stark contrast from McAuliffe, who's calling in the cavalry," said Maddie Anderson, a regional press secretary for the Republican Governors Association, who added that the GOP candidate is "his own best messenger."
Rally attendees say that McAuliffe's close relationships with high-profile candidates bodes well for his election prospects. "He's got popular high-profile Democrats who support him, so why not bring them out, show them off," said one rally attendee named Evan, who lives in Arlington. "I think it also just speaks to the quality of Terry McAuliffe as a candidate that he can bring the president of the United States out on a cold Tuesday night."
You're out of free articles
Create an account to unlock 1 more articles