Protecting the King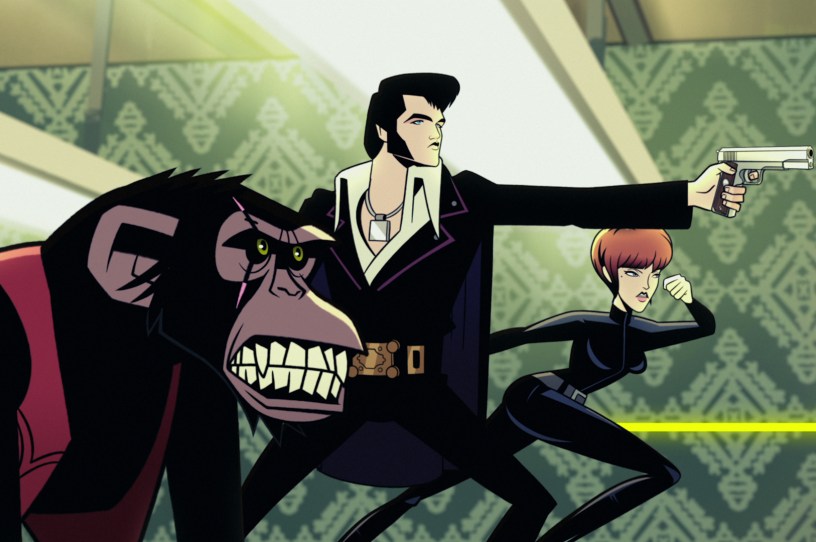 ('Agent Elvis' image courtesy of Netflix © 2023.)
Ladies and gentlemen, Elvis has re-entered the discourse. While the iconic musician has never seen his popularity truly die, a hit biopic last year gave Elvis Presley and his music a bump in attention: 45 years after his death, Elvis' music appeared on Billboard charts again.
Now here comes Netflix, trying to ride that revival wave with a TV show that envisions the King as a secret agent. Created by Elvis' ex-wife Priscilla Presley—who also voices herself in the show—and starring Matthew McConaughey as Elvis, Agent Elvis was released last week and has been widely trashed by critics. The scorn is well-deserved.
Agent Elvis is the latest sanitized and mythologized version of Elvis' life to come from his estate. (The fact that he and Priscilla started dating when she was 14 and he was 24, for example, was left out of both this series and last year's biopic.) Elvis was a talented musician with a dark and messed up private life, but clean images sell well, and when you're sitting on a billion dollar cash cow, there's an understandable impetus to cover up the more unsavory aspects of a life. It's for this reason that Baz Luhrmann's film gave Elvis' drug issues a redemption arc. Meanwhile, they're completely nonexistent in Agent Elvis. It's easier to sell tickets for a tragic hero or an All-American secret agent than an obese addict.
Problem is, all-American secret agent Elvis is boring. The Netflix production owes its comedy DNA to the Mike Tyson Mysteries, an Adult Swim comedy in which the titular boxer solves mysteries with a team of oddballs, starring Mike Tyson as himself. Mike Tyson Mysteries worked because of the show's sharp writing, 15-minute-long episodes, and, most importantly, because the series wasn't afraid to get weird. Norm Macdonald, for example, plays an alcoholic, sex-addicted druggie pigeon.