The Biggest Legal Flaw in Biden's Student Loan Gambit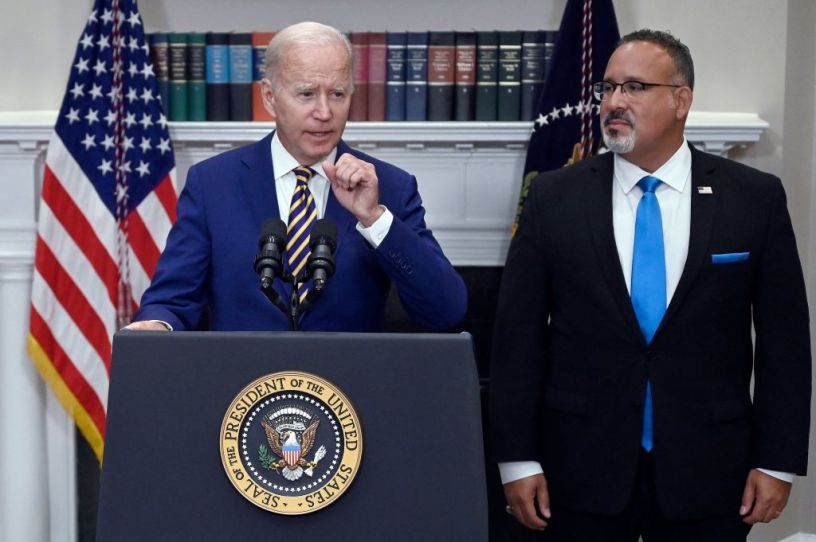 President Joe Biden announces student loan relief with Education Secretary Miguel Cardona. (Photo by Olivier Douliery/AFP/Getty Images.)
The Biden administration wants to avoid judicial review of its student loan erasure program—badly. First it tweaked the program to sidestep a lawsuit on behalf of a man who would have faced tax consequences in Indiana. Then it changed the program's eligibility to quash a lawsuit from six states. The latest lawsuit, challenging the Education Department's evident failure to consider public comments before issuing new regulations, could be more difficult for officials to sidestep. But you can be sure the White House will try. 
Why is Team Biden working so hard to avoid judicial review? They know their student-loan program faces real peril in court. The nominal justification—pandemic relief—is obviously a pretext. And as the Supreme Court made clear during the Trump administration, that is a fatal flaw.
When President Biden announced his policy to not collect hundreds of billions of dollars in student loan payments, the Justice Department issued a legal memo trying to justify it. This document was characteristically careful, laden with caveats, as it had to be.
The law supposedly supporting this program, the HEROES Act of 2003, was enacted by Congress to support servicemembers and their families after the 9/11 attacks. "There is no more important cause for this Congress," the text emphasizes, "than to support the members of the United States military and provide assistance with their transition into and out of active duty and active service." To that end, the legislation gives the education secretary significant—but limited—discretion to "waive or modify" student loans, when "necessary," in "connection with a war or other military operation or national emergency."
Keep reading with a free account
Create a free Dispatch account to keep reading
Get Started
ALREADY HAVE AN ACCOUNT? SIGN IN