The McCarthy-Cheney Split Comes to a Head in Tuesday's Primary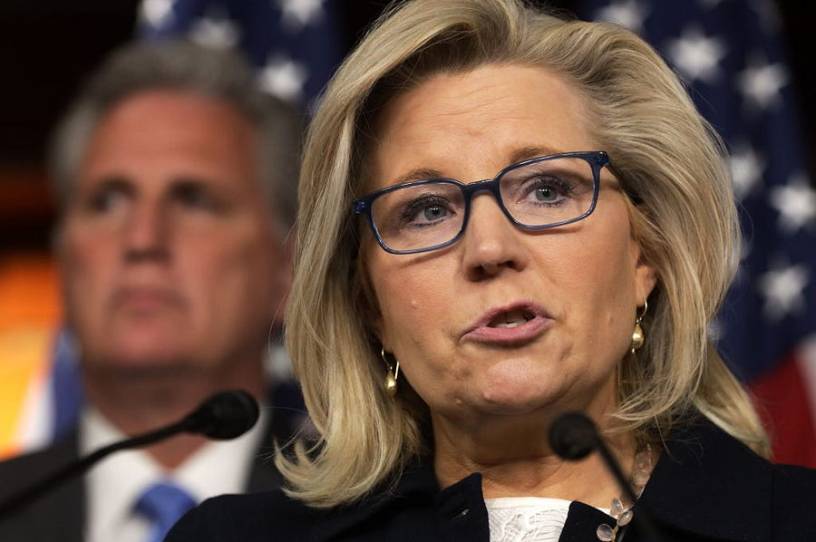 Speaking before a crowd of roughly 50 to 60 Republican lawmakers and activists in the Capitol Hill Club on January 19, 2022, House Minority Leader Kevin McCarthy issued a rare defense of GOP Rep. Liz Cheney. According to two House Republicans who attended the lunch, McCarthy explained why he pushed back against House Freedom Caucus Chairman Scott Perry's latest effort to boot her from the conference for her decision to sit on the select committee investigating January 6.
It was a politically pragmatic defense—not made on Cheney's behalf but rather with his conference's minority status in mind. Stripping her of her former title as House GOP conference chair—an effort he'd vocally supported in May of last year—was one thing. But kicking her out of the conference entirely, McCarthy argued, was inadvisable in that it would cut down the number of Republican committee seats in the lower chamber.
That Capitol Hill Club luncheon marked a strange moment in McCarthy's fraught relationship with Cheney, his former leadership colleague whose reelection bid he has spent the past few months actively campaigning against. But McCarthy's months-long vendetta against Cheney—a politically driven mission aimed at ensuring his rise to speakership should Republicans retake the lower chamber—is nearing its final blow.
Now roughly a year and a half after being censured by her own state's GOP for her vote to impeach former President Donald Trump, Cheney will face her own voters in today's Republican primary for the state's at-large congressional seat. And the polls aren't looking favorable for the three-term incumbent: In most surveys, she trails challenger Harriet Hageman by more than 20 points.
You're out of free articles
Create an account to unlock 1 more articles