Tim Scott's 2024 Gamble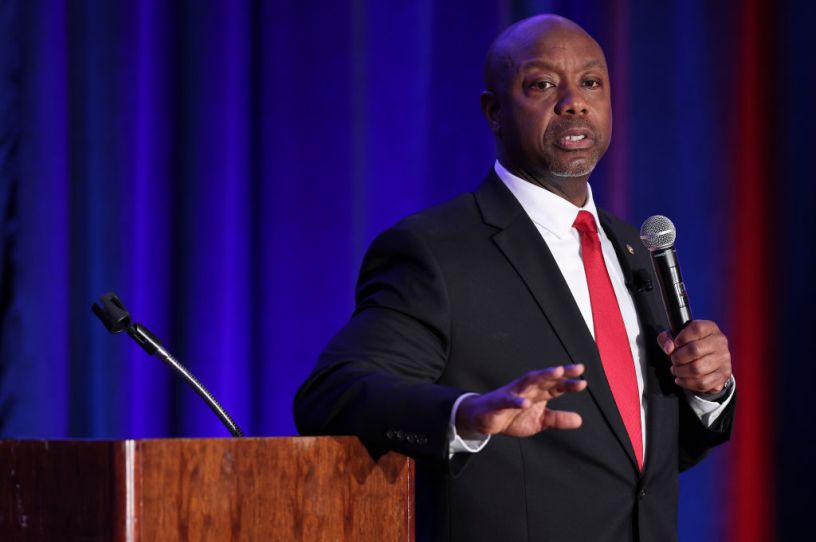 Sen. Tim Scott delivers remarks at the Charleston County Republican Party's Black History Month banquet February 16, 2023, in Charleston, South Carolina. (Photo by Win McNamee/Getty Images)
CHARLESTON, S.C.—Sen. Tim Scott is testing the market for happy warriors in the Republican Party, planning a possible presidential bid rooted in the premise America already is great.
"The story of America is defined by our redemption," Scott said during a keynote address Thursday at the Charleston County Republican Party's fifth annual Black History Month gala. "If we the people stand up and command our country and our government, I believe the next American century starts here. It starts now. It starts with you."
The speech, before a packed ballroom of approximately 250 people on the campus of The Citadel, marked the beginning of the South Carolina Republican's political experiment and kicked off his "Faith in America" listening tour. Next stop, Iowa.
Scott is headed to Des Moines Wednesday to see how this message plays with grassroots conservatives in the state that hosts the first nominating contest on the GOP's 2024 calendar. The senator has started building a political team there ahead of the caucuses. His footprint likewise is growing in South Carolina, whose primary, the first in the heavily Republican South, comes after only Iowa and New Hampshire in the party's voting order.
You're out of free articles
Create an account to unlock 1 more articles