Trump Is Already a Candidate, So Treat Him Like One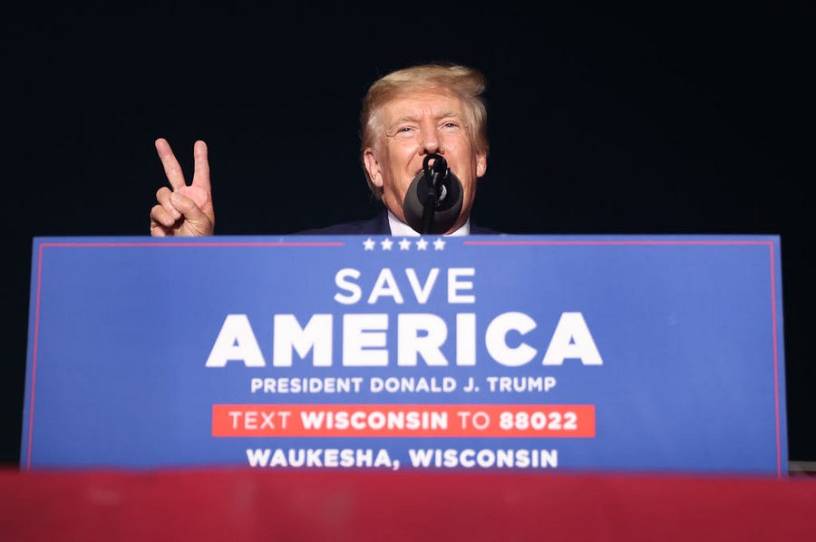 Much speculation swirls around the question of when former President Donald Trump will announce his 2024 presidential candidacy.
Some thought Trump would say the magic words at a rally on Saturday in Wisconsin, where he campaigned against state Republicans who had refused to help him try to steal the Badger State's electoral votes in 2020. Others expected Trump to make his declaration that evening at the Dallas convention of CPAC, one of the groups for young nationalists in his orbit.
Trump has helped fuel much of the speculation through leaks or barely concealed hints about the timing of his declaration. The Washington Post has practically created a sub-beat for empty musings about when Trump will really, actually, totally do it. Among mainstream news outlets, the Post is second only to Fox News in obsessive coverage of Trump's 2024 announcement. Trump's own rhetoric on the subject is heavy-handed, even for him: "The time is coming" or "Now, we may just have to do it again"—even on the first tee of a Saudi golf pro-am.
It's no mystery why Trump and those news outlets are hyping the announcement. Trump, like any candidate for president, wants to generate attention for a proclamation that will be about as surprising as the fact that drug use went up during an electronic music festival in Las Vegas. The news outlets, meanwhile, are trying to wring every droplet they can out of what they must hope is the second coming of the greatest audience generation phenomenon since 9/11.
You're out of free articles
Create an account to unlock 1 more articles