Trump Returns to the Stump in Ohio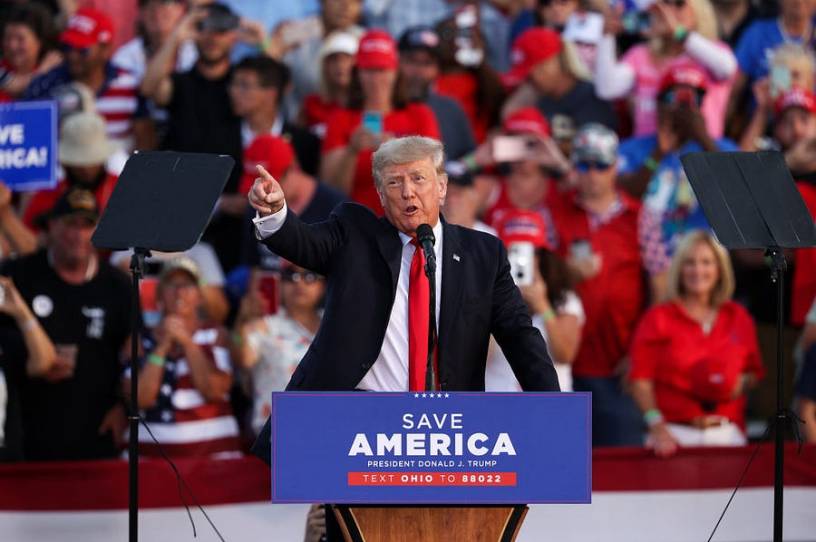 After five months—long months if you liked the guy, short ones if you didn't—former President Donald Trump returned to form on Saturday, holding his first major political rally since addressing a wound-up crowd of supporters in front of the White House on January 6.
"I want to thank Ohio for the incredible turnout … and all of the unbelievable, hardworking patriots who are here tonight at the very first rally of the 2022 election," he told the thousands of fans who descended upon the Lorain County Fairgrounds from across the country. "The number one priority for everyone who wants to save America is to pour every single ounce of energy you have into winning a gigantic victory in the midterms and in 2024."
Democrats currently hold just a 220-211 advantage in the House, and Vice President Kamala Harris has to break ties in a 50-50 Senate—Republicans are well-positioned to regain control of both chambers next year. Trump reserved a few shots in his freewheeling, 90-minute speech for Democratic U.S. Senate candidate Tim Ryan—and he unleashed plenty of criticism for the Biden administration's border policies—but the former president made the trek to Lorain County with a Republican in his crosshairs.
"A guy named Anthony Gonzalez, who is bad news," Trump said, referring to the two-term congressman whom he labeled a "tough cookie" and a "friend" in 2019. Gonzalez is a hometown hero—an all-state high school football player who excelled at Ohio State and was drafted in the first round by the Indianapolis Colts in 2007—but the crowd instinctively knew to boo. "He's a grandstanding RINO, not respected in D.C., who voted for the unhinged, unconstitutional, illegal impeachment witch hunt. … He's a sellout, and a fake Republican, and a disgrace to your state."