Was the Trump Campaign Going to Use 'Spy Gadgets' on a Blimp to Collect Voter Data?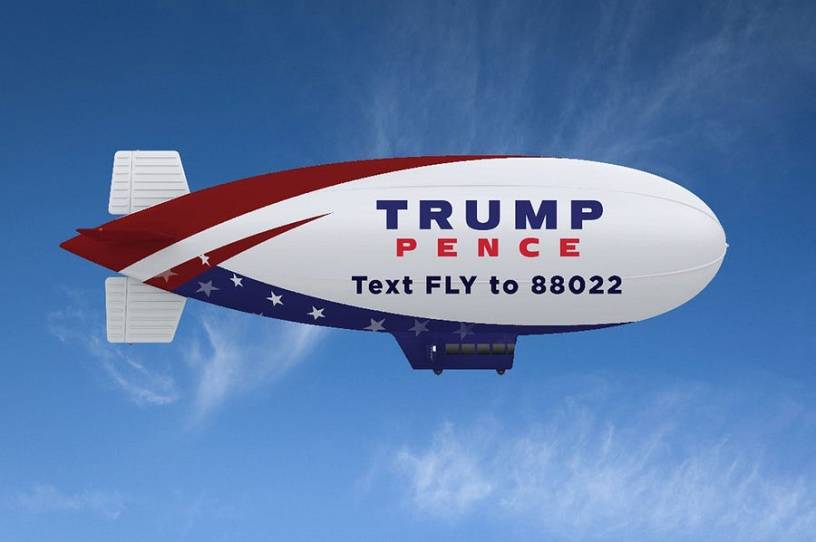 It's not crazy to think that Donald Trump might deploy a blimp over swing states to advertise for his re-election campaign. But would he use "state-of-the art spy gadgets" to collect data on those living below? 
That was the claim of a post by America Web Media first published in March. The article was shared again by America Web Media on Sunday, and received more than 100,000 views across various AWM Facebook pages within 24 hours.
And in fact, the Trump campaign was, at one point, planning to send a campaign blimp emblazoned with the Trump-Pence logo over swing states from May to July, as reported in early March by Politico, the Associated Press, Fox News, and other outlets. According to these stories, the campaign was also potentially going to offer the chance for Trump supporters to enter a contest to go aboard the blimp. The blimp was planned to serve a dual purpose: campaigning and collecting voter data. While the America Web Media article claims such data will be collected with "state-of-the-art spy gadgets," the reporting from March indicated that voter information would be collected through a message on the blimp encouraging those who see it to text the Trump campaign. The campaign would then be able to use the respondents'  contact information for donation requests and to send election materials.
A lot has changed since this initial round of reporting occured. Politico reported that "According to two campaign aides familiar with the plans, it is expected to appear above sporting events and other large gatherings." With such events disappearing thanks to the coronavirus pandemic and campaigning having to change with these unusual times, it does not look like the Trump blimp ever made it beyond the planning stage. The Trump campaign did not respond to a request for comment, but there have been no reports of sightings of the blimp and the campaign has said nothing about it publicly.
Get every newsletter and all of The Dispatch. Support quality, fact-based journalism.
Get Started
ALREADY HAVE AN ACCOUNT? SIGN IN