What Do the Grassroots Do Now?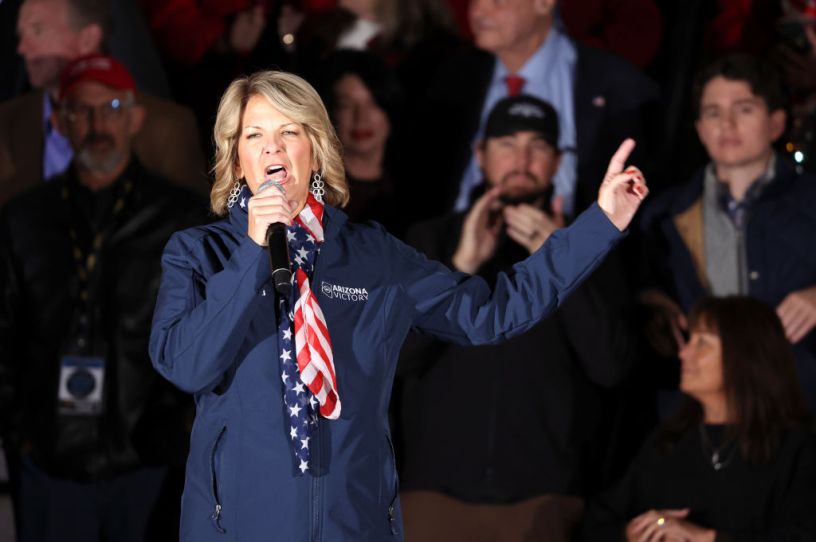 Arizona Republican Party Chairwoman Kelli Ward speaks during a campaign rally on November 7. (Photo by Justin Sullivan/Getty Images)
Where will the Republican Party go from here? This question—front of mind for sore GOPers in the wake of this month's disappointing midterms—won't have a definitive answer until 2024's presidential nomination contest. But we'll get some early hints over the next few months at the state level, where some state Republican parties now face questions about whether they tied themselves too tightly to MAGA politics in recent years.
At their core, a state political party's responsibilities are simple: advancing that party's principles and supporting that party's candidates via fundraising and get-out-the-vote coordination. In recent years, however, some state GOP organizations have taken on another role: policing candidates' loyalty to former President Donald Trump. Take for instance the crucial swing states of Arizona and Georgia.
In Arizona, party chairwoman Kelli Ward—first elected in 2019—oversaw the party apparatus as it became a weapon to fight Trump's personal battles. The party backed his stolen-election conspiracy theories, with Ward herself leading the bungling effort to empanel a slate of false Arizona Trump electors after the 2020 election. And it led a vengeance campaign against state Republicans seen as insufficiently loyal to Trump, holding censure votes against the likes of Cindy McCain, widow of the late Sen. John McCain, and House Speaker Rusty Bowers, who committed the sin of testifying before the January 6 committee.  
"Please don't use @azgop and McCain in the same sentence & tag us while I'm chair," Ward tweeted last year. "I am leading an #AmericaFirst GOP here in our state."
You're out of free articles
Create an account to unlock 1 more articles