What New York Housing Shortage?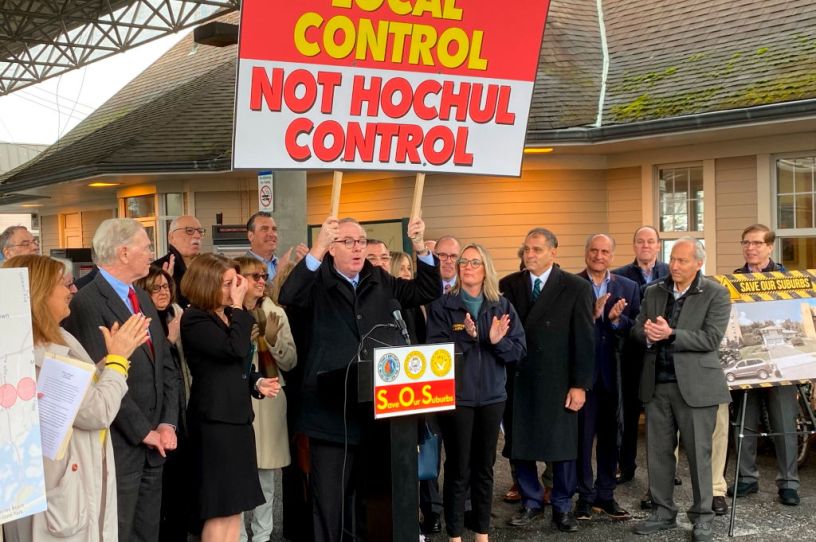 A sign reads, "Local Control, Not Hochul Control." Port Washington, N.Y., March 2. (Photo by Chris Ware/Newsday RM via Getty Images)
The author is Mara Gay. The venue is the New York Times. And the enemy is the suburbanites who like their suburbs the way they are: "NIMBYs Threaten a Plan to Build More Suburban Housing," reads the headline.
A proposal from New York Gov. Kathy Hochul, "a moderate Democrat, would simply bring the state's housing policy into the 21st century, building crucially needed housing in the suburbs by slashing Jim Crow-era zoning laws." Oh, that. By 21st-century policy, Gay means a mandate from Albany that the housing stock of every town in New York must grow by a certain percentage every three years–or face having local planning-and-zoning laws nullified by the state, which will then have a free hand to impose its own development agenda. "The purpose isn't to attack the suburbs," Gay writes, "but to help them grow, along with the rest of the state."
Alert readers will see the problem in that last clause.
If you wanted to illustrate with only a few sentences what is wrong with New York Times-style progressivism, you could do worse than the above: the unsupported (and, in context, irrelevant) assertion that Gov. Hochul is a "moderate Democrat," the cynical insinuation of racism, the insistence that Hochul's so-called moderate plans are being held hostage by atavistic reactionaries who are opposed not to Hochul's program but to the 21st century—and all of that crowned with a neon non sequitur: "to help them grow, along with the rest of the state."