What the NYC's Mayoral Race Could Tell Us About Urban America After a Year of Turmoil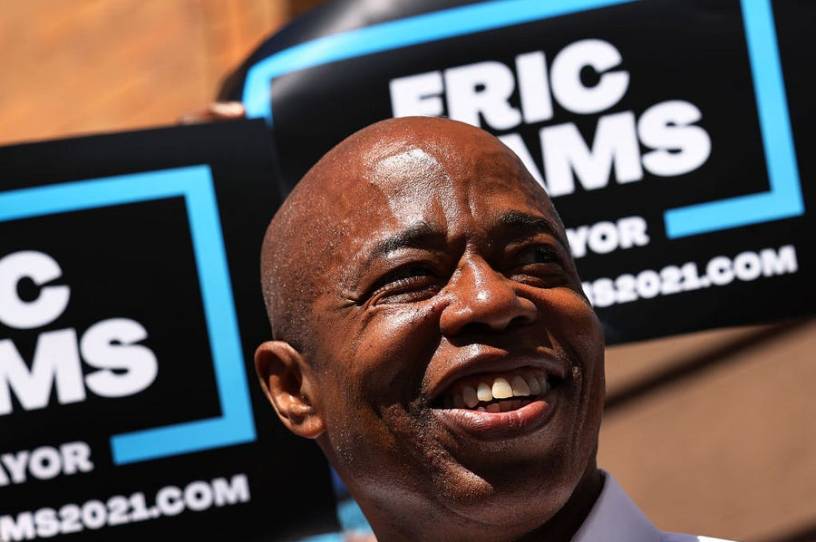 NEW YORK—Eric Adams' campaign for mayor of New York isn't subtle. The first thing the Brooklyn borough president and frontrunner in the race to run America's biggest city wants you to know about him is that he's a blue-collar New Yorker who'll be a blue-collar mayor. 
It's the message he delivers in TV spots, when he touts his tough upbringing and 20 years on the NYPD, telling viewers: "These hands have seen rough times—and I've got the calluses to prove it." And it was the message he delivered at a recent campaign event on the waterfront near the Brooklyn Bridge, where he received an impeccably blue-collar endorsement from the carpenters union. 
Adams, a black, 60-year-old former cop and one-time Republican who has stuck to a moderate message in the Democratic primary race, arrived to the boisterous bars of a song called "The Champ Is Here" by Jadakiss (a bold choice). With downtown Manhattan as a backdrop and flanked by a few dozen union members in orange T-shirts, he delivered some predictable carpentry metaphors about rebuilding the city after COVID-19.  
At the fringe of the press gaggle, an Adams flack said to me, "I would give you my business card, but I don't have any. We're a blue collar campaign." These folks are too salt-of-the-earth for extravagances like a piece of thick paper with a telephone number on it. One especially brawny carpenter took an admirably direct approach to hammering the message home, at one point yelling simply "blue coll-ah!" in his thick New York accent.