DeSantis, Not Yet Running for President, Courts Republicans in D.C.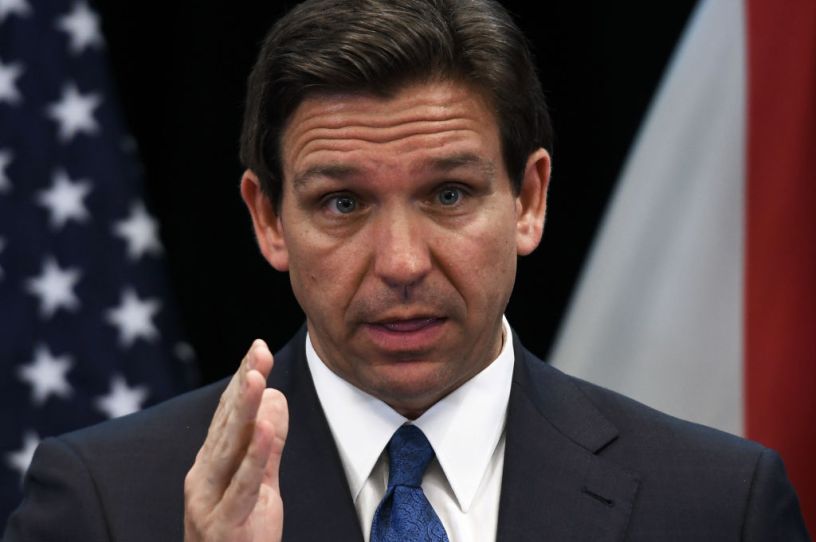 Florida Gov. Ron DeSantis holds a press conference in Lake Buena Vista. (Photo by Paul Hennessy/SOPA Images/LightRocket/Getty Images)
Happy Wednesday! A friendly reminder that politicians are subject to federal robocalling laws too. Take it from former Speaker Nancy Pelosi, whose campaign paid a $7,500 settlement to an Illinois man after he "sued over 'invasive and harassing' fundraising texts," Insider's Bryan Metzger reports.
Up to Speed
Senate Republicans blocked an effort by Senate Majority Leader Chuck Schumer Tuesday evening to appoint a temporary replacement for Democratic Sen. Dianne Feinstein on the Senate Judiciary Committee, prolonging Senate Democrats' backlog in approving judicial nominees as the senior senator from California recovers from shingles away from the U.S. Capitol. Feinstein has previously stated she would not seek reelection in 2024 but that she will serve out the rest of her term. Though no Senate Democrats have called for her resignation as of Wednesday morning, a handful of House Democrats—including Reps. Ro Khanna, Jamaal Bowman, and Dean Phillips—are calling for her to step down. Democratic Rep. Alexandria Ocasio-Cortez has also said "unfortunately something that I think it is appropriate to consider."
The ​​Iowa Faith & Freedom Coalition will host its 23rd annual spring kickoff on Saturday. One of the first high-profile GOP presidential events in the earliest caucus state, the event will feature remarks from a host of declared GOP presidential candidates—former President Donald Trump (who is speaking virtually), former South Carolina Gov. Nikki Haley, former Arkansas Gov. Asa Hutchinson, and tech entrepreneur Vivek Ramaswamy—and prospective ones, including Florida Gov. Ron DeSantis, South Carolina Sen. Tim Scott, former Vice President Mike Pence, South Dakota Gov. Kristi Noem, New Hampshire Gov. Chris Sununu, Virginia Gov. Glenn Youngkin, and former New Jersey Gov. Chris Christie.
Scandal-embroiled GOP Rep. George Santos of New York announced Monday that he will seek reelection in 2024. But he shouldn't expect House GOP leaders to help him fundraise. FEC reports show that Speaker Kevin McCarthy created a joint fundraising committee, Protect the House New York 2024, to boost fundraising efforts for several House Republicans from New York—but Santos' fundraising committee is notably absent from the list.
DeSantis 2024 Launch Comes Into View
Republican insiders in Florida now expect Ron DeSantis to launch his presidential bid in mid-May, approximately one month earlier than anticipated. By moving up his timeline, DeSantis will have the ability to respond more quickly and directly to attacks from former President Donald Trump and stanch his recent bleeding in the polls.
Multiple sources also tell The Dispatch that Never Back Down, the pro-DeSantis super PAC, will likely be responsible for fielding the campaign's ground game. Both Never Back Down and the governor's political team declined to comment Wednesday morning. The PAC's chief strategist, Jeff Roe, has experience running field operations in a high stakes presidential primary. He did so for the 2016 GOP runner-up, Sen. Ted Cruz of Texas.
DeSantis signaled the accelerated kick-off Tuesday during a meet-and-greet with congressional Republicans and GOP lobbyists and operatives in Washington, telling attendees he would turn his attention to what's next soon after Florida's legislative session concludes on May 5 and the state budget is wrapped up.