How ESG Became a Right-Wing Flashpoint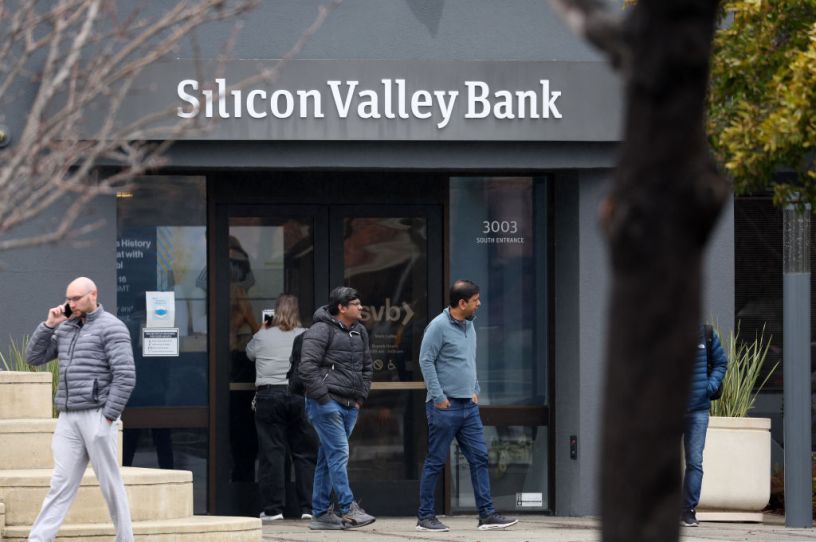 Employees stand outside of the shuttered Silicon Valley Bank headquarters on March 10, 2023, in Santa Clara, California. (Photo by Justin Sullivan/Getty Images)
Happy Monday—to everyone except former Ohio House Speaker Larry Householder or former state GOP Chair Matt Borges, who were convicted by a federal jury on Thursday for a $60 million bribery and money laundering scheme. Both face up to 20 years in prison.
Up to Speed
Senate Minority Leader Mitch McConnell—the 81-year-old senior senator from Kentucky—was hospitalized after he fell at a private event in Washington and suffered a concussion, his spokesman David Popp said on Thursday.
The National Republican Senatorial Committee (NRSC) is urging Montana businessman Tim Sheehy to challenge Democratic Sen. Jon Tester in 2024, Axios' Josh Kraushaar reports. He'd be a top recruit if he decides to run: "Sheehy is a former Navy SEAL and Purple Heart recipient who completed over 200 missions in Iraq, Afghanistan, South America and the United States Pacific Command. He is currently the CEO of Bridger Aerospace, a Montana-based provider of aerial firefighting and wildfire surveillance services," Kraushaar reports. "Sheehy is personally wealthy and would be able to self-finance a campaign. He's also a political outsider who doesn't have a history of controversial statements or unpopular votes."
During a town hall with CNN's Jake Tapper last week, Virginia Gov. Glenn Youngkin touted his administration's stances on parental involvement in K-12 education as it relates to transgender policies and banning critical race theory in schools. Youngkin also endorsed building gender neutral bathrooms in response to a question from a 17-year-old transgender student currently enrolled in Virginia's public school system: "Look at me. I am a transgender man," the student said. "Do you really think that the girls in my high school would feel comfortable sharing a restroom with me?" Youngkin responded: ​​"That's why I have said many, many times, we just need extra bathrooms in schools. We need gender-neutral bathrooms and so people can use the bathroom that they in fact are comfortable with." Youngkin also demurred about whether he will run for president in 2024: "I believe there's an enormous amount of work yet to do in Virginia."
ESG Enters 2024 Campaign Debate
If you read today's TMD, you're up to speed on the demise of Silicon Valley Bank. If you didn't, here's the gist: The bank faced a liquidity crunch thanks to a combination of a cooling tech market and some suboptimal bets on long-maturity investments. It tried to deal with that crunch by selling a heap of those investments at a substantial loss, and its hyper-vigilant venture capital customers read that sale as a sign of structural weakness. Cue a run on the bank.
Or, well, but maybe there was another problem? Here's GOP Rep. James Comer, chairman of the House Oversight Committee: "They were one of the most woke banks in their quest for the ESG-type policy and investing," he told Fox News' Maria Bartiromo Sunday.
As an analysis of the bank failure, this was an odd non sequitur. But as a piece of political messaging, it was unsurprising: ESG has become a significant Republican campaign issue going into 2024.
You're out of free articles
Create an account to unlock 1 more articles