Mike Pence's Campaign Stop in Kyiv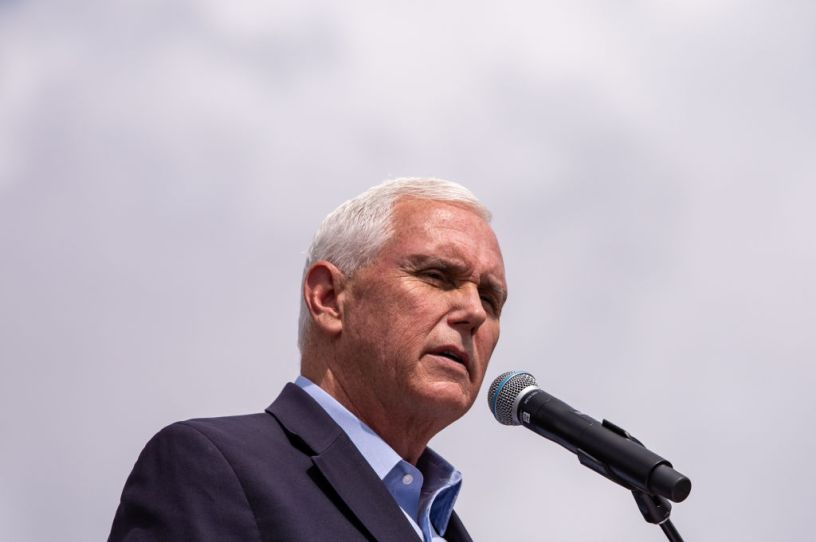 Republican presidential candidate and former Vice President Mike Pence on June 24, 2023, in Washington, D.C. (Photo by Anna Rose Layden/Getty Images)
Happy Friday! Are you one of the millions of Americans who suffer from sleep apnea? You're in company with President Joe Biden, whose CPAP machine left indentations on his face earlier this week and revealed his use of the device to the world.
Up to Speed
In Kyiv, Pence Calls for 'Strong American Support' of Ukraine
Former Vice President Mike Pence made a surprise visit to Ukraine Thursday, meeting with the country's president, Volodymyr Zelensky, and receiving briefings from Ukrainian officials on the state of the ongoing war with Russia.
Pence is the first Republican presidential candidate this cycle to make a trip to Ukraine, and it comes more than a year after he traveled to the Ukraine-Poland border to meet refugees from the Russian invasion. At a time when the GOP field appears split on whether America should continue to provide military aid to the Ukrainians, Pence's appearance allowed him to articulate a vision of support for Ukraine's fight against Russian aggression.
"I believe America's the leader of the free world," Pence told NBC News, which first reported on his trip. "But coming here just as a private citizen—being able to really see firsthand the heroism of the Ukrainian soldiers holding the line in those woods, see the heroism of the people here in Irpin that held back the Russian army, to see families whose homes were literally shelled in the midst of an unconscionable and unprovoked Russian invasion—just steels my resolve to do my part."
You're out of free articles
Create an account to unlock 1 more articles