Nikki Haley Tries a Non-Trump Middle Road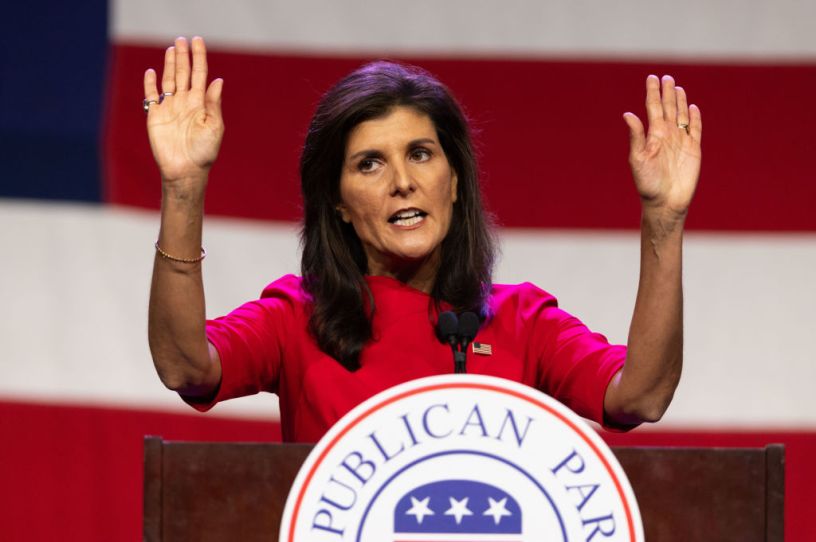 Former South Carolina Gov. Nikki Haley speaks during the Republican Party of Iowa 2023 Lincoln Dinner at the Iowa Events Center in Des Moines, Iowa, on July 28, 2023. (Photo by Rebecca S. Gratz for The Washington Post via Getty Images)
Happy Monday! An 83-year-old former House speaker is running for reelection, in part to help the 80-year-old president of her party defeat the 78-year-old former president among whose top elected leaders in Washington is the 81-year-old Senate minority leader.
Up to Speed
Former President Donald Trump had a message for failed 2022 Republican Senate candidate Blake Masters of Arizona: He can't win a Senate GOP primary this cycle. The New York Times reports Trump called Masters last week to warn him off running against another possible candidate, failed 2022 Republican gubernatorial candidate Kari Lake. Both Republicans are considering running for Democrat-turned-independent Sen. Kyrsten Sinema's seat in 2024.
Pressed repeatedly about the White House's abortion stance during an extended interview with CBS News' Face the Nation on Sunday, Vice President Kamala Harris declined to say where Democrats should draw the line on abortion restrictions, repeating several times to multiple questions that Democrats "need to restore the protections of Roe v. Wade."
As they return to Washington this week after their August recess, the rightmost flank of the House Republican conference is threatening to extract concessions from Speaker Kevin McCarthy amid Congress' ongoing spending fight. Government funding is set to expire October 1. "In this spending fight, we can & absolutely must force: A secure border; An end to the weaponization of the DOJ & FBI; An eradication of woke policies from our military. And let's not forget ripping up the blank check to Ukraine," GOP Rep. Eli Crane, one of the roughly twenty House Republicans to initially hold up McCarthy's January speakership bid in January, wrote in a social media post earlier this month.
How Haley Plans to Separate From the Pack and Take on Trump
Nikki Haley is attempting to cut a path to the Republican nomination that neither embraces nor rejects frontrunner Donald Trump and the conservative populism that has dominated the GOP since the former president won the White House nearly seven years ago.
The strategy puts Haley, the former South Carolina governor, smack in the middle of an intramural battle for the direction of the party unfolding between fellow underdogs Mike Pence and Vivek Ramaswamy, with the former vice president pleading for the traditional conservatism that governed the GOP for a 40-year period ushered in by Ronald Reagan and the wealthy biotech entrepreneur essentially arguing Trumpism is the future. It's exactly where the former U.S. ambassador to the United Nations wants to be.
"Nikki is a bold, new conservative leader," Haley campaign spokeswoman Olivia Perez-Cubas tells The Dispatch. "She is the only candidate with the backbone and vision to lead both the Republican Party and the country forward."
You're out of free articles
Create an account to unlock 1 more articles