Post-Debate, Nikki Haley Gets a Second Look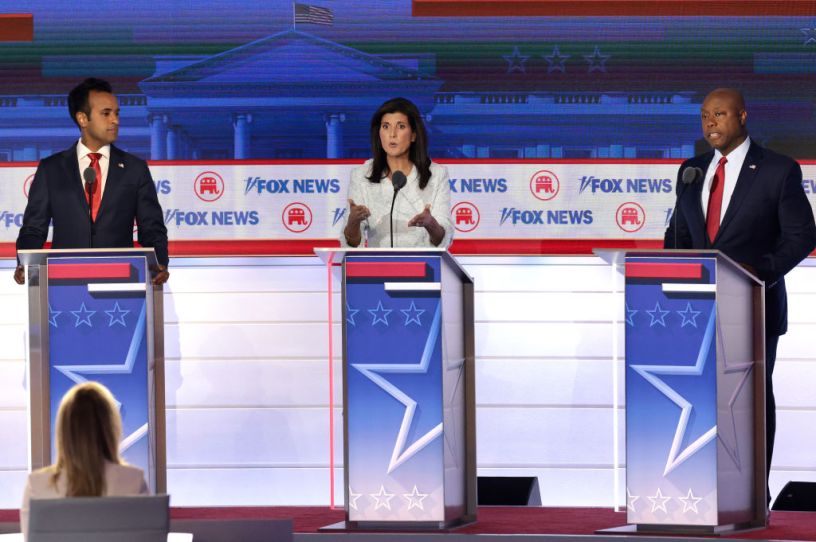 Former U.N. Ambassador Nikki Haley during the first debate of the GOP primary season, along biotech entrepreneur Vivek Ramaswamy and Sen. Tim Scott, on August 23, 2023, in Milwaukee, Wisconsin. (Photo by Win McNamee/Getty Images)
Happy Friday! We had a fun time Wednesday evening in the spin room—the post-debate hotspot where presidential surrogates defend their preferred candidates and take calculated hits at their biggest competition.
Here's Donald Trump Jr. in Milwaukee during a post-debate scrum with reporters about who he thinks performed the worst: "Well, Ron DeSantis, because he needed to do good, he sat there like a wallflower." And who had the best debate performance? "Vivek, I think, landed some great shots. And he made some incredible points. He had original thought, and more importantly, it wasn't robotic. Right? Does that make sense?"
Up to Speed
Former President Donald Trump surrendered to a jail in Fulton County Thursday evening after a grand jury in Georgia indicted him and 18 co-defendants earlier this month over their alleged efforts to overturn the 2020 presidential election. Trump has been indicted four times since leaving the presidency, but Thursday marked the first time he had his mug shot taken. He spent about 20 minutes in jail and was released on a $200,000 bond. Let the mug shot fundraising games begin!
The House Judiciary Committee launched an investigation on Thursday into Fulton County District Attorney Fani Willis. "Your indictment and prosecution implicate substantial federal interests, and the circumstances surrounding your actions raise serious concerns about whether they are politically motivated," Republican House Judiciary Chairman Jim Jordan wrote in a letter to her office.
Failed 2022 gubernatorial candidate Kari Lake tells The Dispatch she's still "seriously" considering running for U.S. Senate in Arizona and is engaged in ongoing conversations with the National Republican Senatorial Committee about her 2024 plans. "I just bumped into them last night actually," Lake said in a brief interview Thursday afternoon in the Milwaukee Mitchell International Airport. "We had a really great conversation, we had an excellent conversation with one of the top people at the NRSC," added Lake, who declined to name the NRSC official. "Could not have been better, could not have been more supportive. And I just texted him actually, before I went through TSA." Lake, who still has not conceded her 2022 election loss to Democratic Gov. Katie Hobbs, said she hopes to make a decision about a Senate run in "the next couple of months."
A Bump for Haley After Milwaukee
Voter interest in Nikki Haley is surging after the underdog presidential contender delivered a breakthrough performance during a combative Republican debate in Milwaukee.
Since Wednesday evening, online engagement with individuals, organizations, and social media platforms supporting Haley's 2024 bid spiked 1,500 percent. That included a 700 percent increase in interactions on X, formerly known as Twitter, both during and following the primetime debate hosted by Fox News; a doubling of viewership on Haley's YouTube channel; and increased visits to her campaign website equaling 10 times normal traffic.
You're out of free articles
Create an account to unlock 1 more articles