A Busy Week for NATO Leaders in Vilnius
Happy Thursday—and happy National French Fry Day! If you happen to be in Thailand, we hope you celebrate with Burger King's new "real cheeseburger": One sesame seed bun, 20 slices of American cheese, and absolutely nothing else.
Quick Hits: Today's Top Stories
Chinese hackers accessed the email accounts of numerous U.S. government officials—including Commerce Secretary Gina Raimondo—by breaching Microsoft's cloud security, according to Microsoft and the White House. The New York Times reported yesterday the hack was first identified at the State Department, where hackers allegedly tried to breach the email accounts of specific officials prior to Secretary of State Antony Blinken's trip to Beijing last month. The hackers reportedly had access to the accounts for a month before their presence was detected and addressed.
North Korea launched its first intercontinental ballistic missile test in several months on Wednesday, supposedly in retaliation for U.S. spy planes' flights through the country's exclusive economic zone earlier this week—though American officials downplayed the allegations. The ICBM—apparently a solid-fuel Hwasong-18—traveled more than 620 miles over the course of 74 minutes before landing in waters between the Korean Peninsula and Japan.
Lawmakers in Iowa voted Tuesday night—56-34 in the House, 32-17 in the Senate—to pass a bill banning abortions in the state if a fetal heartbeat is detected, generally around six weeks gestation. Republican Gov. Kim Reynolds said in a statement that she would sign the legislation—which has exceptions for "medical emergencies"—into law on Friday, after which it would take effect immediately, unless a judge issues a preliminary injunction as abortion access groups requested in a lawsuit filed Wednesday afternoon.
Morning Consult released the first poll of the GOP presidential field that meets the Republican National Committee's criteria for qualifying for the party's August primary debate in Milwaukee. Donald Trump, Ron DeSantis, Vivek Ramaswamy, Mike Pence, Nikki Haley, Tim Scott, Chris Christie, and Asa Hutchinson all met or surpassed the 1 percent threshold, but GOP hopefuls will need to earn at least 1 percent support in two more national polls (or one more national and one state poll) and garner 40,000 individual donors to qualify for the debate. Christie and Scott both announced yesterday that they had met the donor requirements.
Northwestern University fired head football coach Pat Fitzgerald this week after University President Michael Schill concluded Fitzgerald "should have known" about hazing activities—including "nudity and sexualized acts of a degrading nature"—uncovered by an independent investigation after a whistleblower report. Schill had initially suspended Fitzgerald—who signed a 10-year, $57 million contract in 2021—for two weeks, but made the dismissal permanent amid mounting public pressure.
The State of Our NATO Is Strong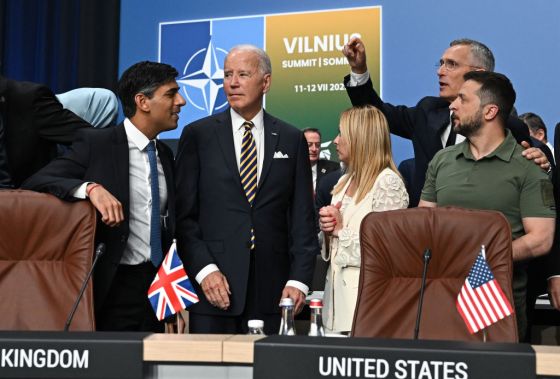 Vilnius, Lithuania: Home to 540,000 people, a 15-foot statue of Tony Soprano wearing a bathrobe and purple shorts, and, for the last few days, the heads of the world's most powerful military alliance.
We hope those NATO leaders took a field trip to see the giant Tony, but we doubt they had time between announcing new security assistance for Ukraine—though not a NATO membership timeline—and getting the runaround from Turkish President Recep Tayyip Erdoğan over when Turkey will approve Sweden's accession to the alliance.
At first glance, Ukraine might not seem any closer to NATO membership after the two-day summit than it was in 2008, when NATO first declared the nation "will become" a member at some point—and then did little to help Ukraine make that a reality. This time, the alliance affirmed that "Ukraine's future is in NATO," but still offered no timeline, saying only that Ukraine can join "when allies agree and conditions are met."