American Submarines Headed Down Under
Happy Thursday! If you—like Declan—have not yet filled out your bracket for the TMD March Madness pool, you only have a few more hours until the first (non-play-in) games tip off!
More than 1,600 of your fellow readers have already signed up for a chance to win a lifetime membership, Yeti tumblers, Dispatch merch, and more. To enter, click here (you will need to have a free ESPN account) and select "Join Group." The password is "TMD2K23!" and if you want to be eligible for prizes, fill out this form so we can connect you with your ESPN entry.
Quick Hits: Today's Top Stories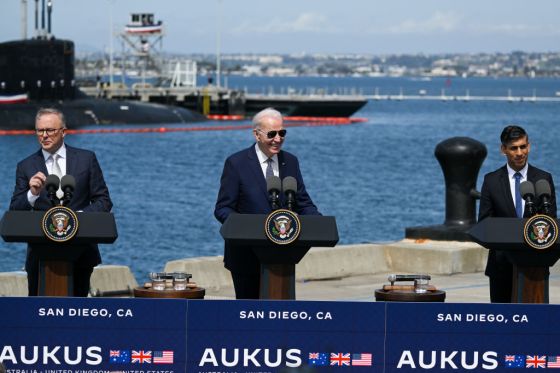 Between another nationwide strike resulting in thousands of tons of trash stacking up on the streets of Paris and three so-called allies unveiling a deal that cost the country more than $40 billion, France is having a pretty tough week. Après la pluie, le beau temps.
The United States, the United Kingdom, and Australia announced on Monday the first major development of their trilateral partnership known as AUKUS: the planned sale of nuclear-powered (not nuclear-armed) U.S.-made submarines to Australia. The three countries also announced a program to boost nuclear submarine construction over the next several decades, train Australian soldiers at American and British submarine bases, and deploy U.S. and U.K. subs to a military base on Australia's west coast. That may sound like a lot of hullabaloo over a few submarines, but the announcements mark a significant strategic milestone as the three countries look to address rising competition with China in the Indo-Pacific.
Get every newsletter and all of The Dispatch. Support quality, fact-based journalism.
Get Started
ALREADY HAVE AN ACCOUNT? SIGN IN