Supreme Court Guts Affirmative Action
Happy Friday! The band Fall Out Boy released a cover of Billy Joel's "We Didn't Start the Fire" with lyrics updated for the present. Any list that includes Spongebob alongside Kim Jong Un is bound to be controversial, but we approve—they made sure to mention the Cubs' World Series win.
Quick Hits: Today's Top Stories
SCOTUS Rules Against Race-Based College Admissions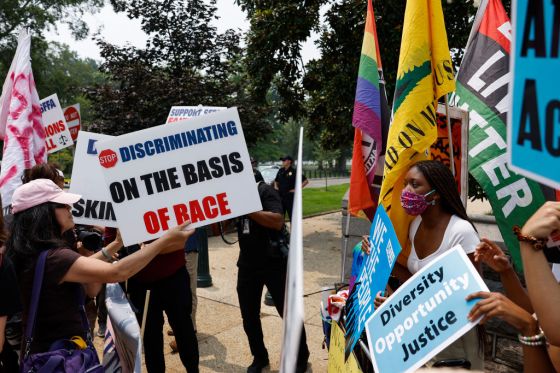 The Supreme Court tends to save its most controversial rulings of the term for last, and yesterday we finally got the decision we've all been waiting for: Abitron Austria GmbH v. Hetronic International, Inc.
What—you're not following the extraterritorial trademark infringement showdown of the century? Well then let's discuss SCOTUS effectively ending affirmative action for college admissions instead.
Combining two similar cases into one, justices were tasked with determining whether the race-based admissions policies at Harvard University and the University of North Carolina violate Title VI of the Civil Rights Act and the 14th Amendment's equal protection clause. Writing for a 6-3 majority split along ideological lines, Chief Justice John Roberts concluded that they did, and that giving some students a race-based boost necessarily discriminates against others in the "zero-sum" world of admissions to highly selective colleges and universities.