Happy Tuesday! If you appreciate what we're doing here at The Dispatch, we have a small favor to ask: Forward this email to someone (or a few someones) in your life who might enjoy getting TMD every morning. Let them know why you're a reader, and that they can click "sign up for this newsletter" at the top of the email to get Wednesday's edition in their inbox. For the next few days, the members-only version of The Morning Dispatch will be unlocked for all to read.
To do more of the kind of work we want to do, we need more members. And the best way to get more members is word of mouth from the people who know us best. Thanks for your help.
Quick Hits: Today's Top Stories
Hot Labor Summer?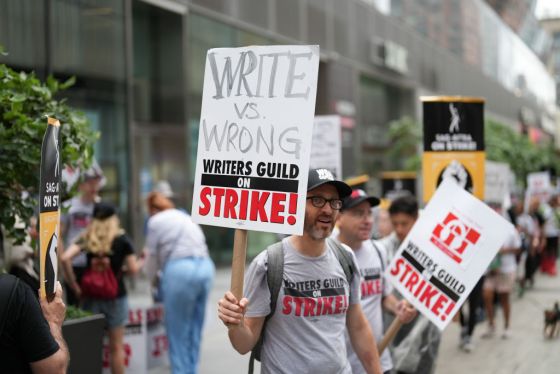 With a number of high-profile strikes and almost-strikes taking place this summer, it looks like the labor movement in the United States is having a moment. Americans have spent the past decade telling pollsters about their increasing support for unions, and then they elected a president who claims he's the most pro-union occupant of the White House in history. But the strikes and that professed enthusiasm belie the reality: The rate of union membership in the United States has steadily decreased over the last four decades, dropping by roughly half between 1983 and 2022 to 10.1 percent of workers. With United Auto Workers threatening to strike at the end of the week, how much power does today's worker wield?
The U.S. workforce has seen dramatic changes in recent decades—from the widespread disruptions caused by advances in information technology to the upheaval of the global pandemic, very few workers today occupy jobs performed as they had been just a few years ago. With more change coming after the arrival of artificial intelligence and a tight labor market that gives workers leverage, the prospect of more aggressive labor action is real. "We are certainly seeing more contentious labor relations and more of a push on the labor union side in the negotiations this summer," Alexander Colvin, dean of Cornell's School of Industrial and Labor Relations, tells TMD. "Workers and their unions are looking to make up ground from the inflation of the last couple of years, and they have more bargaining power because of low unemployment and a strong economy," Colvin adds. Plus, he notes, many high-profile unions have a slate of new, more aggressive leaders willing to take the fight to management in innovative ways.
You're out of free articles
Create an account to unlock 1 more articles