Happy Wednesday! For the first time in history, according to Nielsen data, linear television accounted for less than 50 percent of Americans' total viewing time in July—with cable TV accounting for 29.6 percent and broadcast TV 20 percent.
The other 50.4 percent? This YouTube video of a pug eating watermelon.
Quick Hits: Today's Top Stories
Trump and 18 Co-Defendants Indicted in Georgia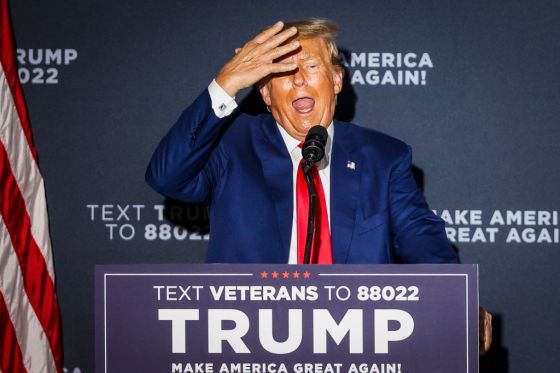 What do former President Donald Trump, Young Thug, and Kanye West's onetime publicist have in common? They're all facing racketeering charges from Fani Willis, the Democratic district attorney in Fulton County, Georgia.
Trump was hit with his fourth and most expansive indictment Monday, this time for his attempts to overturn the 2020 presidential election results in Georgia and promulgate his voter fraud falsehoods. But, unlike special counsel Jack Smith, Willis did not stop at Trump—she also indicted 18 co-conspirators in the effort under Georgia's Racketeer Influenced and Corrupt Organizations (RICO) Act, a legal tool she's previously wielded in unconventional ways against other high-profile defendants. The charges are serious—with mandatory sentencing minimums if convicted and beyond the reach of a presidential pardon—but Republicans by and large weren't fazed. With four indictments in as many months, Trump, his allies, and his GOP primary opponents have fallen into patterns of denial and deflection that are proving just as useful this time around.