U.S., India Unite Over Common Adversary
Happy Friday! In case you need any more evidence that tech billionaires are the weirdest people on the planet, Elon Musk and Mark Zuckerberg have apparently challenged one another to a cage match. No matter who wins, America loses.
Quick Hits: Today's Top Stories
Mad about Modi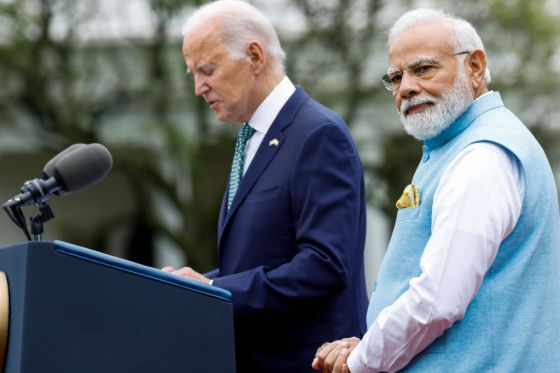 Yoga outside the United Nations, a chat with Elon Musk, a speech before Congress, and a rare state dinner at the White House, complete with a vegetarian menu: Indian Prime Minister Narendra Modi's state visit to the United States this week demonstrated just how far he's come since being denied a U.S. visa in 2005 over his alleged role in the deaths of nearly 1,000 Muslims during the 2002 Gujarat riots.
He's got China to thank.
That's not the whole story, of course—the United States has plenty of other reasons to pursue strong ties with Modi. India became the world's most populous country this year and is increasingly attractive to foreign investment and influential in South Asia. And Modi is that country's democratically elected, enormously popular leader—boasting an approval rating near 80 percent—who is likely to win reelection next year.