The Sweep: Swing States and Voter Registration Trends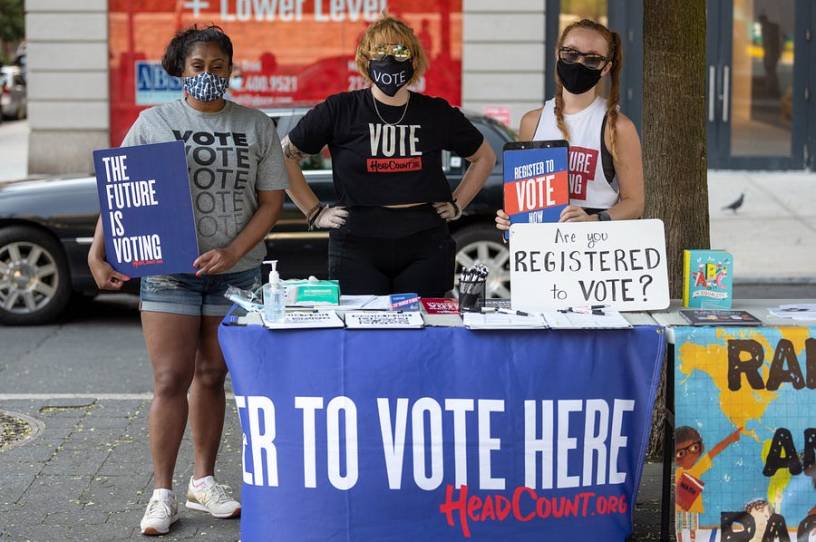 Campaign Quick Hits
If I were a rich man: In July, the Trump campaign raised $165 million, which was $25 million more than the Biden campaign. But last month, the Trump campaign raised $210 million—$150 million less than the Biden campaign. We'll get the full FEC reports this week to tell us all the nitty gritty and the most important number: cash on hand. But if the reports of the Trump campaign's spendthriftiness are accurate (the campaign manager had a car and driver?!), that number may be even more disheartening for Team GOP.
Look who's voting: In 2016, about 40 percent of Americans voted before Election Day. In 2020, that number may be closer to 60 percent. North Carolina already mailed out more than 500,000 ballots. Georgia, Wisconsin, Minnesota, and Michigan will all begin voting this week. And not surprisingly, absentee ballot requests are still lopsided. Nearly 500,000 more Democrats have requested absentee ballots in Florida and 250,000 more in North Carolina. As I've said before, though, the vote-by-mail numbers this year will tell us far more about how people are voting by party and far less about the eventual outcome of the race in any given state. What does all this mean for campaigns? Most important, perhaps, is that money that comes in the door from this point forward is about to become far less valuable because it will be harder to spend it in meaningful ways as more and more votes are already cast.
Contact (not starring Jodie Foster): The Trump campaign announced it had contacted its 100 millionth voter through door knocking and phone banking this week. The Trump Victory army includes "2,000 paid field staffers in 17 states and more than 2 million volunteers." According to the New York Post, the "RNC says it has knocked on the doors of 12 million potential voters in battleground states since mid-June — that's around 1 million a week — while the Biden campaign has knocked on zero." Mirroring the Obama 2012 re-election bid, if Trump wins, you can bet there will be books dedicated to nuggets like this: "the GOP's new ground-game strategy uses data to drive even the most mundane decisions, such as where to locate a local field office."
Checking in on how debate prep is going: "President Donald Trump has not held a single mock debate session, and has no plans to stage a formal practice round," according to NBC. Why? "Trump has repeatedly told aides that he's not worried about debating Biden because the former vice president is likely to have a gaffe moment or stutter." But then his campaign manager tried this blatant, if logically perplexing, attempt to raise expectations: "Joe Biden is not formidable anywhere else but he is formidable on the debate stage."
Get every newsletter and all of The Dispatch. Support quality, fact-based journalism.
Get Started
ALREADY HAVE AN ACCOUNT? SIGN IN