Ranking the Four Criminal Cases Against Trump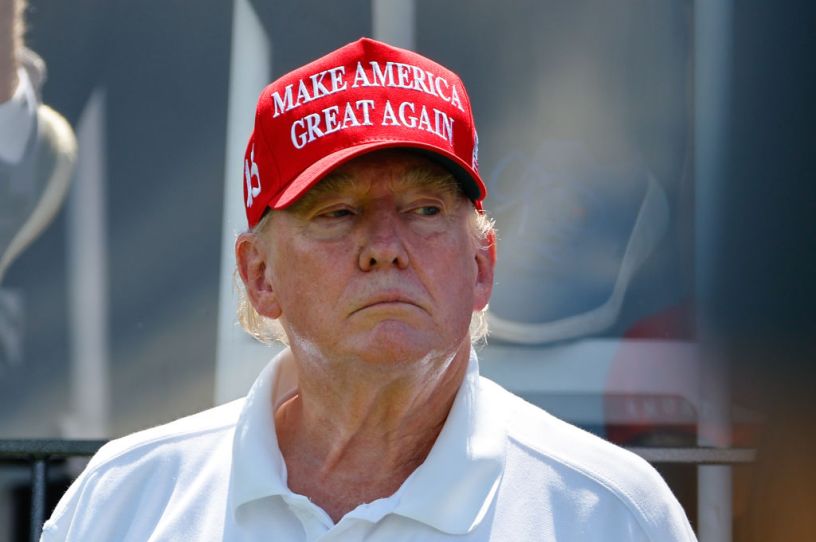 Former President Donald J. Trump on August 13, 2023, at Trump National Golf Club in Bedminster, New Jersey. (Photo by Rich Graessle/Icon Sportswire/Getty Images)
Donald Trump and 18 associates were indicted in Fulton County, Georgia, on Monday for actions related to the 2020 election, and, conveniently, Mike is out this week. It's a Sarah Collision Takeover!
The first thing to understand about the indictment is that Georgia's criminal statutes are broader (much broader!) than federal law and cover things like willfully lying to any state official. On one hand, this makes sense: The federal government's role in criminal prosecutions is supposed to be limited. Unlike the states, the federal government doesn't have general police power. At the same time, parts of this indictment from District Attorney Fani Willis likely leave one wondering, Wait? That's a crime in Georgia? Answer: yes.
Many—I'd argue most—of the charges are on solid legal footing, but there's a whole lot of spaghetti being thrown against the wall here and some strands are certainly stickier than others. I've got some First Amendment concerns about a few of the counts, and there are legitimate questions (already being raised by Mark Meadows) about whether some of the other defendants can move their cases from Georgia state court to federal court because they were federal officers acting in their official capacities during a lot of this mess. But that's a little too deep in the weeds for us today.
Sure, Willis' case may have a few weak spots on the legal side. But many of its detractors—including a bunch of right-wing folks on Twitter—are upset that Trump was seemingly indicted for all sorts of obviously lawful things, like giving a speech after the election or tweeting that his followers should tune in to One America News (OAN). These people don't understand—or don't want to understand—how a RICO indictment works.
You're out of free articles
Create an account to unlock 1 more articles