Will Kevin McCarthy Fight Back?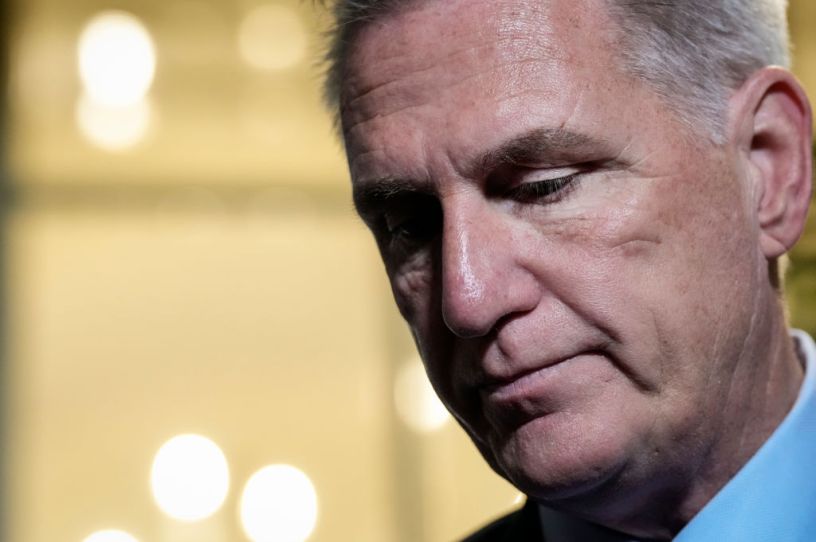 Speaker of the House Kevin McCarthy addresses reporters after a House Republican caucus meeting on September 19, 2023. (Photo by Drew Angerer/Getty Images)
T-minus 12 days until government funding runs dry, and House Speaker Kevin McCarthy may be on the verge of issuing hardline Republicans a double-dog dare to shut down the government. He's considering bringing to the House floor a continuing resolution (CR) to fund the government through October that, as of Tuesday, doesn't appear to have the votes to pass.
The saga is the latest illustration of the difficulty House GOP leaders are facing as they try to cobble together consensus with a razor-thin majority that itself is bitterly divided over how to govern with control of only one chamber of Congress. And at the end of the day, the energy spent on these battles won't make a dent in federal spending: The CR at the center of the intra-GOP bickering would be dead on arrival in the Senate and has no chance of getting President Joe Biden's signature. 
Over the weekend, some House Freedom Caucus (HFC) members joined mainstream Republicans to negotiate a CR that pairs steep spending cuts (it slashes all non-defense discretionary spending by 8 percent) with border security measures, but which doesn't include disaster funding or aid to Ukraine as requested by the Biden administration. Short of passing 12 appropriations bills through both chambers of Congress—which would fund the government for the entirety of fiscal year 2024—the CR looks to be the only way to avert a government shutdown.
Shortly after the CR was released, some HFC members and other hardliners pledged they'd vote against it. Since then, more than 15 hardline Republicans have come out against the bill. If all Democrats vote against the CR as expected, House GOP leadership can only afford to lose four votes.
You're out of free articles
Create an account to unlock 1 more articles