Deities and Demigods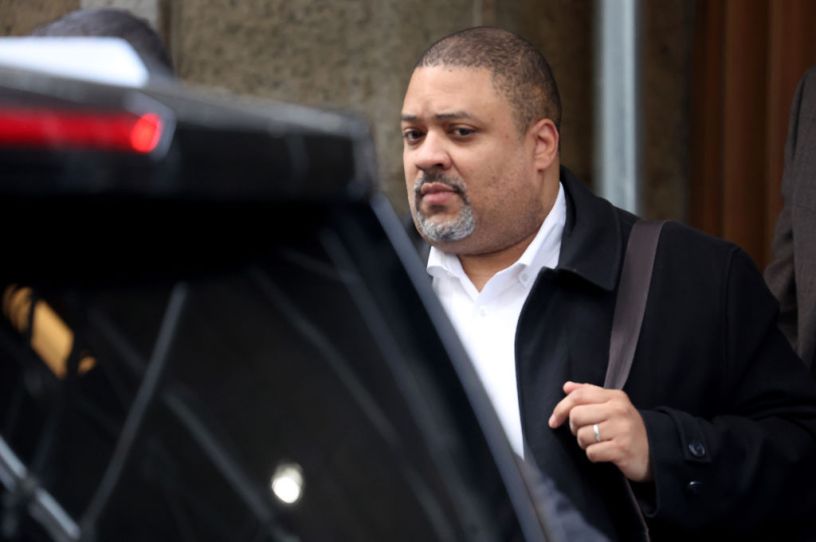 Manhattan District Attorney Alvin Bragg leaves his office as the grand jury continues to hear evidence against former President Donald Trump on March 22, 2023, in New York City. (Photo by Scott Olson/Getty Images)
"Fate, it seems, is not without a sense of irony."
The Fates may love a good ironic comeuppance, but the deity we are dealing with here is their troublesome kid sister, Nemesis. And it would be more than tragically ironic if Donald Trump, who is so lawless himself, should be the cause of continuing lawlessness in others—not only in his underlings and sycophants (that ship long ago disappeared under the horizon) but in his enemies, who apparently are so possessed by the spirit of wrath that they are willing to throw the law overboard, or at least drag it behind the boat until it is half-drowned.
The usual caveats apply here: We have not yet seen an indictment, and Manhattan District Attorney Alvin L. Bragg may very well surprise. The skeleton of the case that has worked its way into the public discourse may turn out to be something quite different from what Bragg produces, but, even so, a great many people have pronounced themselves not only satisfied with those rickety bones but positively giddy about what they might in the end support. Sober-minded legal analysts including our own Sarah Isgur and David French (if you have not listened to their invaluable discussion of the case, do yourself the favor) and many others who are far from sympathetic to Trump—and far from eager to see him return to any position of power—are, in their circumspect and lawyerly way, ringing the alarm bells.
Reemphasizing the caveats above, the case against Trump (now, there's a great title for a book!) in Manhattan apparently is this: Trump probably broke the law against falsifying business records in New York, a misdemeanor offense with a statute of limitations that expired long ago. It is a relatively humble charge that, according to many knowledgeable people, would have been relatively easy to prosecute if prosecutors had pursued it, which they didn't. However, there exists another statute regarding the falsification of business records, one that allows for a felony charge if the falsification was undertaken in the furtherance of another crime. That, apparently, is the charge Bragg intends to pursue.
Get every newsletter and all of The Dispatch. Support quality, fact-based journalism.
Start Your Free Trial
ALREADY A PAID SUBSCRIBER? SIGN IN