Our Best Stuff on Tucker Carlson, the CHIPS Act, and 2024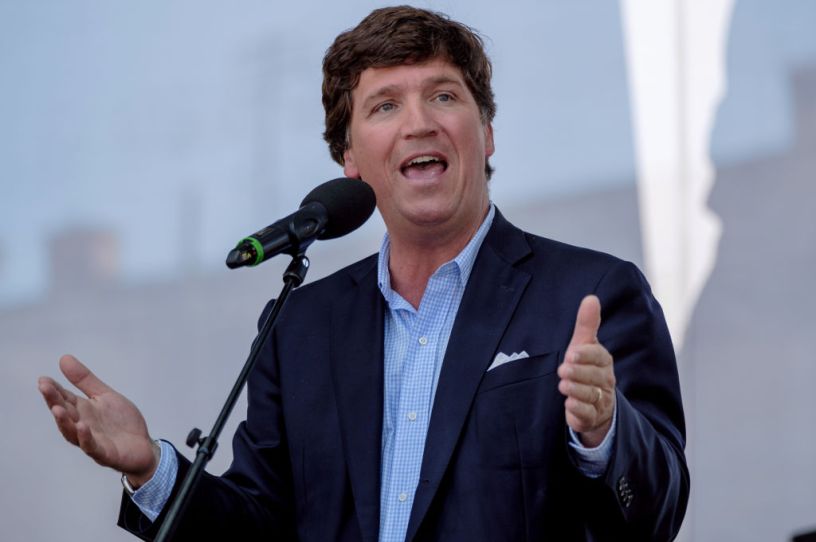 Tucker Carlson. (Photo by Janos Kummer/Getty Images)
Where were you when the world stopped turning? I've had two such moments in my life, but only one was obvious in the moment. On 9/11, we were living on the West Coast, so a phone call from my brother woke us up. My husband's end of the conversation told me he was alarmed, and he fumbled for the remote. The TV told us everything we needed to know.
Three years ago today, I was folding laundry and watching Donald Trump fumble his way through his Oval Office address on the coronavirus pandemic. At the same time he was speaking, the NBA announced that it was shutting down indefinitely after Utah Jazz player Rudy Gobert tested positive. And then came the news alert that Tom Hanks and his wife, Rita Wilson, had tested positive. Googling around, I realize now that that was also the day that the World Health Organization declared a pandemic, but it's that trio of events from that evening that sticks out in my mind.
The shock from 9/11 was immediate. Someone—I remember Shepard Smith on Fox News suggesting very early it could be Osama bin Laden—had declared war on the United States and its citizens. COVID was different. The dominoes did start falling pretty quickly after March 11: Gov. Mike DeWine announced the next day that schools in Ohio would close for three weeks (my actual response: "Three weeks? That's tooooo lonnnnnng."), the NCAA Tournament (high holy days in the Larimore household) and eventually all major sports were canceled, and within two weeks Ohio was under stay at home orders. But we had no idea, really, what was to come. Remember "15 days to flatten the curve"?
Those early days—I'm not going to lie—weren't terrible. They were different, sure. The kids figured out Zoom school well enough, I happily surrendered our home office to my husband, who is in finance and needed a private space, and we did our best to keep our favorite local breweries in business.
You're out of free articles
Create an account to unlock 1 more articles