Our Best Stuff on Ukraine, the War in Gaza, and 2024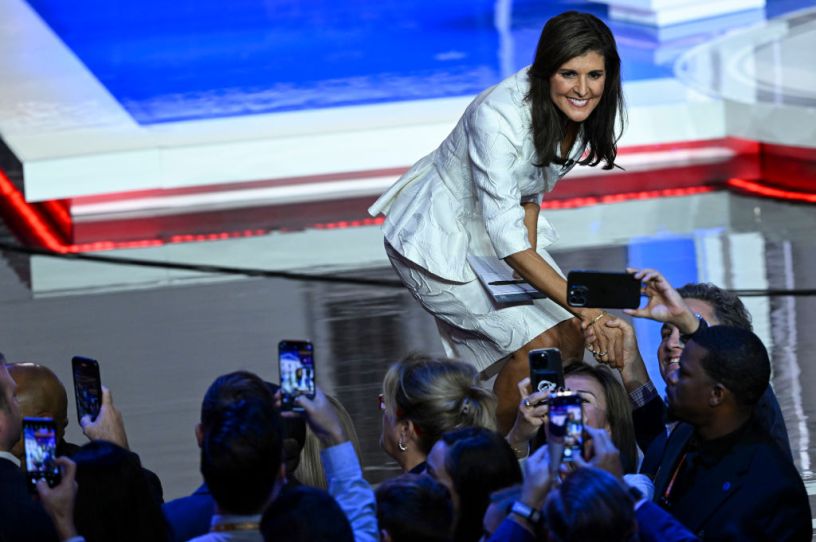 Nikki Haley poses for photos after the Republican presidential debate at the Adrienne Arsht Center for the Performing Arts on November 8, 2023. (Photo by Jonathan Newton/Washington Post/Getty Images)
Hello and happy Sunday. It's been a pretty quiet weekend in the Ohio bureau. My Buckeyes had an easy game against the Minnesota Gophers, I got a head start on Christmas decorating, and we're looking forward to our oldest being home from college for Thanksgiving. Having no obligations lets the mind wander a bit, so bear with me.
As we head into the 2024 presidential election—the Iowa caucuses are January 15, just on the other side of the holiday season we're gearing up for—the overwhelming likelihood is that the race will come down to a rematch of the 2020 election between President Joe Biden and former President Donald Trump. Biden is the incumbent after all, and Trump has maintained an astronomical lead over the Republican field.
One crazy thing about all of this, of course, is that, as Bloomberg put it recently, "Biden-Trump 2 Is the Election No One Wants." I don't think I need to spend too much time explaining that to readers of this newsletter. But even crazier is that, according to a new New York Times poll, Trump is leading Biden in five key battleground states. Biden is old—and even Democrats have questioned his fitness for office—but Trump is providing young historians with guaranteed full employment for their careers and has constitutional lawyers scratching their heads by running while facing four separate criminal indictments.
It's bound to be an ugly election. The rift in the Democratic Party between progressives and moderates has been exacerbated by the war between Israel and Hamas, with many in the left wing of the party upset by Biden's support for Israel. Trump is running an explicit revenge campaign, and has vowed to conduct mass deportations, implement a Muslim ban, and fire thousands of federal employees if he's elected.
You're out of free articles
Create an account to unlock 1 more articles