China's Fishing Fleet Is A Growing Security Threat
It's being used to stake a claim to the South China Sea, but it's also engaging in illegal fishing outside of East Asia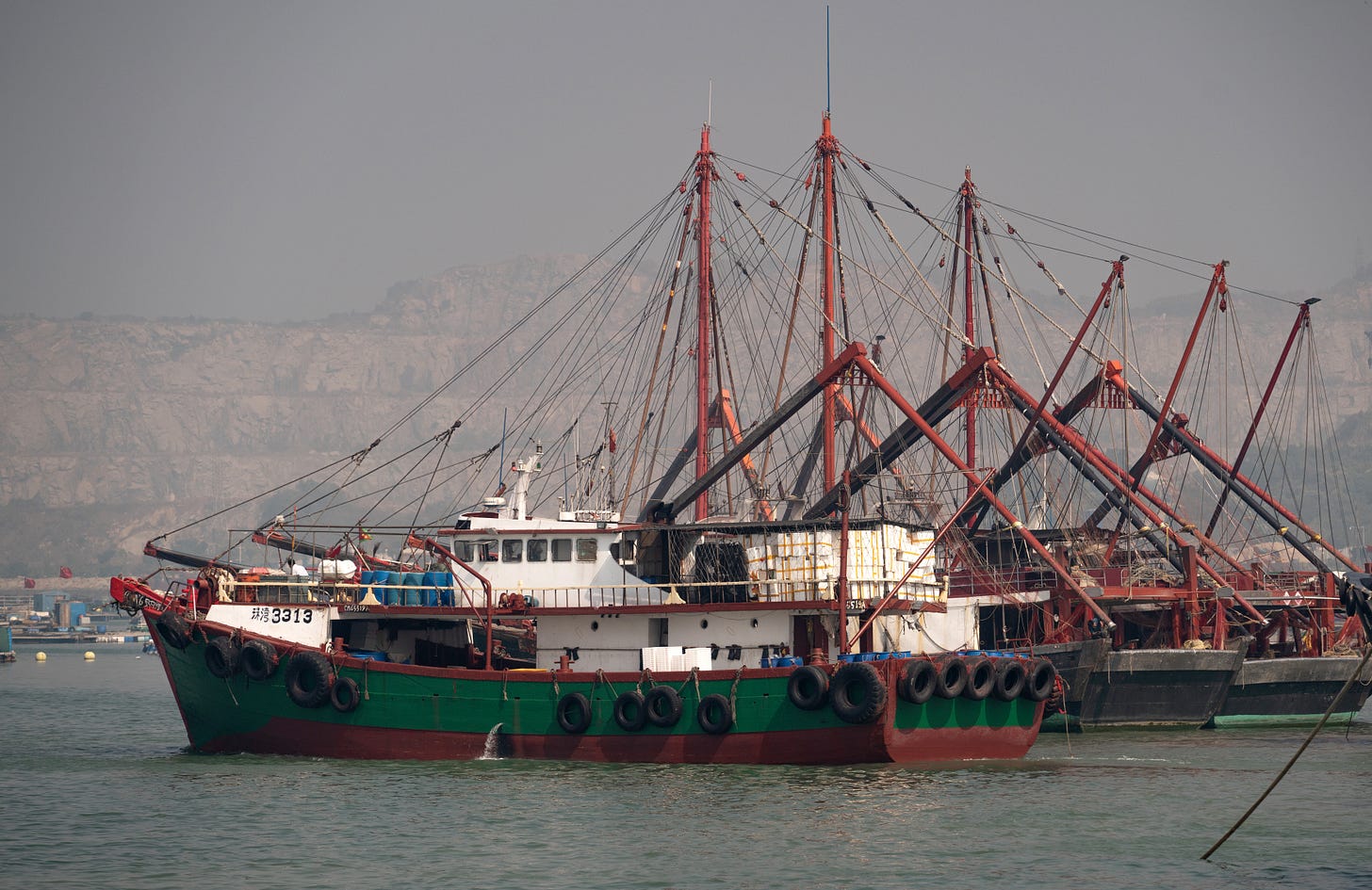 China's aggressive behavior in the South China Sea has long been recognized as a threat to global security. The Chinese have staked claims to disputed territories and ignored international arbitration decisions that go against their interest. What's less well known is that its fishing fleet—which has developed into the world's largest on the back of unfair subsidies—is proving to be a different kind of threat. Namely, a food security one.
The fleet engages in "illegal, unregulated and underreported" (IUU) fishing that U.S. Coast Guard Rear Adm. Doug Fears calls an "issue of sovereignty and a national security issue because the competition for global fish stock and protein is ongoing." While China is not the only country whose fishing vessels engage in the activity, it is one of the most flagrant and Chinese vessels involved in illegal fishing have been engaged in several proactive incidents this year.
Let's start in the South China Sea, where such illegal fishing is being used to stake a territorial claim. Other nations, notably Vietnam, have reacted stridently to protect their territory from China and have sent their own "maritime militia" into action.
The region is home to a large portion of the world's fish stocks and disputed hydrocarbon reserves. Meanwhile, above the waterline, over $3 trillion worth of trade goods pass through the South China Sea each year—including most of China's energy imports and a large portion of its trade. China's claim on the region is disputed by a number of Association of Southeast Asian Nations (ASEAN) countries including the Philippines, Vietnam, Brunei, and Malaysia. That dispute serves as a backdrop to other maritime disputes China has in East Asia notably with Japan and Taiwan.
In March, the JS Hatakaze, a Japan Maritime Self-Defense Force (MSDF) guided missile cruiser collided with a Chinese fishing boat. A week before, Taiwanese coast guard patrol cutters who were removing illegal fishing devices placed in were swarmed by Chinese speed boats who threw projectiles at them in a deliberately provocative incident.
Tensions like these are not only confined to East Asian waters. Last year, an Argentine coast guard vessel opened fire on a Chinese squid fishing vessel that was illegally fishing in Argentina's exclusive economic zone. Meanwhile Chinese ships are engaged in illegal activity around the world: Peru, Indonesia, Papua New Guinea, and along the coasts of many African states. 
Yet, what is less well-realized in the aftermath of security incidents is that this same fishing fleet is contributing to food insecurity. Globally, some 3.2 billion people rely on seafood for their primary source of protein, and the United Nations has called current fishing rates "unsustainable."  
At present, some 80 percent of the world's fish stocks are being overfished. While the coronavirus pandemic has stopped much formal economic activity at sea, this poaching on a massive scale continues unabated. According to the Chinese government, the Chinese have been catching more than their mandate quota since 1994.  
IUU fishing can take a toll on the economies of those nations affected though how much is difficult to estimate, in 2019 researchers calculated that illegal fishing cost Ghana some $50 million a year. Recent figures from Senegal suggest that foreign vessels engaged in IUU fishing cost the local economy $270 million in lost revenue each year. Malaysia's first-ever defense white paper released this year says that it costs its economy nearly $1.5 billion annually. One study from 2016 found that U.S. fishermen lose the equivalent of $1 billion dollars a year to IUU fishing or 20% of their potential income.
Many countries, particularly in Africa, lack the resources to enforce their maritime boundaries. Those that do can face the consequences. A collision between a Chinese fishing vessel and Japanese coast guard vessels in 2010 resulted in one of the most serious diplomatic breaches between the countries in decades. The Chinese captain was briefly detained and in retaliation, China quietly ended the shipment of rare earths—a strategic commodity with a variety of industrial uses—to Japan.
The situation in particular between the U.S. and China used to be far different, and at one time Chinese Coast Guard officials participated in a ship rider program allowing them to join U.S. Coast vessels to improve IUU enforcement. In an era of increasing Sino-American tensions, let's just say that ship has sailed.
Much international pressure has been placed on the Chinese government to clean up its act and the Chinese government has begun "black-listing" certain vessels in its fishing fleet for their engagement in IUU fishing and other necessary regulations. Furthermore, under the current Chinese policy, no vessel is supposed to fish within three miles of the exclusive economic zone (EEZ) of any country.
Most important, however, will be to get China to live up to stop subsidizing its fishing fleet, which it does mainly in the form of fuel subsidies. Tabitha Mallory, a University of Washington academic, has calculated that China's support to its fleet was worth 40.4 billion yuan ($6.5 billion) in 2013. A more recent study in 2018 suggested that China's total subsidy to its fishing fleet was valued at over $7 billion. Yet, both the World Trade Organization and number 14 of United Nations Sustainable Development Goals call for the end of all fishing subsidies. The EU, the United States, South Korea, Japan, and Russia also all spend more than $1 billion annually subsidizing their respective fishing fleets directly or indirectly. In an era when the Trump administration is radically reconsidering its relationship to multilateral organizations, the United States risks ceding ground to China. Countries in Africa, Asia, and elsewhere will be unlikely to stand up to China alone and similarly need international organizations to hide behind.
If we want all seafood to be priced like caviar and for China to benefit from that increase, then we are headed on the right course. Otherwise, it's time to turn the ship around—not just to ease the stakes at the high seas but in the interest of the food security of millions.
Joseph Hammond is a journalist and former Fulbright fellow. He served as Cairo correspondent for Radio Free Europe in 2011 during the Arab Spring. In 2013, Hammond embedded with M23 rebels in the Eastern Congo becoming one of the last journalists to do so before that group's rout by United Nations forces.  Hammond's work has been published by The Economist, Forbes, Slate, Christian Science Monitor, Washington Examiner, U.S. News and World Report, The National Interest, and other publications.  Follow him on Twitter @TheJosephH.
Photograph by Artyom Ivanov/TASS via Getty Images.