In the Age of Coronavirus, Whom Can You Trust?
The pandemic has sowed doubt and uncertainty within existing social circles.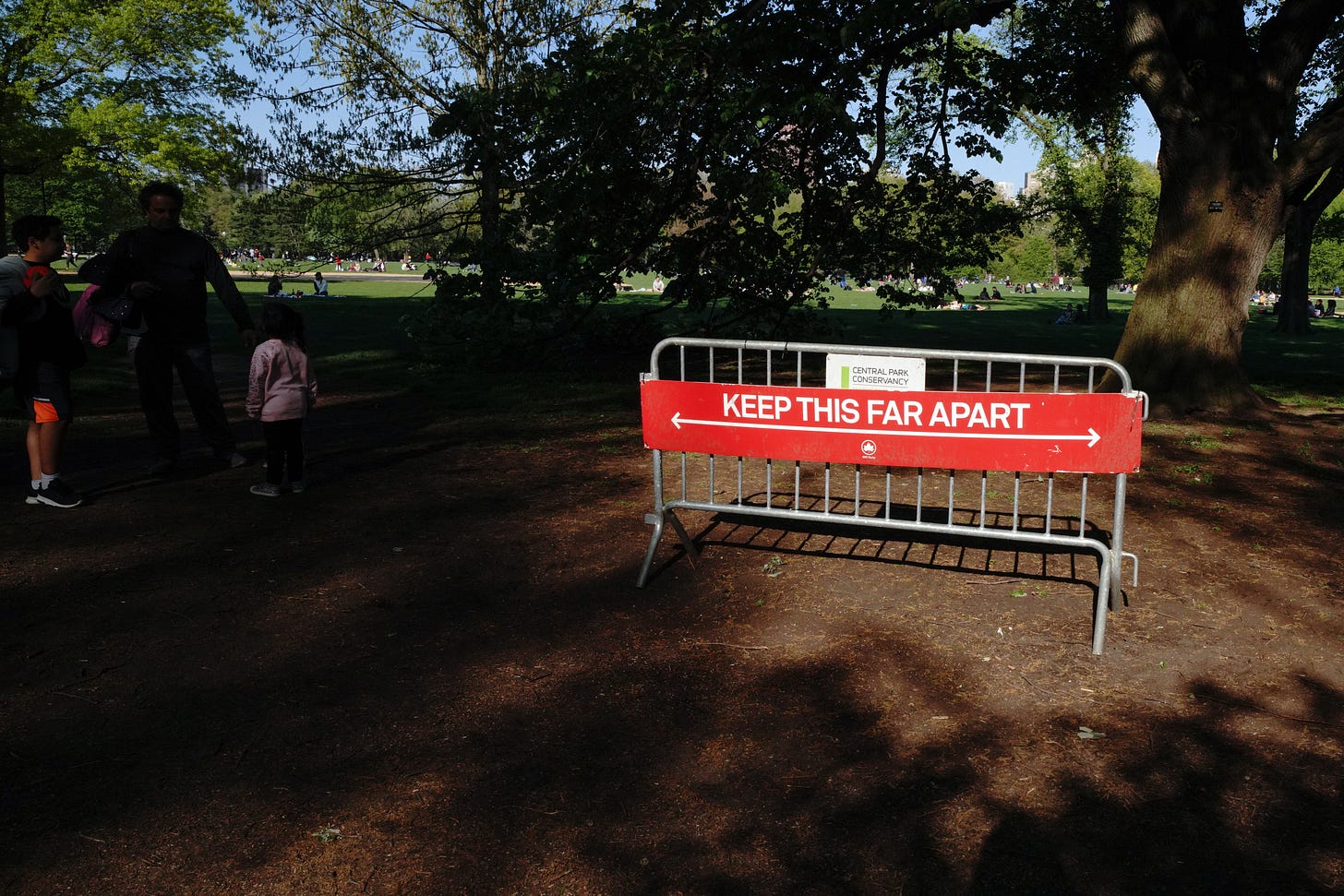 The 15-second ad sounds like it'd fit better in a dystopian science fiction movie than the present-day United States. 
"At Domino's, we pride ourselves on handcrafted pizza," a narrator reads. "But after leaving our 450 degree ovens, the only hands that touch them are yours. … Get them with contactless delivery, from Domino's."
The voiceover brims with a cheery aloofness that distinguishes the spot from the scores of somber commercials that have sprung up in recent months. But the subtext is clear: Trust us, you won't contract coronavirus from eating our pizza.
Everything has changed in the months since COVID-19 has reared its ugly head: 80,000 are dead, nearly 1.5 million are confirmed to be infected, and tens of millions are out of work. Schools, workplaces, and community groups have shifted online; sports seasons, movie premieres, and vacation plans have been put on hold.
But even within our "new normal" of sheltering in place, social distancing, and mask-wearing, something else has been evolving: our relationships with one another. 
It happened subtly at first. You might have begun opening doors with your shirt sleeve, or ceased shaking hands. You stopped frequenting your favorite coffee shop, or taking public transportation. Eventually, you caved and bought a mask. Trips to the grocery store have become fewer and farther between, and you find yourself recoiling if you turn the corner into a new aisle and see another shopper heading your way. When the elevator's brakes kick into gear, you now cringe, knowing someone else is about to join you in your suddenly too-small metal box.
Nine weeks into the Age of COVID-19, we've learned more about the virus, how it spreads, and what it does to our bodies. And we've evolved into amateur epidemiologists in the process. Date nights have become possible hotspots. Our parents and grandparents are now "high-risk populations." Where we once saw friends and neighbors, we now see potential vectors.
"When we get Amazon packages in the mail," said D.J. Gallant, a loan underwriter who lives just outside of Minneapolis, "I'll bring the Amazon package in and take a set of wipes—or a rag—and spray it down with some disinfectant, disinfect the whole box, open the box, disinfect whatever's inside. … You're pretty sure everything's okay, but you don't want to take any chances."
Gallant's 9-month-old daughter has a compromised immune system—and his wife is a labor and delivery nurse at a local hospital—so he's taking extra precautions. But he's far from alone. In a recent NBC News/Wall Street Journal poll, 73 percent of Americans reported being very or somewhat worried about the possibility that they or someone in their immediate family might catch COVID-19. Forty-five percent said they were concerned about leaving their homes for groceries or other supplies. And 69 percent in a USA Today/Ipsos survey claimed they stopped attending social events because of the coronavirus outbreak.
The "invisible enemy," as President Trump has grown fond of calling it, spreads primarily from person to person. The Centers for Disease Control (CDC) says it "may be possible" to contract COVID-19 by touching a surface with the virus on it, but concludes that the main driver of transmission is through "respiratory droplets produced when an infected person coughs, sneezes, or talks." Some studies are finding evidence—inconclusive as of now—that the coronavirus "may have the potential to be transmitted via aerosols."
Dr. Roderick Kramer, a social psychologist at Stanford University, published an article for Harvard Business Review back in 2002 introducing the concept of "prudent paranoia," a heightened sense of vigilance that can prove beneficial—rather than destructive—for the person wielding it. The piece was written against the backdrop of the 9/11 attacks—and focuses primarily on competition in the workplace—but Kramer believes the theory remains relevant in the current climate.
There's "just a really evident wariness and concern," he tells The Dispatch. "In talking to my kids—who are both 25 and 30 years old—they've been worried about infecting their parents and other family members. So there is that kind of prudent wariness."
Kramer has spent decades studying trust, distrust, and paranoia. Elevated suspicion is common throughout history, but he says it typically exists within an "in-group out-group context," where people make "sinister" or "problematic" assumptions about another person's motives based on race or nationality. "Decades of research on ethnocentrism and … intergroup hostility show how easily antipathy, fear, anxiety, and active distrust and suspicion ferment even under minimal informational conditions," he said. The FBI's warning in late-March against a surge in hate crimes against Asian Americans is just the most recent example of this phenomenon.
But the pandemic is doing something different: sowing doubt and uncertainty within existing social circles. "I live on the Stanford campus in a faculty area, so it's all faculty," Kramer explained. "These are our friends. And walking down the street, people look at you, some people seem to be reluctant even to say hello, and they're extremely uncomfortable looking. And you'll see people turn around as you're heading towards them, even though it's a very wide street. I've really been shocked. It's almost like a kind of McCarthy-type paranoia."
For the economy to "reopen" in any meaningful way, political and public health leaders will need to find ways to assuage this paranoia. If you don't have enough faith in your neighbor to say hello, after all, you're probably unlikely to get on an airplane, go to the gym, or order pizza that's been touched by human hands.
The Trump administration seems to understand this, which is why the White House is reportedly looking to message this week that "the American people can have confidence as they begin to go back out into the public square."
That could prove difficult. Only 23 percent of respondents in an Associated Press/NORC Center poll have "quite a bit" of trust in information about the coronavirus conveyed by President Trump. State and local governments and public health agencies like the CDC inspire much more confidence among the public, but their outlooks tend to be less rosy. (The human mind's "negativity bias"—or tendency to weight bad news more heavily than good—may provide additional credence to these public health officials in this instance precisely because their outlook tends to be less rosy.)
Infectious disease expert Dr. Anthony Fauci, for example, is set to testify on Tuesday before the Senate health committee, where he hopes to convey the "danger of trying to open the country prematurely." In an email to the New York Times, Fauci said that ignoring the coronavirus task force's "Opening Up America Again" guidelines risks "multiple outbreaks throughout the country" that will "result in needless suffering and death" and "set us back on our quest to return to normal."
That's the message that's breaking through in most of the country, where a majority of Americans continue to support lockdown measures to prevent the spread of the virus. "Even if Trump, or [Minnesota Gov. Tim] Walz, or [Wisconsin Gov. Tony] Evers came out and said, 'Guess what, we're going to open everything up, everything's good to go tomorrow,'" Gallant hypothesized, "No. … Yeah, it sucks. It's inconvenient. But I do not think I will go about my regular kind of day-to-day until probably next year."
As a millennial, Gallant's risk of severe complications resulting from a coronavirus infection are relatively low. The confirmed case fatality rate for 30-39 year olds—based on data from South Korea, Italy, China, and Spain—is likely somewhere between 0.1 percent and 0.3 percent.
But while statistics like those may be reassuring on a macro level, individual Americans don't want to become statistics themselves. "If my wife were to get infected or somebody were to get infected," Gallant said, trailing off. "Most of the time ... it's fine. But if you end up in that part that needs critical care … you can just straight-up die."
"We had a 5 percent chance of something happening to our daughter with a viral infection she had when she was born, and turns out we hit the odds on that," he added. "I would rather just play it safe."
Photograph by John Nacion/NurPhoto/Getty Images.