Our Best Stuff From the Dog Days of Summer
The Democratic convention, Steve Bannon's arrest, and much more.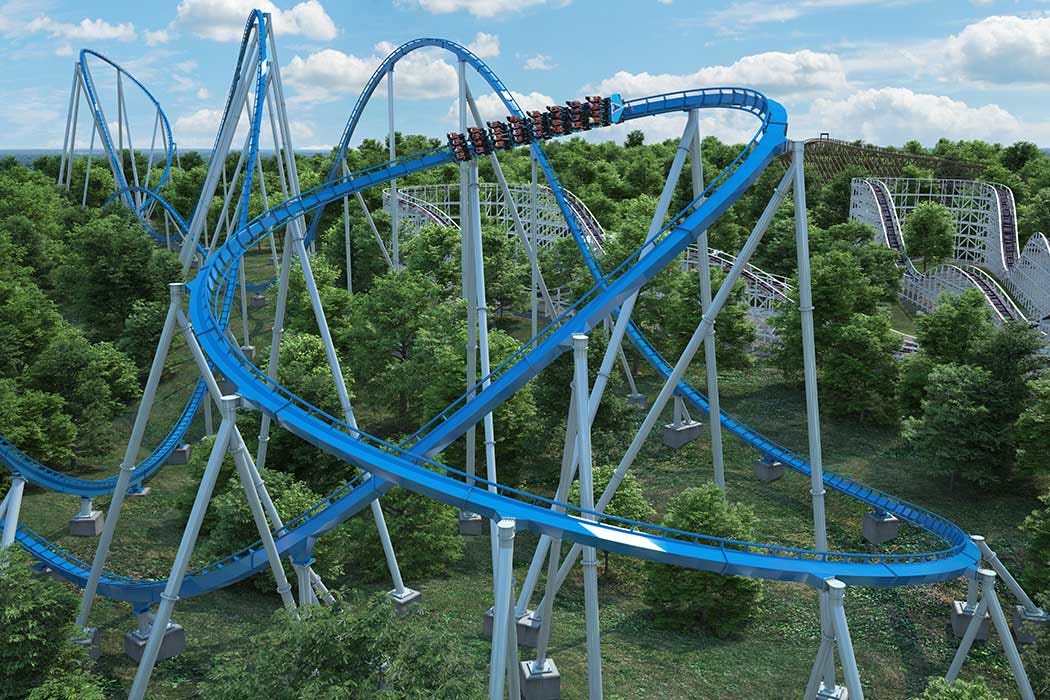 If you came here looking for some sharp analysis of the Democratic convention, well, I hate to disappoint you. So instead, I'll refer to you The Morning Dispatch, which was on top of it all. But—confession—I watched only snippets. I took a little time off this week to spend some time with our kids before they went back to school, and when evening time rolled around, I found myself gravitating toward the NBA Playoffs. I make no apologies! Politics just felt a little too much like "work."
We kicked off the week with our first trip of the summer to Kings Island, our local amusement park. We got a new "Giga coaster" (a roller coaster more than 300 feet tall; there are only a handful in the whole world), and we wanted to check it out. Orion was a great ride, and also a metaphor for the week that was to come. A lot of ups and downs, and some moments when you felt completely sideways.
It was good to get out a little bit more, because I got to see up close how my fellow Ohioans are handling things as the disruptions to our lives drag on. And on and on. School shopping? That was a bad idea. Given that two of our kids won't wear anything that doesn't come from Nike or Under Armour, we should have done that online. There were huge lines just to get into stores, and then when you did get in, you felt rushed because you knew others were waiting outside. Eating out still feels a little disconcerting. We tried to pick places with outdoor seating, but that wasn't always an option. But so few people were inside that on the one hand I felt safe. But on the other, how long is this sustainable financially?  
One thing that had many folks on pins and needles was whether Ohio Gov. Mike DeWine would let contact sports move forward with competitions. He did, to the immense relief of many of my family and friends who have football and soccer players. What's interesting is that by the time he made that decision, our oldest had already had two or three golf matches. I realized what a dilemma that decision must have presented. It's not really fair to say some athletes (golf, tennis, maybe cross country) can compete while others can't. But it's hardly more fair to shut things down for everyone. 
And then, on Friday, we got the biggest sign of how challenging this situation still is. Months ago, our district delayed the first day of school from August 17 to August 24. The school board met on Thursday night, and all indications were that everything was a go. We took the kids to a water park (outdoors!) and were relaxing when the text came in: Less than 72 hours before the start of the year, the district announced a weeklong delay. 
For us personally, we'll manage fine. My husband and I are both working from home, and it's just one more week. But many parents are now scrambling to find childcare for an extra week. It was becoming clear, though, that the district just wasn't ready. Busing schedules hadn't been finalized, students hadn't received their class assignments, etc. And our district has been making so many efforts: Students will have plexiglass shields on their desks, schedules are modified to reduce hallway congestion, etc. 
If this week where I crawled out of my basement office a little more has taught me anything, it's that people are trying their best, and yet everything is still a mess. And while there is no end in sight, people are also running out of patience. I feel optimistic when I see people wearing masks, following guidelines, and just generally cooperating. But it's frustrating when you don't see the results of that hard work, and when you feel like there is no obvious end point. 
On that note, I'll turn you over to the people who actually worked this week:
Recently we launched a series called "The Biden Agenda" examining what policies we might see from a Biden administration. This week, Cato Institute fellow and international trade expert Scott Lincicome weighed in on Joe Biden's approach to trade. "We can generally assume that Biden will be less openly hostile to foreign trade as President Trump, but shouldn't be expected to usher in a new era of pro-trade policies. Instead, we should expect some improvement, some stasis, and maybe even some deterioration."
Joe Biden had pledged to pick a female running mate, and he was under considerable pressure to choose a woman of color. So it really wasn't surprising when he announced California Sen. Kamala Harris to be his vice presidential nominee, even though she attacked his previous positions on busing and other issues in a primary debate. But… does it help the ticket? In The Sweep, Sarah breaks it down. She thinks Harris might help Biden with black voters in the South and run up the score among suburban women, among other reasons. But she cautions that progressives aren't thrilled about Harris, and she might energize reluctant Republicans to board the Trump train. In the end, she suspects, this election will be a referendum on Donald Trump.
President Trump has seized on Joe Biden's pledge to restore an Obama-era policy, the Affirmatively Furthering Fair Housing, which is intended to fight discrimination and create more opportunities for minorities to access affordable housing. He's tweeted multiple times about how he'll protect the "Suburban Lifestyle Dream" and how he is sure suburban voters will vote for him. This week, Andrew Egger looked at the political gamble Trump is taking by playing to stereotype instead of making a more traditional conservative argument about the inefficiency of federal interventions into local matters. And Ryan Streeter pointed out a different flaw in Trump's argument: The divide between suburbanites and urban dwellers is considerably overstated, and many suburbanites live where they do because they find cities appealing.
Have you missed Jonah? We have. He took a much-deserved trip to the great Northwest, rafting down the Snake River and sneaking a glimpse of some grizzly bears in Alaska. In his Friday G-File, filed from the San Juan Islands in Washington state (momentary digression: During the editing process, I discovered his wedding to the Fair Jessica happened very close to where my husband and I got engaged),  Jonah catches up on all he missed in the wilderness: QAnon supporter Laura Loomer winning her Florida primary, the announcement that the St. Louis couple who waved their guns at BLM protesters would be speaking at the GOP convention, and Steve Bannon's arrest for border-wall grifting. Color him unimpressed: "I feel a weird mix of disgust, exhaustion, and embarrassment about American politics in general, and big chunks of the right in particular." Don't worry; he's not happy with everything the left is dishing out, either. 
Now for the best of the rest of our work this week.