Our Best Stuff From the Past Week. And Announcing a New Feature!
What's going on in Portland, the danger of burning down the whole GOP, and more.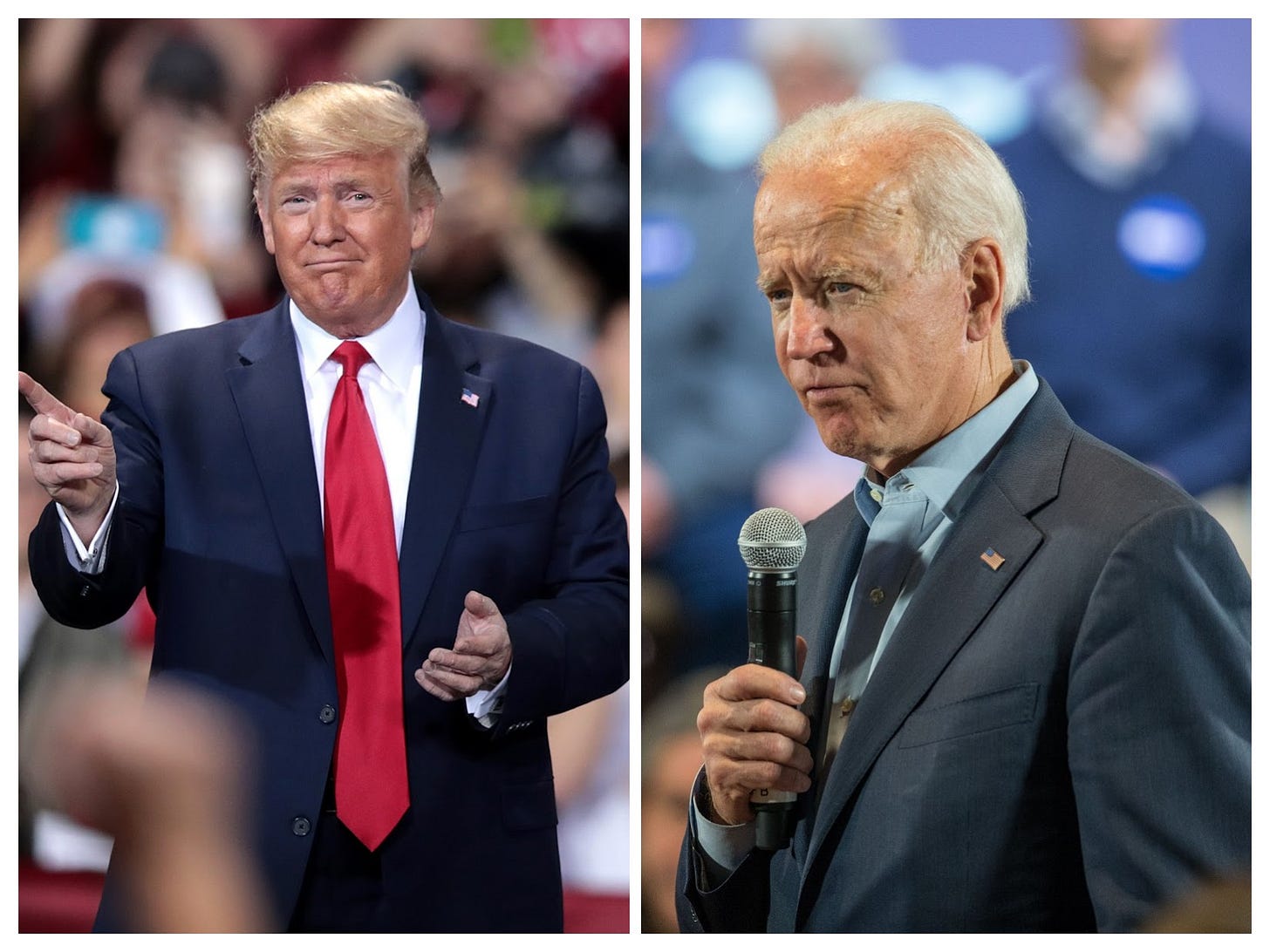 Happy weekend! Regular readers know that the purpose of this newsletter is to share our best work of the past week. This week, I'm going to preview a coming addition to our newsletter lineup.
To say that this doesn't feel like a normal election year veers well past understatement territory. The chaotic Iowa caucus feels like it happened years ago, not months. There's been almost no gladhanding and baby-kissing, there have been very few rallies, and livestreamed videos have replaced town hall meetings and diner visits. Whatever shape the party conventions take this summer, they will look unlike anything we've seen in the past: no raucous state delegations, over-the-top patriotic fashion choices, or big speeches that end with the nominee's family on stage amid a balloon drop.
Regardless, Americans will cast their votes (by mail or in person) for president on Nov. 3, and that is a mere 101 days away. It's not quite crunch time, but we're getting there. 
This past week, Sarah wrote a fun piece with the thesis that "Curling is the perfect analogy for political campaigns. … Once the stone is moving, this thing is heavy and it's got momentum that is out of the "skip's" control. The campaign staff are like the guys with the brooms that are frantically sweeping the ice as this 44-pound rock slides along the ice."
No less an authority than the coach of the U.S. men's Olympic gold-medal winning curling team responded:
With that ringing endorsement, we're happy to announce a campaign newsletter that will focus on the strategy and mechanics of political campaigns with some behind the scenes flavor along the way.  Sarah is the perfect person to tackle this subject. I'll let her explain why:
My first campaign was John Cornyn's 2002 senate race. I spent most of my time licking stamps (remember when that was still a thing) and cutting out news clips (also used to be a thing). But I also got to watch our communications director spar with reporters, organize volunteers for a letters-to-the-editor campaign, and hear our policy director—now congressman Chip Roy—pontificate on conservatism. I fell in love with the pace, the camaraderie, and the feeling like I was contributing to something larger than myself. Since those heady days of fax machines and landlines, I've worked on 3 presidential campaigns and any number of down-ballot races. And within campaigns, I've bounced from the legal team to opposition research to communications. 
In addition to Sarah's unique insider analysis, Steve, Andrew and our team of Dispatch reporters will contribute, too. Look for the first edition to hit your inboxes on Monday. If you like what you read, you can sign up to receive the newsletter and have it emailed to you through the election on November 3 (and, perhaps, beyond that!). All of Sarah's weekly missives will be free to all readers and posted online; regular "bonus" editions will be sent to paid members only. To join The Dispatch as a paid member to ensure that you don't miss any of these newsletters or our other work, click here. 
And now, with that, let's talk about the best stuff we published this week.
Depending on one's point of view, the reports of federal agents whisking Portland protesters into unmarked cars indicated that we were living in a dystopian police state, or that the feds were rightly stepping in to quell Antifa-inspired violence that city and state law enforcement officers had been unable to contain. As Charlotte Lawson reports, the truth is somewhere in the middle. There have been protests, some of them violent, going on for close to two months now, and the federal government is well within its rights to send in officers to protect federal property. But, it's also true that the federal law enforcement officers have strayed outside the boundaries of federal property, and that Portland's mayor and Oregon's governor have asked for the officers to be removed.  Jonah has some thoughts on the matter, too: "Democrats and media commentators glibly talk about how this use of a 'gestapo' makes us a 'police state' no different from China. That's absurd, not least because the law is on the administration's side (so far), but also because China's police state is competent."
It's been a long three-and-a-half years for conservatives who don't like Donald Trump. Now he's up for re-election, and certain elements of the NeverTrump world have decided it's not enough for him to lose, Republicans in the Senate have to go, too. David explains why it's a bad idea to actively campaign against some of Trump's alleged enablers: "We can (and should) stand and applaud the extraordinary courage of Mitt Romney without making it a mandatory precondition to maintaining federal office. I've said this before, and I'll keep saying it. Vice often leaves virtue with few good options, and the GOP's good senators have faced few good choices in these last four years."
For people who hope that a Joe Biden administration would be the exact opposite of the Trump administration, Danielle Pletka has some bad news on the foreign policy front. She runs through  the a series of hot-button issues and explains that Biden's policies are unlikely to be much different from the current occupant of the White House: "On Russia, Biden promises to talk tough, but doesn't suggest he'll impose even more sanctions than the Trump administration, which has tightened the economic noose around Putin and his cronies. … He promises to be nicer to Europe than Trump, a low bar for sure, but doesn't suggest he'll recommit troops to Germany, where Trump intends to draw down, countering lamely that he will only 'review' Trump's decision." 
Now for some other good stuff:
*We've been hearing for years that cities are where it's at. The cost of living in  New York, San Francisco, Seattle and other big cities has skyrocketed in response to demand for urban living. But… what happens when a pandemic forces you to stay in your tiny apartment for months and cuts down on the culture and social life that made the city so attractive in the first place? Samuel J. Abrams reports.
* Did the Trump campaign send a blimp around the country equipped with "spy gadgets" to vacuum up data from would-be voters below? While there were plans for a Trump blimp tour and the Trump campaign had a data-gathering effort planned in connection with it, some viral reporting conflated the two and made them sound far more nefarious than the reality. In a well-researched Dispatch Fact Check article, Alec Dent cuts through the confusion. 
*Americans paid tribute to the life of civil rights hero Rep. John Lewis last week when he passed away at the age of 80. In Congress, Senate Democrats renewed their push for voting rights reform and renamed their bill in honor of him. Audrey Fahlberg explains what's in the legislation.
  *And we can't forget the pods. Breaking news of sorts from the Dispatch Podcast: Maryland Gov. Larry Hogan dropped by on Friday and in the course of his conversation with Steve and Sarah, he mentioned he would "probably not" support Donald Trump in November. On the Remnant, Jonah and Luke Thompson delve into rank punditry and also throw some jabs at frequent podcast guest Rep. Mike Gallagher. And on Advisory Opinions, David and Sarah explain why former Trump lawyer Michael Cohen was sent back to the pokey and then just as quickly sent back home.
Photographs of Donald Trump and Joe Biden from Getty Images.