Our Best Work From a Surreal Week
A really bad debate, and then a COVID outbreak at the White House.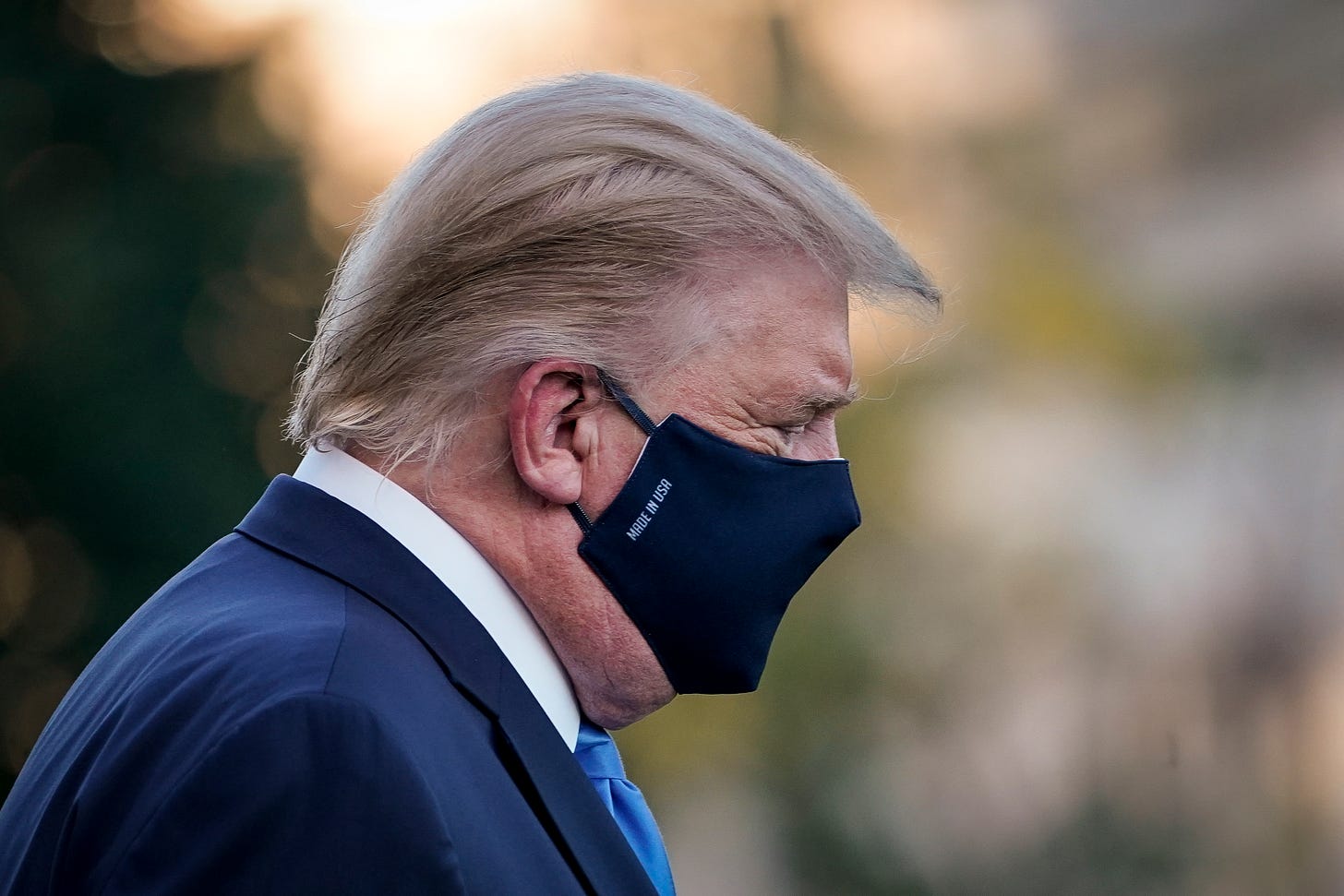 We can make all the jokes we want about 2020—about how weeks feel like months and months like years, about how the writers of this season of America are really overdoing the surprise plot twists, about how we didn't have murder hornets on our 2020 bingo card. But the events of this week, most notably President Trump's announcement at about 1 a.m. Friday that he and Melania had tested positive for COVID-19, were no laughing matter. 
We were able to bring you the news early Friday morning because The Morning Dispatch crew was just putting the finishing touches on the newsletter when Trump tweeted. They scrapped the other items they'd been planning to publish and put together a thorough accounting of the news as we knew it at that point. But, as one would expect, the news evolved quickly. By late afternoon, Trump had taken Marine One to Walter Reed Hospital, where he's expected to stay for a few days. 
On Friday morning, Steve and Sarah interviewed Dr. Jonathan Reiner on The Dispatch Podcast. He's a cardiologist, professor of medicine and surgery at George Washington University, former physician to Vice President Dick Cheney, and a consultant to the White House Medical Unit during the Bush, Obama, and Trump years. 
We have a piece on the site today by Audrey that features analysis from Reiner's interview and also provides updates on what we've learned since the interview took place, namely that several people who attended Donald Trump's announcement of Amy Coney Barrett as his Supreme Court nominee have tested positive. Reiner explains why this event in particular was dangerous.
How did we get to this point? "It's a failure of common sense," Reiner said. He said that the White House could have prevented this situation by simply limiting the president's face-to-face interactions with other staffers, conducting meetings via secure video link, and instituting a universal mask-wearing mandate for all White House staffers at all times and without exceptions.

Trump has downplayed the risk of the coronavirus for months now, continuously claiming the virus will "disappear" and often carrying out his duties in close proximity to other White House staffers without wearing a mask. "For those of us who know how viruses are spread—and it's not that complicated—it was horrifying to see all these people in close proximity to the president," Reiner said. "I thought it was really malpractice for the White House to allow so many people so close to the president." 

Besides Tillis and Lee, GOP officials in Trump's orbit who have tested positive for the virus include Republican National Committee Chairwoman Ronna McDaniel, campaign manager Bill Stepien, and former counselor to the president Kellyanne Conway. Vice President Mike Pence tested negative on Friday, as did speaker of the House Nancy Pelosi, Secretary of State Mike Pompeo, White House chief of staff Mark Meadows, Treasury Secretary Steve Mnuchin, and Supreme Court nominee Amy Coney Barrett. Democratic presidential nominee Joe Biden, who shared a stage with Trump during the first presidential debate on Tuesday, also tested negative. (The New York Times is keeping an updated list here.)
In the time since we published that story, new developments have raised questions about the timeline of Trump's diagnosis. His physician, Dr. Sean Conley, gave a press conference midday Saturday in which he made reference to being "72 hours into the diagnosis." That would mean, of course, that Trump could have tested positive as early as Wednesday. On Thursday, Trump attended a fundraiser with about 100 people at his golf course in Bedminster, N.J. The physician released a clarification an hour after the press briefing, indicating that he'd misspoken about the timeline.
Trump's diagnosis and the ensuing realization of how many people in his orbit have contracted the disease, plus the late-breaking revelations that he could have knowingly exposed others, has rendered most of the week's other stories forgettable, if not forgotten. And that is saying something considering the bizarre spectacle that was Tuesday's debate.
Keep reading for our coverage of those two big stories, and a few other things that were important this week.
More on the White House COVID Outbreak
For the second edition of The Sweep this week, Sarah lined up an interview with election lawyer Chris Gober to talk about the various lawsuits we might see pertaining to mail-in ballots, Election Day delays, and more. Fortunately, Gober was able to speak to the ways that Trump's illness might affect the election. He addresses the possibility that Trump could be incapacitated, that Pence would be the acting president during the election, and that lawsuits could well result. "And to make matters even more complex, ultimately, in a dispute—which all of this would be—Congress may ultimately determine who becomes president. Nancy Pelosi will most likely be speaker of the House and that would just add more drama to the chaos." In the G-File, Jonah cautions Trump's critics against engaging in schadenfreude, and he cautions Trump supporters against pointing to anonymous trolls as proof that all liberals are saying awful things about Trump. He sees it as a sign of what he calls "the troll addiction problem": "Each side has an incentive structure to pick the worst examples of the other side and say, 'See, this is what they're all like!'"
So, About That Debate
Partisans can, and have, fought about which candidate turned in a worse performance on Tuesday night. But if there is anything that most Americans can agree on, the debate itself was … not one of America's finer moments. Trump interrupted Joe Biden repeatedly, Biden refused to answer questions on divisive issues like court packing, and moderator Chris Wallace had to scold both candidates, at one point saying, "Gentleman! I hate to raise my voice but why shouldn't I be different to the two of you?" In a midweek French Press (🔓), David worries that Trump's bullying nature has spread to his supporters. "The Trump style is seductive—especially for some GOP men—on two main grounds. First, it's simply easier than substantive toughness. It doesn't require discipline. It doesn't require knowledge. And it actively shuns the manners and decency that are often indispensable to the project of persuasion. Combine a dose of animosity with a dash of shamelessness, and you're ready to fight," he writes. On The Dispatch Podcast, the gang analyzed Trump's strategy of trying to force Biden into a "senior moment" and debate which low point was the lowest. The Morning Dispatch (🔓) did its own postgame analysis, touching on Trump's refusal to denounce the Proud Boys, a vigilante militia. 
Here's some stuff you might have missed:
Photograph by Drew Angerer/Getty Images.