Ruth Bader Ginsburg, 1933-2020
Remembering the life and legacy of the second woman ever to serve on the Supreme Court.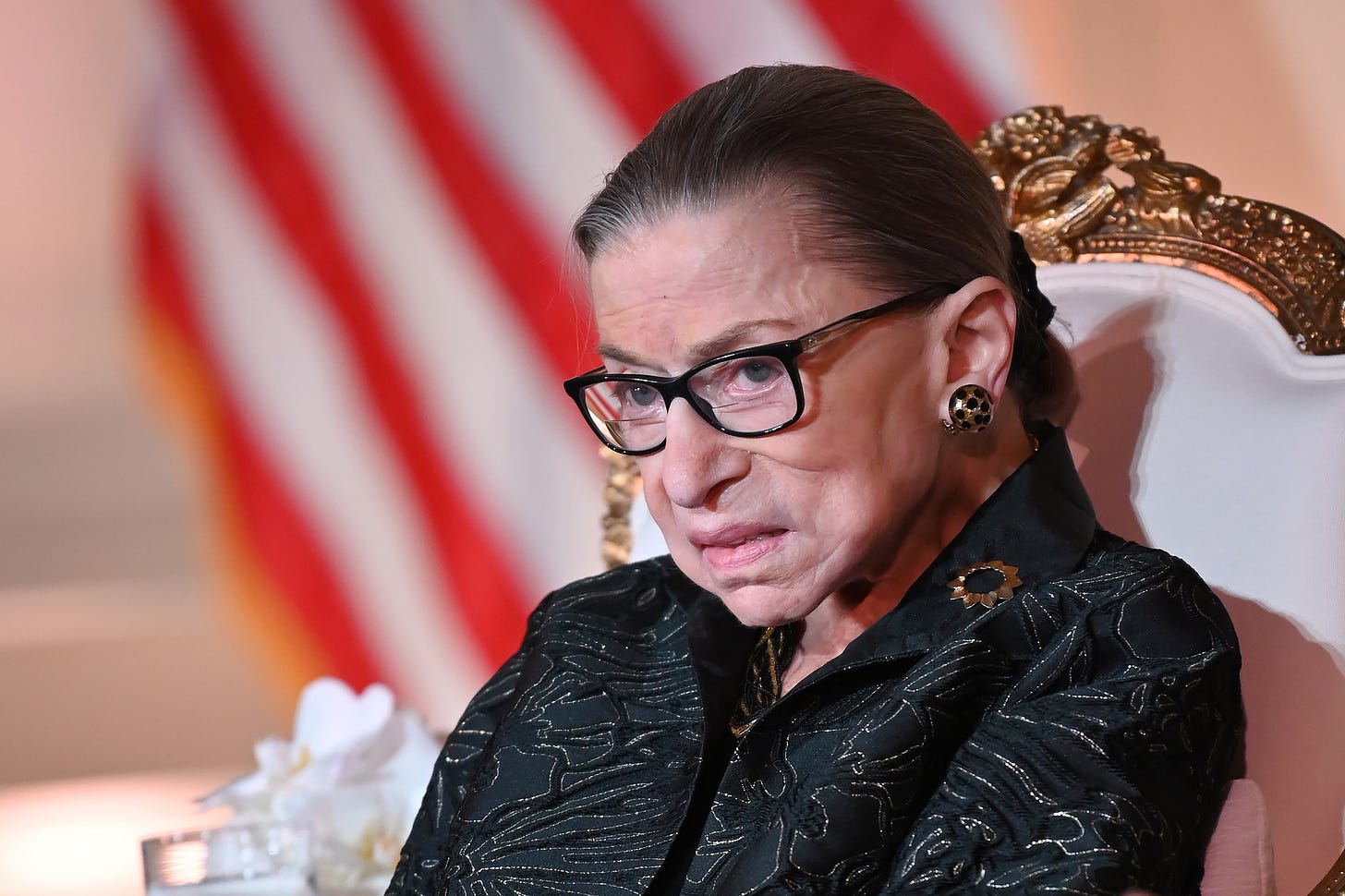 The workweek was just about done last night when my phone started pinging with the news that Ruth Bader Ginsburg had passed away. Even though Ginsburg was 87 and had battled cancer many times … shocking doesn't begin to describe it. RBG's previous recoveries had given her an air of invincibility, for one. And then there are the political implications.
In fact, my first reaction to the news was, well, unprintable, because the vacancy on the Supreme Court will add tumult to an already chaotic election. But Ginsburg deserves to be remembered for her accomplishments, for her long service to the court, and for the way she fought for other women to have the same opportunities she did. 
My friend and former colleague Dahlia Lithwick has a lovely tribute, focusing on that last point. "I never heard her give a public speech in which she didn't thank, by name, the allies, champions, fighters, of whom she inevitably saw herself as a beneficiary; she cast herself as someone lucky enough to be in a long line of champions and fighters, and also as someone set and determined to pay it forward."
At the Washington Post, former clerk Edith Roberts shared some personal memories, including about how she met her husband while clerking for Ginsburg, and how supportive RBG was of those who worked for her. "This slow talker, ruthless editor and die-hard romantic wanted to make sure that every woman could find her best place, whether in a military-academy classroom, on the floor of a factory or behind the wheel of a minivan."
Speaking of minivans … well, they didn't exist when Ginsburg was raising her kids. But over at The Atlantic, Jeffrey Rosen shares an interview he had with her that wasn't included in his book, Conversations with RBG. Given the many tributes to her career that have already been published, it's nice that Rosen chose some passages in which she discussed her relationship with her parents and what it was like to be a law student with an infant and later a working mother in the 1950s. 
"Our nanny came in at 8 o'clock and left at 4 o'clock. I used the time in between classes to study, to read the next day's assignment, but 4 o'clock was Jane's time. We went to the park, played games, sang silly songs. When she went to sleep, I went back to the books. I had to make the most of the time I had," Ginsburg said. 
And then there was her much-discussed friendship with the late Antonin Scalia,  which serves as an important reminder that we shouldn't let political beliefs define us to the point that we can't see past our differences. Scalia's son Christopher shares some favorite anecdotes in this Twitter thread.
It is, of course, a strange coincidence that Scalia's death shaped the 2016 election and now RBG's death will have its own, yet-to-be-seen effect on this year's race. There will be time to weigh those implications in the coming weeks. While the debate over the propriety of President Trump nominating a replacement this close to the election started almost immediately, it's likely that much of the early reaction we are seeing is wrong, or that things could change. 
We'll have full coverage of the news and the coming battles in our newsletters and on the podcasts. And Dispatch members can join us Wednesday evening for a special Dispatch Live, with our two seasoned legal experts, David French and Sarah Isgur. Sarah will be interviewing David about his terrific new book, officially out on Tuesday, and inevitably discussing RBG, the vacancy, the election and consequential debates in front of us.
For now let's take a day to remember how, in the words of Mitt Romney, Ginsburg's "grit, character and sharp wit made her an iconic and inspirational jurist beloved by people young and old." 
One more thing …
I had written much of this newsletter before the Ginsburg news broke, and now that I'm finishing it up on a gorgeous September afternoon, having spent the morning with ESPN's Gameday on in the background, I've still got my original topic on the brain. It was a big week here in the Ohio bureau. After a considerable amount of frustration, uncertainty, and conflicting reports, the Big Ten (or as real fans call it, the B1G) decided to play football this season. This Buckeyes fan could not be more … cautiously optimistic. 
Yes, a lot of it has to do with the lingering, and stinging, memories of Ohio State's playoff loss to Clemson last December. I wanted Justin Fields, Shaun Wade, and all the other Buckeyes to have another chance at a national title. But I was pleased to see the way the conference used the time between announcing a postponement and reversing course to formulate a strategy to keep the players as safe as possible in these crazy times. 
Players, coaches, and staff will be tested daily. The conference established a "color code" based on team positivity rates and community positivity rates. Too many positives, and your team ends up in the red zone. On the field, you WANT your team in the red zone—inside the 20 with a good chance to score. On the testing front, the red zone is sit-on-the-sidelines-for-a-week bad. But there's one more component. Given the potential for complications, myocarditis in particular, players who test positive will have to get a signoff from a cardiologist before returning. Even in "normal times," there are legitimate concerns about the way universities take advantage of the unpaid labor of young men to fund the athletic department budget. So It's encouraging that the conference is taking the long-term health of its athletes into consideration on this front.
Is it entirely safe to be playing college sports, football in particular? Of course not. It's not entirely safe to go to the grocery store, or fly on an airplane, or send our kids to school. It's easy to say that it's not a big deal to sacrifice a sports season, or muddle through another semester or year of dysfunctional Zoom learning. But those losses are very real to the people who are affected. Consider how the push to save the B1G season was led in many ways by the players and their parents, the ones with the most to lose. (No, I'm not naive. There were also considerable financial considerations at play, plus sitting out could have affected recruiting in a way that would have lasting consequences.)
The return of sports has yielded mostly positive results. The NBA, WNBA, and NHL have pulled off their bubbles with remarkable success. Major League Baseball struggled early, and some players got in trouble for making some dumb choices, but things have improved. It's early in the NFL season, but so far social justice kerfuffles have far outstripped any positive test rates. 
But the professional leagues and college conferences are showing us what is possible. The NBA's need for reliable testing yielded a real breakthrough on rapid tests that could benefit everyone. They are giving us something to do while we're trying to stay home more. They are giving us something to be hopeful about, as this pandemic is not going away anytime soon, and the "new normal" is looking more permanent than any of us would like. 
In some ways it seems like our big cities have long been ruled by Democrats. Can you even imagine a Republican mayor in, say, San Francisco or Seattle? Maybe not. But the fact is that as recently as 1995, there were eight Republican mayors and 11 Democratic mayors (with one independent) in the nation's 20 largest cities. And in those days, cities were making progress on school choice, community policing and other pragmatic solutions to urban problems. Today, those numbers are three, 16 and one. And that lack of ideological diversity shows in the problems that our biggest cities are facing. Ryan Streeter looks at the problems created by progressive mayors and city councils. "Platitudes against inequality and injustice notwithstanding, today's left-leaning urban overseers are responsible for the unaffordable housing, poor school outcomes, income segregation, and policing problems that characterize much of urban life today. These problems predate our current crisis, which has merely blown the top off for all to see." 

This summer's racial turmoil has brought renewed attention to the New York Times' 1619 Project, a series of essays and analytical pieces that uses as its starting point the idea that the "real" founding date of the United States dates to when the first slave ship landed on our shores. The project has been celebrated by some but also criticized by historians for author Nikole Hannah-Jones' assertion that the Revolutionary War was fought to maintain slavery. David makes a robust argument in defense of 1776. While it is essential we learn the lessons of 1619--how hundreds of years of enslavement and subsequent discrimination have made life harder for black Americans--it's also important to consider the promise of the founding. "[T]he principles of 1776 created their own systems, including legal and cultural institutions that provided consistent critiques for the systems of 1619 and also formal instruments of raw power that broke the back of the legalized repression and discrimination. The Union Army broke the Confederate Army. The judiciary, the Department of Justice, and Congress broke segregation and Jim Crow."
We were thrilled this week to publish our first column by Ayaan Hirsi Ali, the Somali-born Dutch human-rights activist and scholar. In her Dispatch debut, Hirsi Ali addresses the immigration debate and argues that it's hard even to have a debate when we don't use the right language. Proponents for more open immigration policies use terms like migration, "which lumps together all routes of entry, lawful and unlawful." Hirsi Ali points out that refugees and undocumented immigrants, many of whom seek asylum but are denied, often face difficulties starting a new life and are denied opportunities. "Too often, businesses—particularly food processing and construction—have been more than willing to employ undocumented workers, often for low wages in substandard conditions," she writes.   
Here are some other things you shouldn't miss:
Photograph by Shannon Finney/Getty Images.