The GOP's Conspiracy Theorist Problem
Several candidates running for federal office espouse QAnon beliefs or other fringe political leanings.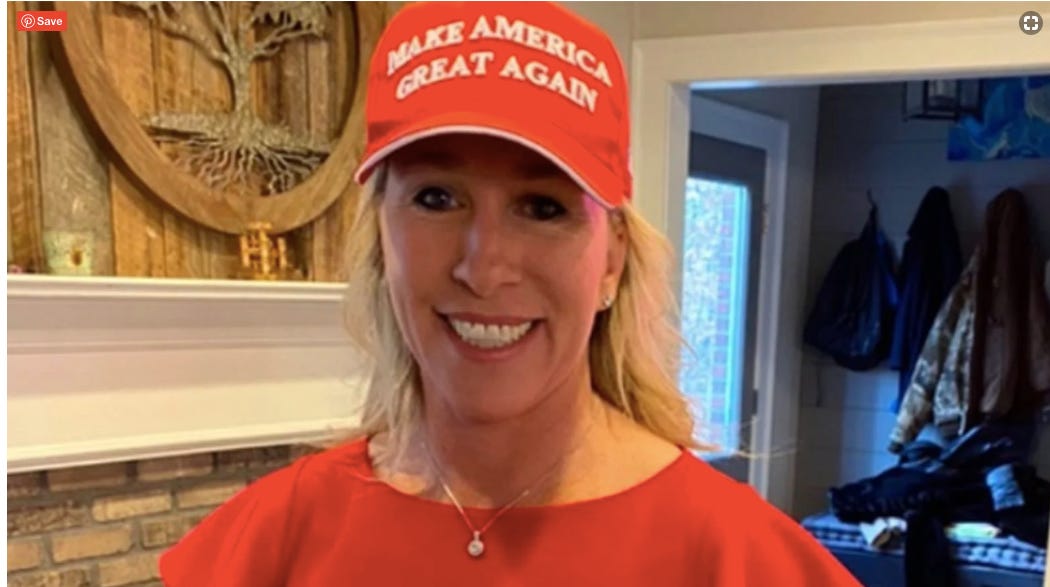 Marjorie Greene
The Republican Party let out a collective sigh of relief when Steve King—a soon-to-be-former Iowa congressman known for his racist and nativist rhetoric—lost his re-election primary in early June. But Republicans are still in a bind. In a partisan political climate that has sown the seeds for fringe candidates to win elections, the GOP is struggling to distance itself from conspiracy-mongering nominees without surrendering key districts to Democratic opponents. 
Much of this can be traced to the QAnon conspiracy theory. Back in 2016, "Pizzagate" gained national attention when a man who believed that Hillary Clinton and John Podesta were running a child-trafficking ring out of the Comet Ping Pong pizza restaurant in Washington, D.C., went into the establishment and fired a rifle.
No one was hurt, and the outlandish claims were quickly debunked. But the vile conspiracy theory didn't totally die. It lingered in dark corners of the internet. And then in 2017, an anonymous user named Q—self-dubbed for his alleged Q level security clearance—took the reins and began posting claims that Clinton would be arrested, adding other allegedly classified intel about her on a public messaging board called "4chan." Mesmerized by Q's cryptic clues (which were, in reality, baseless rumors), anonymous users began obsessively tracking his posts and the QAnon movement took hold.
According to conspiracy theory expert and University of Miami professor Joseph Oscinski, Q adopted the Pizzagate theory, "predicting that Donald Trump would be victorious in the battle against the satanic, pedophile, child sex trafficking deep state." Anons believe "that imminently the 'Great Awakening' is going to happen in which all of the elites who have been engaged in these evil activities are going to be exposed for the evildoers they are, and shipped down to Guantanamo and summarily hung for their crimes."  
It sounds far-fetched, like the plot of a bad movie. But now, in 2020 several dozen GOP candidates who align themselves with QAnon have run or are running for Congress. Some have snuck onto the ballot in districts where Democrats dominate and the GOP invests few resources in recruiting candidates. Most have lost primaries and won't be on the ballot in the fall.
But GOP primary candidates Lauren Boebert, Marjorie Greene, and Jo Rae Perkins have won the hearts of Republican voters in their states. While Perkins secured a Senate primary victory in Oregon and Boebert ousted a Trump-backed incumbent in Colorado's 3rd District primary, Greene is well on her way to win a House GOP primary runoff in Georgia. Laura Loomer—a Republican primary candidate in Florida's 21st District—doesn't endorse QAnon, but her provocative and bizarre behavior is problematic for other reasons.
Together, they represent a growing problem for Republican leaders: What do you do when your voters choose candidates who espouse fringe, sometimes crazy views? The answer, at least so far? It depends.
QAnon's Oregon contender, Jo Rae Perkins, has no realistic shot at beating her Democratic incumbent, Sen. Jeff Merkley. But she won nearly 200,000 votes in her GOP primary—earning almost 50 percent of the vote in a four-person race—and she has garnered national headlines for some of her bolder proclamations. Lauren Boebert and Marjorie Greene, however, have a real chance at winning the general election in each of their districts. Although a few Republican lawmakers have publicly condemned their campaigns, others have remained silent on the matter or gone so far as to offer endorsements. 
If QAnon sounds like gibberish to you, polls show you're not alone. A Pew Research poll from March 2020 shows that only 3 percent of Americans know "a lot" about the theory, whereas 76 percent of those polled know "nothing at all." But the movement still has a huge following on social media platforms, especially Twitter and YouTube, where some accounts boast hundreds of thousands of followers. 
QAnon's doomsday flair has even captured the attention of fringe churches, including Omega Kingdom Ministry, which regularly interprets Q drops through a biblical lens. Its pastor, Russ Wagner—who sports a long beard, bears a striking resemblance to KFC's Colonel Sanders, and preaches in front of an American flag backdrop—regularly live-streams YouTube sermons to the channel's 5.4 thousand subscribers. The church is also affiliated with "Home Congregations," a site with extremely disturbing videos narrated by a woman with an ambiguous accent, who warns against Satan-worshipping pedophiles in the Democratic establishment and beyond. 
Although QAnon's following is just a small part of the dark web, what it lacks in reach it makes up for in intensity, resulting in a groundswell of support for certain fringe candidates.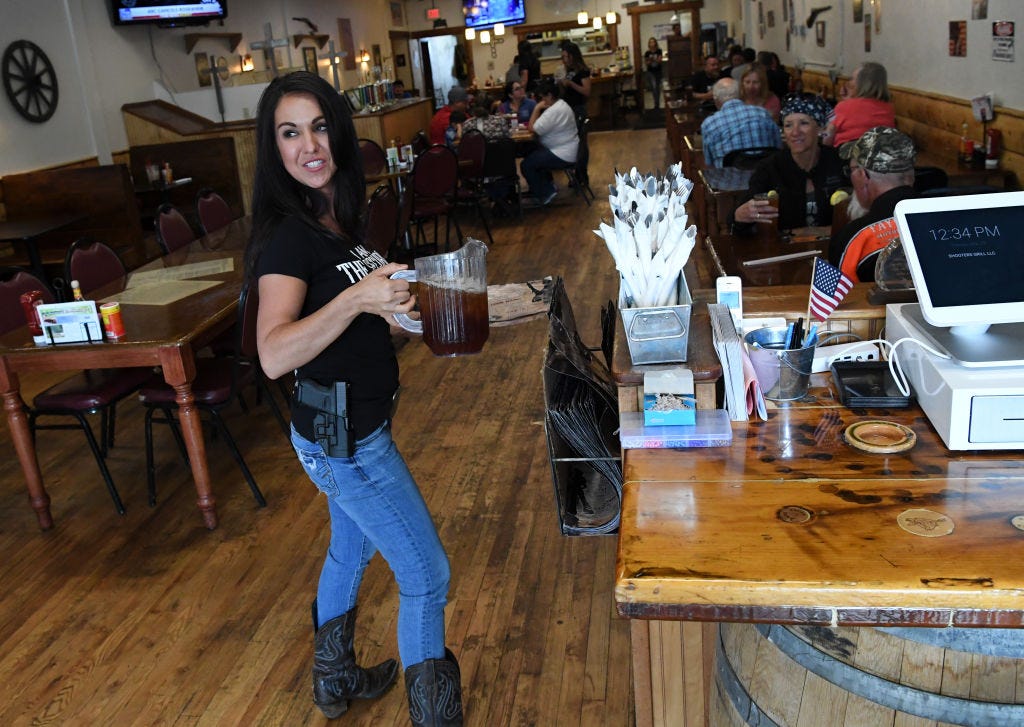 Lauren Boebert
Lauren Boebert is the latest QAnon conspiracy sympathizer to inch toward Congress after beating her Trump-backed incumbent opponent, Rep. Scott Tipton, by 9 points in Colorado's 3rd District Republican primary. President Trump endorsed Tipton the day before the runoff, but he was quick to congratulate Boebert on "a really great win!" on Twitter. She even snagged a congratulatory endorsement from former deputy prime minister of Italy, Matteo Salvani, a neo-nationalist populist, following her win.
"This is a Republican seat and will remain a Republican seat as Nancy Pelosi and senior House Democrats continue peddling their radical conspiracy theories and pushing their radical cancel culture," said National Republican Congressional Committee chairman Tom Emmer in a statement.
With a Twitter bio that proclaims "Running in Colorado's 3rd to get rid of RINOs," Boebert will face off Democratic primary winner Diane Mitsch Bush—who lost to Tipton in 2018—in the general election. In a reliably Republican district that Trump won by a 12 point margin in 2016, Mitsch Bush's progressive agenda will likely leave Boebert smooth sailing to November's general election.
"Colorado deserves a fighter who will stand up for freedom, who believes in America and who is willing to take on all the left-wing lunatics who are trying so hard to ruin our country," Boebert said in a press release after her primary win. Boebert gained national recognition at a Beto O'Rourke rally in September 2019 when she told the former presidential candidate, "Hell no, you won't take our guns," while sporting a glock on her hip. The comment landed her a Fox News appearance the following December. 
A die-hard Second Amendment defender who hails from Rifle, Colorado, Boebert owns Shooter's Grill, where she encourages her staff to open-carry while serving customers. She also recently defied Colorado's stay-at-home order by reopening her restaurant in the middle of the coronavirus pandemic, which was met by a temporary suspension of her restaurant license by the county.
When pressed on her knowledge of QAnon on the "Steel Truth" show in May, she said, "I am familiar with that. And, so, that's more my mom's thing. She's a little fringe. I try to uh, I just try to keep things on track and positive. I am very familiar with it though."
"Everything I heard of Q — I hope that this is real because it only means America is getting stronger and better, and people are returning to conservative values, and that's what I am for," she added. The conspiracy "is only motivating and encouraging and bringing people together, stronger, and if this is real, then it could be really great for our country." 
If Boebert offered only a halting embrace of the QAnon conspiracies, Marjorie Greene has shown no such hesitancy. And she's currently a favorite to end up in Congress.
Like Boebert, Greene has captured attention for her brash, own-the-libs campaign strategy, and is expected to win Georgia's fourteenth district seat in the general election. After winning a June 9 primary with nearly twice the number of votes as the runner-up, Greene will be facing Dr. John Cowan in the next primary on August 11.
Greene uploaded a video in 2017 in which she declared, "Q is a patriot, we know that for sure, but we do not know who Q is." She proceeded to say, "but I'm going to tell you about it, because I think it's something worth listening to and paying attention to," adding that "many of the things that he has given clues about and talked about on 4chan and other forums have really proven to be true." 
The rest of the nearly 30-minute video—which is still up as of today—consists of Greene unspooling outlandish conspiracy theories, one of her favorites being Hillary Clinton's alleged sacrifice of a chicken in her backyard to the ancient Canaanite deity Moloch. After explaining Q's prophetic Great Awakening in which deep state Democrats will be held accountable for their sins, Greene says "I really truly pray that this is true."
"We know cults are real and we know real evil exists, but it hides in the darkness," she warns, "because it doesn't wanna get caught, because when Satanic worshippers and real evil comes out and it's pulled out into the light it can't survive, it just can't survive."
"Now, there's a once in a lifetime opportunity to take this global cabal of Satan worshipping pedophiles out, and I think we have the president to do it, so I'm very excited about that" she says with a smile.
More recently, Politico uncovered recordings in which Greene said African Americans "are held slaves to the Democratic Party" and that she would feel proud to see Confederate monuments if she were black because they demonstrate the progress American has made since the Civil War. "I know a ton of white people that are as lazy and sorry and probably worse than black people," Greene said on the topic of black unemployment. "And that has everything to do with their bad choices and their personal responsibility. That is not a skin-color issue."
She called the 2018 House midterms "an Islamic invasion of our government"—clearly alluding to the victories by Ilhan Omar and Rashida Tlaib—and said that "anyone that is a Muslim that believes in Sharia law does not belong in our government." 
Drew Florio, a spokesman for House Minority Leader Kevin McCarthy, said "These comments are appalling and Leader McCarthy has no tolerance for them." Reps. Liz Cheney (R-Wyoming) and Steve Scalise (R-Louisiana) are among other key Republicans who have denounced her campaign. The National Republican Congressional Committee spokesman Chris Pack said NRCC Chairman Tom Emmer is "personally disgusted by this rhetoric and condemns it in the strongest possible terms." 
Georgia Reps. Austin Scott, Buddy Carter, and Drew Ferguson have publicly endorsed Greene's opponent. But Georgia Sens. Kelly Loeffler and David Perdue, along with Gov. Brian Kemp, have been noticeably silent on the matter, despite numerous requests for comment.
And other key players in the new Republican establishment have rallied behind her. Although Rep. Jody Hice rescinded his support for her campaign the day after Politico released its story, Reps. Jim Jordan (R-Ohio) and House Freedom Caucus Chairman Andy Biggs (R-Arizona) stand by their endorsements.
The National Association for Gun Rights PAC also endorsed Greene's campaign, persuaded by her stalwart defense of the Second Amendment. "It's good to see a female say things like that," said the organization's president Dudley Brown in an interview with The Dispatch. "It's got the 'I'm the mama bear and I'm gonna protect not my family, but I'm gonna go to Congress and do my part to stop politicians from threatening your family.'"
The Dispatch sought answers from Greene's campaign about the race and initially we received no response. But after the distancing from national Republicans earlier in June, the campaign sent us a statement. Greene said she will not let her enemies "whip [her] into submission," and that she's "sick-and-tired of watching establishment Republicans play defense while the Fake News Media cheers on Antifa terrorists, BLM rioters, and the woke cancel culture, as they burn our cities, loot our businesses, vandalize our memorials, and divide our nation." 
On Wednesday, her campaign manager Isaiah Whartman informed The Dispatch that Greene is suing her opponent in response to the "defamatory television commercial" his campaign aired that day.
In a letter obtained by The Dispatch, Greene's lawyer, L. Lin Wood, alleges that Dr. Cowan's commercial "[accuses] Ms. Greene and Taylor Commercial, Inc. of refusing to use a federally required program known as EVerify," and "falsely [asserts] that Taylor Commercial, Inc. was not found under the U.S. Department of Homeland Security's EVerify website." The letter says Dr. Cowan is liable for economic damages for defamation.
No doubt this lawsuit will spice up the race before the candidates face off again in the district's August primary.
Oregon Senate primary winner Jo Rae Perkins is also an avowed QAnon believer. She was eager to talk to The Dispatch about her affinity for Trumpism and hatred of the mainstream media. She has been open about public embrace of the QAnon conspiracy movement, having recently disavowed her own campaign's attempt to dissociate her from the conspiracy. 
Perkins—who says she gets her news from the Epoch Times, Fox News, and various podcasts—explained that QAnon uses the Socratic method to crowdsource information. "We're encouraged to do our own critical thinking and our own research," she said in solidarity with the movement, saying it's "kind of like putting together a massive puzzle."
"If we dare look at something that they didn't put out it's a conspiracy, that it has to be wrong because they didn't sanction it." She assured me that she is just a "mainstream American" trying to set the facts straight. 
But then she'll say something with a hint of conspiracy—wondering, for example, how Black Lives Matter protesters so quickly produced masks that said "Defund the Police" days after Floyd was murdered. "It could be totally organic," adding a caveat, "then again it might not be."
Perkins alleged that money being donated to Black Lives Matter—a movement which she believes has "gotten out of hand"—is really being funneled into Act Blue and the Democratic Party, a claim the Dispatch Fact Check recently debunked. 
"And this is where I'm going to get myself in trouble and I recognize that," she said, before proceeding. Perkins then alleged that the Black Lives Matter has been "co-opted" to victimize African Americans. Perkins added she had faith in far-right pundit Candace Owens, whom she believes is well-suited to put a stop to it. "We seem to see this thing happening on four-year cycles that kind of coincide with the presidential election," she said. 
On the topic of George Floyd, she said "it certainly looks very damning for that police officer, but in our country you're innocent until proven guilty beyond a reasonable doubt," saying she will let the court and the jury come to their decision on how to handle Officer Derek Chauvin, captured on videotape kneeling on Floyd's neck. 
Prior to her primary win, Perkins was endorsed by Rep. Mike Nearman, the Right to Life PAC, and the Republican Party of Linn County, her hometown. Oregon GOP Chairman Bill Currier did not respond to multiple requests for comment from The Dispatch.
Although QAnon has captured its fair share of news headlines in recent years, Joseph Oscinski told me that the group's popularity is likely "at or near the ceiling," citing a 2018 poll he published in the Washington Post showing that QAnon at the time was "neither well-known nor well-liked by Floridians in either party." He reminded me that a lot of the 2018 headlines about QAnon were, in reality, "all based on 12 people were in Q shirts to a Trump rally in Tampa," and that Twitter activity and media coverage are unreliable measures of public opinion.
Meanwhile one of the more prominent QAnon believers, David Hayes, (he has 300,000 Twitter followers and published a book on the movement) dismissed the Pew Research poll as "fake news" and, in an interview with The Dispatch, claimed that there are "hundreds of millions" of Q followers.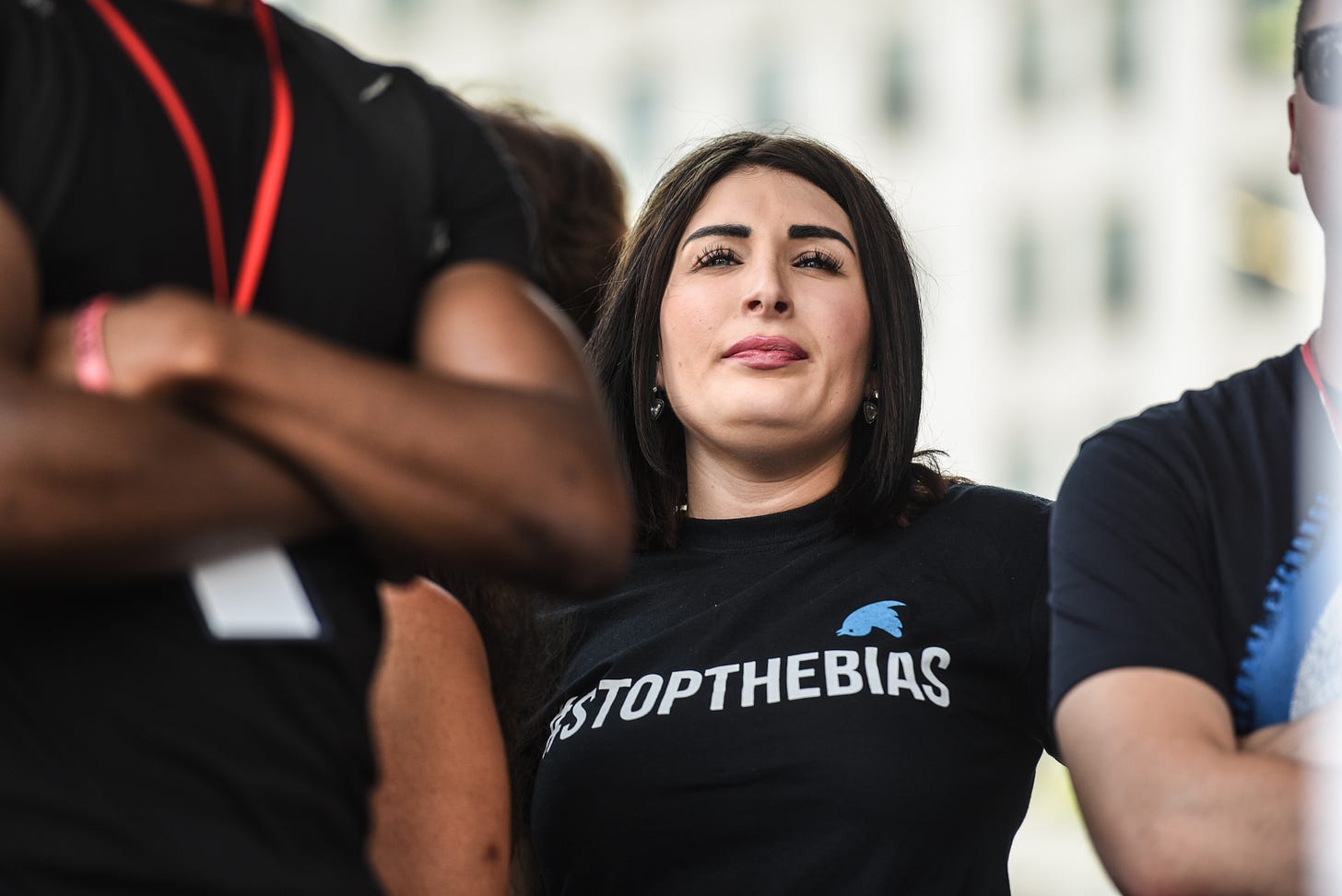 Laura Loomer
But the QAnon conspiracy theory alone doesn't explain why fringe candidates keep winning GOP primaries. Take Laura Loomer, for instance. A former investigative reporter for James O'Keefe's Project Veritas, self-proclaimed Islamophobe, and far-right provocateur, Loomer is running in Florida's 21st Congressional District. She rejected the QAnon conspiracy theory in an interview with The Dispatch, but she worked alongside a man who amplified the Pizzagate conspiracy that led it it.
Laura Loomer and Jack Posobiec, a reporter at One American News, made headlines in 2017 for disrupting an anti-Trump play in Central Park. But their professional relationship crumbled after they began squabbling over who deserved credit for propagating conspiracy theories relating to the Las Vegas shooting of 2017, when Steven Paddock murdered 58 people at a concert.
According to The Daily Beast, "Loomer reported for a website owned by British provocateur Milo Yiannopoulos that members of Congress had been briefed on 'ISIS ties' to the shooting" in March 2017. Posobiec announced three months later that he would run a segment called "Inside Las Vegas" on OANN to peddle other conspiracies about the shooting.
On Twitter, Loomer condemned Posobiec's failure to cite her original—albeit unsubstantiated—reporting on the topic, which was all based on an unofficial report she found online that was authored by by two former intelligence officials. "I just thought it was really shady how Jack calls himself my friend, but then he won't give me credit for my work," she said. 
Loomer has called herself a "proud Islamophobe" and has previously referred to Muslims as "savages" and "cancer." Most Florida Republicans have avoided commenting on her campaign, but Florida GOP Chairman and state Sen. Joe Gruters embraced her candidacy during an interview with The Dispatch.
In 2017, she was banned from Uber and Lyft after sending a series of Islamophobic tweets after a terrorist drove a truck down a bike path and killed eight people in New York City: "Someone needs to create a non Islamic form of Uber or Lyft because I never want to support another Islamic immigrant driver." She was also banned from Twitter the following year for calling Rep. Ilhan Omar (D-Minn.) a "Jew hater," and then from Facebook and Instagram in 2019 for violating user agreements.
Loomer has worked with discredited fabulist Jacob Wohl, locked herself to the doors of Twitter headquarters, and shouted to disrupt a congressional hearing. Loomer has also worked with conspiracy outlet InfoWars after the school shooting in Parkland, Florida.
In an interview, Loomer called herself "a one woman squad," referring to the collective nickname for progressive firebrands, Reps. Alexandria Ocasio-Cortez, D-N.Y.; Ilhan Omar, D-MN; Ayanna Pressley, D-MA.; and Rashida Tlaib, D-MI.
"Unlike a lot of other candidates who are running for office who have made promises to take on the squad, I've already taken on the squad during my time as an investigative journalist." She spoke to me about her eagerness to make political affiliation a protected class under the Civil Rights Act in her crusade to combat the "radical left," which she believes is "trying to create a Communist stronghold in our country."
In years past, Loomer's comments toward minorities would push her to the fringes of a typical primary race. But in this age of politics as entertainment, where Donald Trump has pushed past previous boundaries of acceptable rhetoric, she has been endorsed by Jeanine Pirro and Roger Stone ahead over her August 18 primary. Trump himself retweeted two tweets about her campaign.
As for her support within the state party, Sens. Marco Rubio and Rick Scott did not respond to numerous requests for comment. Florida GOP Chairman and state Sen. Joe Gruters, however, is vocal about his support for her campaign. "I've developed a close relationship with Loomer," Gruters said in an interview with The Dispatch, calling her "a special candidate." Gruters invited her to a news conference in January to discuss his bill, the "Stop Social Media Censorship Act," after which he said, "I am proud to have Laura Loomer stand with me here today because what we are here discussing is social media censorship, and we are trying to stop the bias."
When pressed on Loomer's bigoted comments toward Muslims, Gruters said, "You know what, here's the deal. When you make comments that are powerful in any way, what will happen is you will be judged accordingly." The Florida GOP does not endorse candidates, but the chairman's embrace of her campaign may sway voters come election season.
Despite Loomer's unabashed Islamophobia, she still plays the victim card. Loomer criticized Twitter and Facebook's bans against her, telling me her campaign "is the only de-platformed campaign in the nation" that has "been denied intentionally by these big tech social media companies access to campaign social media accounts." Loomer decried this as election interference and said her campaign "has filed an FCC complaint against Twitter for giving illegal in kind contributions to my Democratic opponent Lois Frankel." 
Loomer moved to the social media app Parler as an alternative to Twitter, where she boasts 600,000 followers and regularly advocates for "Twexit"—the collective abandonment of Twitter.
"People can say what they're going to say," Loomer said regarding her disparaging comments toward Muslims over the years. "But when you look at the tweet that I was banned for [the Omar tweet], it had nothing to do with any of those comments."   
"We can sit here and have conversations for days on end about ideologies" and "things I may have or may not have said in the past," Loomer said regarding her previous anti-Muslim comments. "But at the end of the day," she said, "it is not hate speech to call a public elected official anti-Jewish, right?" In her eyes, hate speech is nothing more than a conspiracy theory created by Democrats and the media.
The rise of these conspiracy Republicans is causing concern in some quarters of the party, with some leaders denouncing the crazy outright and others awkwardly seeking to avoid comment. But movements often take the shape of their leaders and with Donald Trump, an eager amplifier of many false or unproven conspiracies, as the country's most prominent Republican and the party's de facto leader, there will be no distancing the GOP from conspiracy theories—at least for four more months.
Audrey Fahlberg is a reporter for The Dispatch.
Photograph of Marjorie Greene from Facebook. Photograph of Lauren Boebert by RJ Sangosti/The Denver Post/Getty Images. Photograph of Laura Loomer by Stephanie Keith/Getty Images.