The Morning Dispatch: Iran Attacks
Plus, how we got to this point and a quick look at 2020 fundraising numbers.
Happy Wednesday. We were putting this newsletter to bed last night when we heard the shocking news: Iran had launched missiles at U.S. troops in Iraq. No doubt we'll find out how the U.S. plans to respond, if at all, today—in the meantime, our thoughts go out to the American service members in the area and their families; we'll do our best to get you up to speed on what's happened in the region over the last few days.
Quick Hits: What You Need To Know
An Open Iranian Attack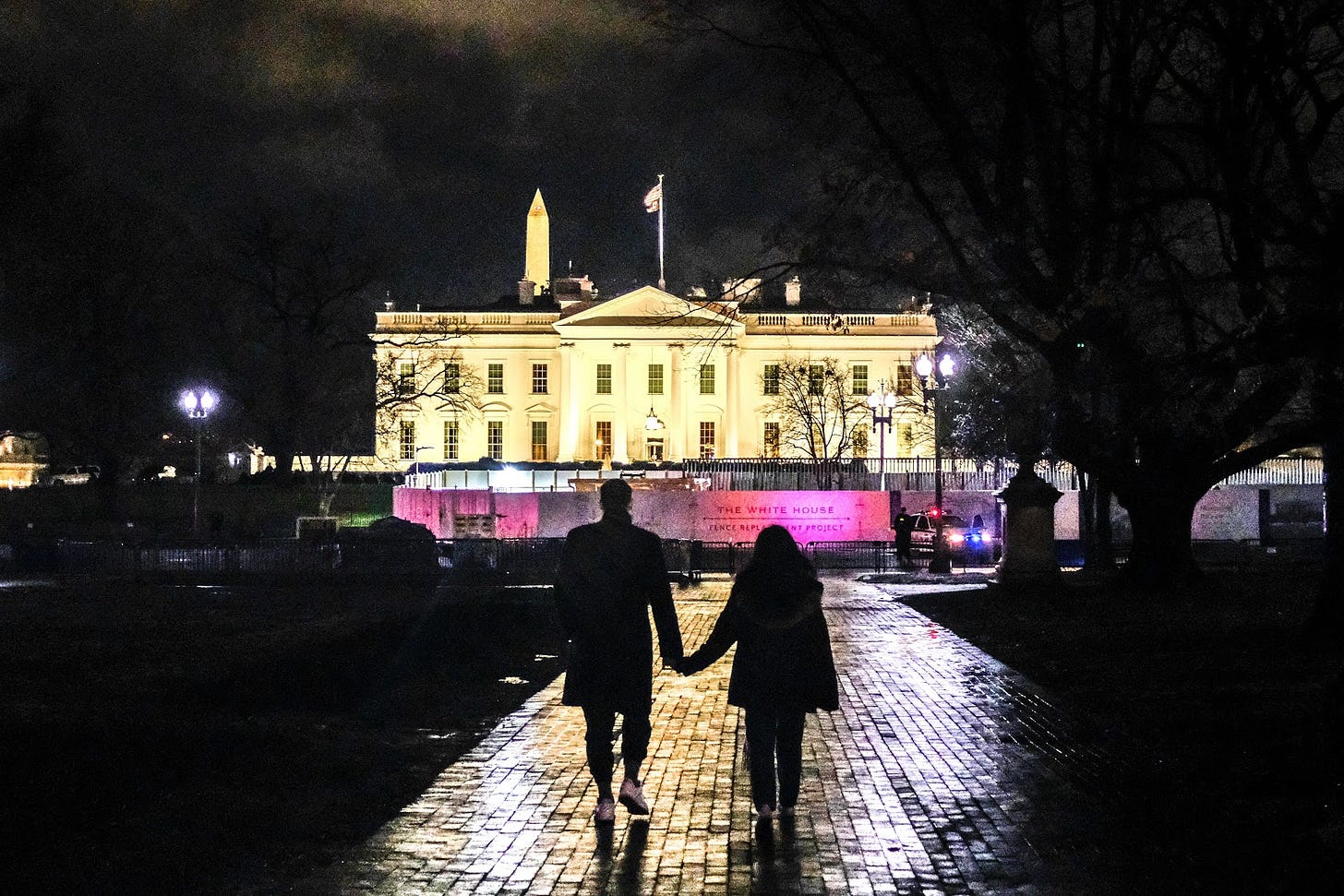 After five days of suspense following the death of Qassem Suleimani, Iran has struck back. The Pentagon announced Tuesday evening that Iran had fired more than a dozen missiles at two bases staffed by Americans in Iraq, days after Ayatollah Ali Khamenei vowed to retaliate against America in a direct and proportional way for the killing of their top general. Iran has been fighting the U.S. by proxy for decades, but attacking U.S. forces directly represents a major escalation. Thankfully, early reports indicated the attack resulted in no U.S. casualties.
Things suddenly seemed to be moving very fast—but quickly slowed again as the White House did not respond right away. Just before 7 p.m., Trump press secretary Stephanie Grisham released a statement saying that the president was aware of the attacks and was monitoring the situation closely. At 9:45 p.m., Trump tweeted the following:
That Iran would retaliate came as no surprise. In addition to Khamenei, Iranian Foreign Minister Mohammad Javad Zarif—whom the United States blocked from addressing the United Nations earlier this week—also pledged an Iranian response, which he said would take place "against legitimate targets," unlike the ones Trump has threatened.
This was in response to President Trump's threats to strike Iranian cultural sites should Iran retaliate for the killing of Suleimani—strikes that would constitute war crimes. Trump made the threat repeatedly despite members of his cabinet, including Secretary of State Mike Pompeo and Secretary of Defense Mark Esper, saying such an attack would not be considered or carried out. "We will follow the laws of armed conflict," Esper said.
In an interview with CNN, Esper also warned Iran to tread lightly. "The United States is not seeking a war with Iran, but we are prepared to finish one."
The prospect of an attack wasn't the only thing on the minds of administration officials Tuesday. Pompeo also responded to Iran's announcement that they would no longer honor the 2015 nuclear deal's restrictions on uranium enrichment, insisting that "on our watch, Iran will not get a nuclear weapon."
The coalition bases that were pummeled by Iranian missiles Tuesday night represented two states, the U.S. and Iraq, whose diplomatic relations have become further strained since the Suleimani attack. Last week, the Iraqi parliament passed a measure calling on Prime Minister Abdul Mahdi to expel U.S. forces from the country. Then, on Monday, chaos descended. A top U.S. general in Iraq sent a letter to his Iraqi counterpart informing him that the U.S. would begin preparations to withdraw troops out of respect for the sovereign decisions of Iraqi leadership. But after the letter was posted online, Pentagon officials initially told Congress behind the scenes that the letter was likely fake and part of a campaign of "active disinformation." When the top two Pentagon leaders met with reporters, they first disclaimed any knowledge of the letter and later described it as a "draft" sent to the Iraqis by mistake. (For more on how that unfolded, you can read our behind-the-scenes report from the site yesterday.)
That story kept creating headaches into Tuesday as well: As the Washington Post's Mustafa Salim reported, Iraqi Prime Minister Abdul Mahdi on Tuesday formally acknowledged the letter as a "signed" withdrawal decision. "We don't deal with statements in the media, we deal only with official letter," senior officials from Mahdi's office told Salim. Several U.S. outlets reported that the Iraqis were sent two versions of the letter, one signed and one unsigned. At a press availability Tuesday afternoon, Esper disputed those reports and insisted that only the unsigned draft letter had been transmitted to the Iraqis. In an appearance later with the prime minister of Greece, Trump said he didn't know anything about the letter and suggested, as Pentagon officials had on Monday, that the letter could have been a "hoax."
The incompetence on display surrounding the letter — along with Trump's threats to take out Iranian cultural sites — have unnerved some Republicans on Capitol Hill who were otherwise behind Trump's decision to take out Suleimani. A senior congressional Republican tells The Dispatch that some colleagues had decided against a more forceful and public embrace of the administration's more confrontational approach toward Iran because they're so uncertain about what could happen — or what the president might say — next.
The Democrats' War Chests Expand
With all the sturm und drang over Iran over the past few days, we haven't gotten around to talking much about the state of the 2020 race. But the Iowa caucuses aren't getting any farther away. So even with everything else going on, we wanted to sneak in a quick look at some news from last week: the 2020 candidates' Q4 fundraising numbers, one indicator of the relative strength of the campaigns.
Here are the top-level numbers:
Trump: $46 million ­↑

Sanders: $34.5 million­­ ­↑

Buttigieg: $24.7 million ↑

Biden: $22.7 million ­↑

Warren: $21.2 million ↓

Yang: $16.5 million ↑

Klobuchar: $11.4 ↑

Booker: $6.6 million ↑

Gabbard: $3.4 million ­↑
But those don't tell the whole story.
A better number for identifying the health of a campaign (and not just its fundraising machine) is cash on hand. Those figures are less widely available. But the Trump campaign, doing well, has announced that it has more than $100 million heading into 2020.
While we don't have Bernie Sanders' cash-on-hand numbers, we do know that his campaign was spending 55 cents for every dollar it was bringing in through the 3rd quarter, based on his FEC reports to date. That's a lot. It means despite his impressive haul for the year—roughly $96 million—he has spent a good chunk of that already.
Why is his Bern rate (sorry) so high? He doesn't do high-dollar fundraisers. Those "wine cave" fundraising events with minimum donation tiers of $500 and contributions going up to $2,800, are traditionally cheaper and a more efficient means of raising campaign cash. But modern presidential campaigns can spend millions to raise millions from small dollar donors through digital advertising because the potential overall contribution numbers are so much higher (low-dollar donors can give again and again) even if the percentage take is lower, as Sanders can almost certainly attest. 
There's another important caveat: Money doesn't buy happiness or presidential elections. One reporter noted that "the Dem field is easily going to double" the incumbent president's fundraising numbers, unlike in 2004 and 2012. Okay, but the Clinton and Trump campaigns spent nearly 30 percent less in 2016 than the Obama and Romney campaigns in 2012.  And even head-to-head, with outside groups and super PACs included, the Clinton team raised about $1 billion only to lose to Trump's $600 million. The same held true in the 2016 primaries, of course. Jeb Bush and his team spent $130 million without winning a contest in 2016. In fact, as Trump campaign aide Michael Caputo said at the time, Trump "spent the least amount of money of any of the competitive primary contenders that he beat so badly." With 24/7 news-cycle saturation and social media organizing, the things money used to be able to buy—direct mail, tv ads, paid door knocking—are clearly becoming less important.
And then there's the RNC's whopping fundraising numbers, which combine with the Trump campaign for an eye-popping $463 million for the year—more than doubling President Obama and the DNC's 2011 numbers.  
Lastly, Yang-mentum: Andrew Yang—a guy who wears a 'MATH' pin and listens to college a capella in the car—has raised more money just this quarter than Chris Christie, Scott Walker, John Kasich, or Rand Paul did in all of 2015. He has not yet qualified for the January debate stage and needs three more qualifying polls at or above 5 percent. But the man can raise campaign cash.
Worth Your Time
Presented Without Comment
Okay, TWO comments: Does this mean the Cubs and the Nationals are the only teams to win the World Series in the last four years without cheating? Does it mean two of Boston's four major sports teams have been embroiled in cheating scandals in the past three weeks alone?
Something Fun
In a surprise twist that wouldn't have made much sense a decade or two ago, vinyl records are on track to outsell CDs for the first time in 30 years, KRQE reports. The top-five vinyl albums of 2019? It's a ragtag bunch.
Harry Styles, Fine Line

Billie Eilish, When We All Fall Asleep, Where Do We Go?

The Beatles, Abbey Road

Queen, Greatest Hits

Guardians of the Galaxy: Awesome Mix Volume 1.
Toeing the Company Line
Tuesday French Press goes deep on Iran. Did Trump threaten to commit war crimes? Was killing Suleimani a wise move? David can provide a definitive answer on at least one of those.

For The Dispatch Fact Check, Declan takes a look at Nikki Haley's claim that Democrats are "the only ones mourning the loss of Suleimani." Turns out, while Democrats have made some incendiary claims about the strike on Suleimani, they're not shedding any tears at his death.

And on the home page, a fascinating essay from Jonah about this tribal moment —we hope it's only a moment—in conservatism.
Let Us Know
Like vinyl, what other remnants (hah, get it, The Remnant?) should we bring back from the '70s?
CB radios: What better way to bridge our partisan divides than strangers shouting at you rather than tweeting?

Pet rocks: Older generations should probably cool it making fun of our millennial trends.

That "Cat's in the Cradle" song: Who doesn't enjoy breaking down crying listening to music on the subway?

Schoolhouse Rock: This is probably the correct answer, isn't it?
Reporting by Declan Garvey (@declanpgarvey), Andrew Egger (@EggerDC), Sarah Isgur (@whignewtons), and Steve Hayes (@stephenfhayes).
Photograph of the White House taken Tuesday night by Photo by Wroblewski/Getty Images.